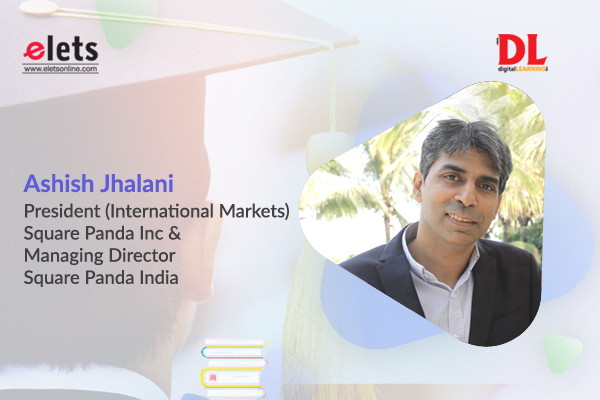 Ashish Jhalani is the President (International Markets) Square Panda Inc & Managing Director of Square Panda India. He spoke to the Digital Learning Magazine.
Tell us about your brand, like its inception, founders and more.

When Andy Butler, our CEO & Co-Founder, discovered his daughter was dyslexic, he was committed to finding the right learning resources for her. This led to him exploring expert literature on the neurology of reading, early learning, and language skill acquisition. He reached out to Andre Agassi (Chairman of the Board, Square Panda), who piloted early literacy tool in his own schools so that he could see its efficacy first-hand. When he saw just how much faster kids could learn when given access to early reading tools, he knew just how much this can shape an entire generation of learners. We are on a mission to create a more equitable, accessible, and inclusive education ecosystem, helping each stakeholder of the Education System – educators, students, and the Government – reach their learning and developmental goals.
It is said that online mediums have the power to meet policy parameters of NEP – Access, Equity, Quality, Affordability and Accountability. Your views.

The education ecosystem is always evolving, and over time technology has come to be a key pillar of it. The innovative deployment of edtech can be an incredible game changer for India's education system, helping to not just revolutionise the way we approach foundational literacy and numeracy, but also empowering and informing educators and leaders as they guide students along their learning journeys.
There is a dire need to not just update our curriculum and contextualise it for diverse Indian needs and languages, but also empower educators by equipping them with the key skills or knowledge needed to create systemic impact. As education experts and innovators, we have devised an array of comprehensive products and programs that aim to improve learning outcomes from pre-primary through secondary grades. This includes creating bespoke content services, educational infrastructure, and innovations such as vocational labs, language laboratories, hanging libraries, and much more.
What do you think would be the key factors for the growth of EdTech post pandemic?
In order for India's education system to realise its full potential, we need to take a 'whole system' approach in order to impact each pillar of the ecosystem. We believe that contextual evidence- based interventions centred on curriculum and content, capacity building, technology awareness, creating enabling infrastructure, and personalised assessments are the need of the hour.
Our team of experts have put in years of research in early childhood learning, leveraging technology and data to create replicable and scalable models of intervention that have been deployed across India. We believe that our integrated and comprehensive approach can create a long-term impact across India's grassroots and narrow long-standing education gaps. This philosophy is embodied by our flagship initiative, 'Aarambh', which aims to catalyse the education ecosystem in every state, thereby positively impacting Anganwadi workers, ECCE educators, parents, administrators, and children themselves.
What is the biggest strength of the EdTech industry in making a paradigm shift in the education ecosystem?
The rapid transition towards a more digital world order that we have witnessed over the last 2 years has given us an opportunity to modernise learning for a new world order. It has led to classrooms and learning environments becoming decentralised and democratised, and we're seeing the benefit of this in adaptive curriculum and learning platforms, personalised learning pathways, real-time assessment, and so much more. Edtech holds the potential to wholly transform the way we approach learning, and we believe the industry will scale greater heights in years to come.