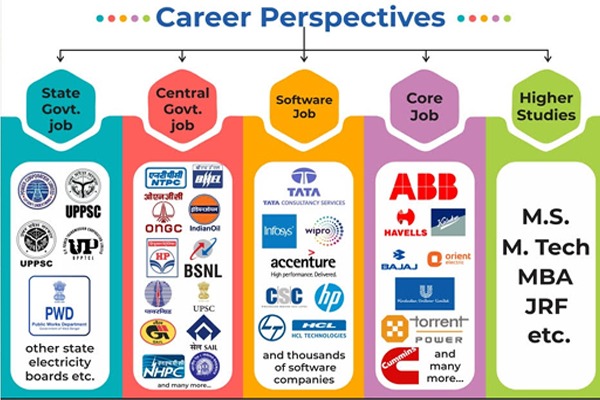 Ghaziabad, Uttar Pradesh  
The Department of Electrical and Electronics Engineering is very glad to proclaim their success about 100% placement with multiple offers again for two consecutive batches- 2017-21 & 2018-22, which was a cumulative effort of consistent striving. With the cooperation of KIET-CRPC and Departmental Placement Cell, all eligible 100% students of the department have been placed in well-reputed organizations including software and hardware industries. With this great and proud achievement, it is proved that the future of Electrical and Electronics Engineers is very bright and stable. It is a brilliant and bright option for the students who are diligent in coding, and programming and at the same time interested in inventions and its solution. Core Engineering like Electrical & Electronics Engineering will help to build critical and dynamic thinking which would further open avenues of carrier option in extensive fields around the globe.
Electrical and Electronics Engineers have already extended their strong arms and proved their prime presence in various essential domains such as Automation & Robotics, Aero Space technology, Defence Research & Development Organization, signal processing, Automation and Control, Telecommunication, Electric Vehicles, Embedded system, Electronic components of computers and other tools, Industrial Controls, Network Equipment, Telecom Equipment, Medical Equipment, Radios, Computers, Smart Phones, IoT, Artificial Intelligence and Machine Learning, Integrated Chips and yes the -list is endless.  In general, Electrical and Electronics Engineers' presence and need is ever-increasing to meet the variegated needs of the consumers in India as well as abroad. Life is indispensable with Electrical and Electronics Engineers. All industries will come to a halt if Electricity is exhausted. Being Electrical engineers, we help and support billions of people on a day-to-day basis.
With a strong and determined vision to create technocrats who can build, innovate and illuminate the world together, the Department of Electrical and Electronics Engineering of KIET Group of institutions is at the forefront of practical knowledge. Till now the Department has completed the dreams of more than 1750   students and provided optimum benefits to society. More than 39 faculty members from various renowned Institutes have joined their hands together to support and guide students to enlighten their vision and achieve their futuristic goals. Head of Electrical and Electronics Engineering Department, Dr Neeraj Kumar Gupta, consistently pursuing the target to achieve 100% placement consecutively, was widely appreciated. With distinguished International lectures happening in our Department throughout the year by eminent experts from around the globe, students are inspired to take up international placements, whose results will be reflected shortly. The role of Dr Preeti Chitkara, Head, International Relations & Public Relations, in giving the students of our college worldwide exposure in aspects related to overall grooming is commendable. With such combined efforts, we are sure to reach greater heights in the near future. The success of the department was appreciated by the Director, Joint Director, and the other authorities of the institute.
KIET Group of Institutions is one of the premier destinations for young minds, offering courses in Engineering, Management and Pharmacy. It continuously strives for the welfare of its students providing them with best opportunities both on the national and international platforms.