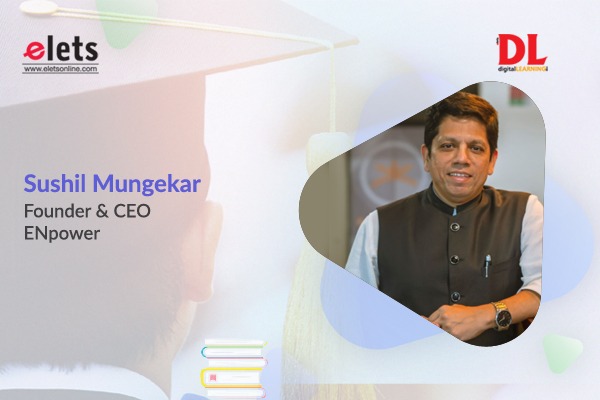 Sushil Mungekar, is the Founder & CEO of Enpower that has worked with more than 45,000 students across schools affiliated with different educational boards. He spoke to the Digital Learning Magazine.
Q1. What is the purpose and vision of Enpower?
The 'certain' fact about the future is that it is 'uncertain'. And that applies to the careers of our children as they grow. Constantly evolving market, complex economic world, fast environmental changes and cutting edge technology are making many careers, that look the promising today, become redundant, outdated and irrelevant in the coming years. The thought of ENPOWER triggered with the sense of responsibility to ensure that the children of today, drivers of tomorrow's economy, should be better prepared to manage uncertainties of future, create their own careers aligned to their passion and build entrepreneurial thinking skills while solving real world problems
ENpower envisions generation of change agents who strive to better their lives and the world around them.
We are in the process of building an experiential learning ecosystem of knowledge, mindset & skills enabling educational institutions to foster innovation & entrepreneurial mindset among young minds.
Q2. Why do you believe it's essential for children to be familiar with entrepreneurial lessons?
Research shows that children start becoming independent since their formative age (8 – 17 years) and build their own beliefs, habits & thinking. They have great abilities to challenging the obvious, connecting the dots and explode with their creative ideas.
In our traditional learning approach, however, schools, parents & society confines them to grades& marks to seek admissions in better colleges/ institutes that would in turn get them better jobs. In most cases, children at that age are not encouraged to build self reflection, identify their own passion, define their own 'success' and explore creative career options to build value for themselves & society.
The answer lies in Entrepreneurship Learning – the option of being able to create, manage and steer your own careers as your own enterprises. Entrepreneurship learning, far more encompassing than business studies, help children to nurture a mindset and thinking process as an entrepreneur, equipping them with the 21st century life skills such as problem solving, decision making, critical thinking, dealing with ambiguity, managing failures, resource management, creative thinking, collaborative skills, leadership, risk taking and opportunity evaluation.
Q3. How does ENpower hope to change the rigid job-centric educational ideology set forth by society?
ENpower prefers to drive a systemic, wholistic & mindset shift when it comes to preparing children for the future, hence opted to build a comprehensive learning ecosystem for schools rather than teaching children individually through B2C.
Firstly, the interventions built by ENpower are fun-learning, engaging & experiential simulations for students, rather than learning courses, where students get a first-hand exposure to entrepreneurial life cycle.
Secondly, these interventions are modular in nature, compliment with NEP framework and easy for schools to plug with academic programs.
Thirdly, this gives wholistic framework on curriculum, deployment techniques and assessments for schools on entrepreneurship, design thinking & 21st century life skills
Lastly, we have built India's Future Tycoons, an aspiration platform for entrepreneurship search & mentorship of young adults for children to showcase their ideas and win recognitions.
Q4. What got you interested in or inspired to spearhead this vision of entrepreneurial education?
With 'future of jobs' and 'jobs of future' changing fast, the problem of unemployment and skill mismatch would become even more daunting. On the other hand, inadequate opportunities for children, especially coming from middle & low income backgrounds, despite of doing reasonably well in their academics, are not able to do justice to their talent and aspirations.
On the other hand, India being the second largest marketplace (because of population) in the world, world's largest english speaking workforce has a great potential to play a dominant role in global economy, provided we are able to align mindset, skills and motivation of future workforce. I strongly believe that 15.4 lac schools in India can be turned into a center of transformation for shaping children in identifying & preparing for their best and explore opportunities to build meaningful livelihood for themselves.
Introduction of entrepreneurial education is the key cornerstone of this process of transformation !
Q5. What is the basic curriculum of entrepreneurial learning?
It is based on FOUR pillars
1. Learning 21st century Life skills and competencies (defined as 'Skills of 2030' by OECD) that help learners to be ready for the future
2. Getting exposure to technologies of the future and use them as enabler in innovative problem solving
3. Building structured approach towards innovation & building user centric creative solutions using Design Thinking Framework
4. Nurturing Entrepreneurial mindset to take initiative in identifying opportunities and convert solution ideas into sustainable ventures
Q6. Do you believe business aspirants of your or older generation fared better if entrepreneurial learning was boosted from an early age?
Absolutely yes. Many of my peers, colleagues and fellow entrepreneurs resonate with fact that while the education system has definitely contributed to build a faculty of knowledge, it has not helped us in various facets of life such as how to be a good decision maker, to identify problems before attempting them to solve, to manage resources well, to negotiate better, to manage failures and to build capabilities to learn from changes. Formal coaching on the above would definitely helped us to be a better entrepreneur, better employee, better purchaser, great problem solverand be a changemaker !
Hence, this age is the most suited to expose them to entrepreneurship life skills. Nurturing entrepreneurial mindset would help them to either build new careers in the area of their passion or excel in jobs using entrepreneurial mindset in everything they do.
in be the agents have what it takes to survive the omnipresent rat race?
ENpower takes pride in having developed India's first entrepreneurial learning and development program dedicated to 'nurturing entrepreneurial minds' among early teens