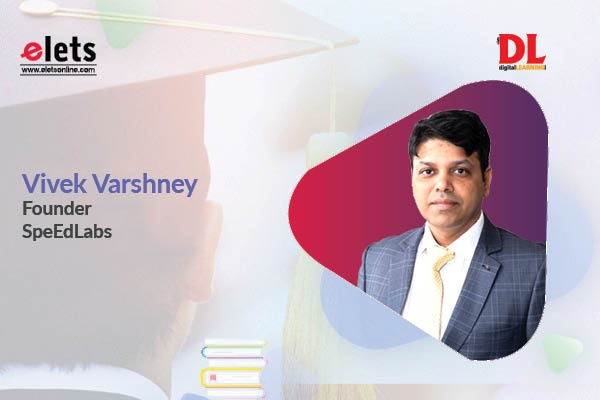 How did you come up with the idea for SpeEdLabs?
With rote learning being dominant, there was no sufficient practice for students in the topics they were lagging in. Due to lack of identification of a student's strengths and weakness, there were multiple gaps in the practice process. And hence, the idea of SpeEdLabs was born – to have a personalised solution for every student, whether bright or average-scoring students. No tutor was giving students everyday feedback on their practices or assessments. We wanted to bridge these gaps and the idea of SpeEdLabs was incepted.
Lectures, self-study/ practice and assessments done in the right proportion is the key.
How do you plan to expand in Tier 2 and Tier 3 cities as many students are coming from these locations?
We are already spread across 300 cities in the country and we are partnering with coaching centres who believe in us. Also, we are looking at establishing alliances with schools.
· Launching hindi curriculum on the app for 9 states- Rajasthan, Madhya Pradesh, Himachal Pradesh, Haryana, Uttarakhand, Bihar, UP, Jharkhand, Chhattisgarh. In these states, almost 85% students opt for Hindi-medium learning in state board schools.
· Increasing product basket graduation and post-grad levels. We are expanding this to non-science streams like law, commerce and liberal arts to cover a wide number of students and help deliver our products to help a wide reach of students.
What is the function of the teacher in practise learning?
Teachers have the most critical function. With SpeEdLabs, teachers are enabled to Teach, Connect and Engage better with students through the analytics and detailed statistics the platform provides on the gaps and weaknesses in concepts of each student. Through customised worksheets and tests, students can streamline practice for students and help them turn their weaknesses into strengths.
Do you believe that such a practice platform has the potential to threaten traditional coaching institutions?
We don't threaten anyone in the ecosystem. We are here to ENABLE and EMPOWER.
Unlike the conventional setup where teachers' grading, analysing students' performance and other administrative tasks of recording attendance take a bulk of their effort and time away, SpeEdLabs provides a platform that brings the focus back on pure teaching, and are time consuming. SpeEdLabs app is a platform that merges effectiveness of traditional teacher-classroom learning methods with the efficiency of a Fully stacked AI-enabled practice platform.
Built by teachers who understand the nuances and what it takes to boost performance, the app can be used and the learning suites can be customised by schools, coaching academies, tuition centres and individual tutors. By helping to deliver lectures via LIVE optionality to enable practice and finally testing, the app helps navigate the entire learning journey of any student. It is designed for teachers to manage multiple batches seamlessly, create tests for students at the click of a button and focus on refining and personalising their own teaching styles.
How can SpeEdLabs help tutors and teachers adjust to new technology?
There are core concept notes for every chapter or areas of inquiry, based on which there are practice papers and tests created by the platform. The app assesses and records objective and subjective assignments and automatically generates reports on a student's strong and weaker points that they need to focus on to upgrade their learning. Such insights and aid on the administrative side such as attendance, total exams and much more helps teachers as well as academy heads to plan how to modify their teaching styles as per students' requirements.
Further, the platform also effectively takes care of Enterprise Resource Planning (ERP) of the educational institutes with AI-enabled functions working on accounting, resource management and organisation of several other touchpoints. The coaching or educational institutes' teaching strategies and unique lecture style remain the core and the main driver of students' success whilst SpeEdLabs focus on providing the technology & analytical ecosystem which helps ensure progress tracking of each student in the academy.
Do you believe practice platforms have helped your students gain better knowledge of subjects? How has this been achieved?
Yes. The practice platform has tremendously helped students improve their study stem.
Students have significantly improved their understanding of a subject in depth as a result of the practise platform. Providing a platform for children that refines their abilities is the cornerstone of our approach. Having tutors available 24 hours a day is also an advantage; unlike in an offline setting, they have a wealth of innovative resources and are available to answer questions at any time. Continuous testing and analysis of each topic aids students in gaining a deeper understanding of the concepts. Self-assessments on a regular basis enable students to undertake self-analysis, which provides insight into their own comprehension and can aid in the discovery of knowledge gaps. Students are encouraged to evaluate their own learning and knowledge levels, as well as their own competences and performance, in order to develop into self-regulated learners as a result of this method of learning. Due to the world's ever-changing dynamics, such self-assessment skills would be incredibly beneficial, particularly in their professional lives.
Vivek Varshney, Founder, SpeEdLabs