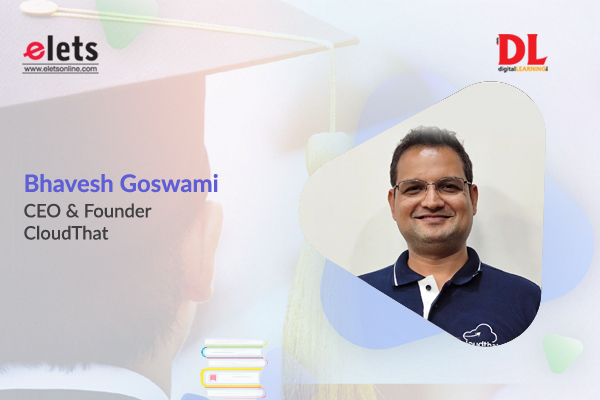 Bhavesh Goswami is a stalwart in the Cloud Computing space with an illustrative experience of working for companies like Amazon Web Services (AWS) and Microsoft since 2005. He began his entrepreneurial journey as Founder & CEO of CloudThat in 2012. Read on excerpts from his interview for Digital Learning Portal.
How do you understand the change in careers in cloud computing?
A surge in careers in cloud computing has been witnessed in recent times and it can be attributed to the snowball effect of several factors fostering cloud growth, like:
· Gartner reports that by 2025, 95 per cent of new digital workloads will be deployed on cloud-native platforms, as against 30 per cent in 2021.
· Also, it is estimated that 85 per cent of the organisations will adopt a cloud-first principle by 2025.
· Tata Consultancy Services (TCS) and Infosys hired a record 1.85 lakh freshers between them in the previous fiscal year that ended on March 31, 2022. Also, TCS and Infosys have plans to hire 40,000 and 50,000 freshers respectively in the fiscal 2023 and these roles are for digital native positions in the cloud space.
· Digitisation and virtualisation of all aspects for business functioning due to the pandemic.
As a result of all these factors, organisations are being forced to embrace cloud-native architectures to implement comprehensive digital strategies bringing a change in career roles in cloud computing.
Moreover, different cloud roles have gained prominence in recent days such as Cloud Consultant, Cloud Architect, Cloud Engineer, Cloud Service Developer, Cloud System Administrator, Cloud Data Engineers, Information Technology Architect, Cloud Network Engineer, DevOps Cloud Engineer any many more.
How do you contribute the increase in demand of digital transformations that have seen a boom in recent times?
Cloud Computing as a technology has a legacy of two decades and it gained popularity way back in the mid-2000s. In fact, I was part of the enthusiastic AWS team that worked on building and launching the AWS Simple Storage Service (S3) way back in 2006 at Seattle, USA. But the digital transformation caused by the pandemic and other factors have further accelerated the cloud adoption rate and has contributed significantly to a boom in the cloud space. I primarily attribute two factors to the boom in cloud computing due to digital transformation: Firstly, digital transformation makes it inevitable for organizations to embrace recent technologies like artificial intelligence, machine learning, big data analytics, and the internet of things to automate, speed up, and improve business outcomes. Importantly, all these technologies demand huge computational power and storage and cloud computing offers exactly that, along with the solutions to integrate all these technologies. Secondly, the need for business continuity and crisis management which gained more traction during the onslaught of the pandemic plays a vital role. The way organizations could find suitable solutions for their business continuity needs by adopting cloud computing and ensuring a more pervasive model of business is a key factor driving digital transformation through cloud technologies.
What are some of the skills required for better career opportunities in cloud computing?
In the CloudThat's illustrative experience of 10 years, we have trained 500K+ professionals on cloud technologies. The insights we could draw from our vast training experience are quite interesting. From the data we have, alongside prominent cloud technologies like Azure, AWS, GCP, and VMware areas like DevOps, AI/ML, IoT (Internet of Things), Big Data Analytics, Microsoft Dynamics and Cloud Security are in huge demand amongst both fresh and experienced professionals. Even a recent LinkedIn survey endorsed the same. According to me, important skills for etching an illustrative career in the cloud arena include:
Cloud platform expertise, Application Programming Interfaces (APIs), Database Management, Network Management, DevOps, Machine Learning and AI, Cloud Security, Hybrid-cloud, Multi-cloud, Virtualization, Containerization, Automation, Cloud Orchestration, Linux & Programming Skills, Serverless Computing, Data Migration, Application Migration, and Deployment skills.
Importantly, earning certifications from major public cloud providers like AWS, Azure, Google, VMware, and others to endorse your skills, plays a vital role in building a career in the cloud space.
Moreover, we offer a Career Transformation Guarantee Program with live, hands-on sessions and capstone projects that prepare them with rigorous training to boost their learning in the cloud space. Following this, they can flourish in their career paths.
Looking at the aspirational value of cloud computing, do you think it offers a great career opportunity for students?
The career growth opportunities in cloud computing are phenomenal, According to Burning Glass Technology, a labour-market-analytics company, the demand for cloud skills in the US will see 28 per cent growth in the next five years. Also, according to a recent NASSCOM report, India will need 20 lakh cloud professionals by 2025, and with the current baseline growth, we are expected to produce only an estimated 14-15 lakh cloud professionals within this timeline. This statistic clearly depicts how career opportunities in the cloud space are expanding for students. Interestingly, start-ups, unicorns and big, small, and medium sized businesses from all verticals have a requirement for cloud skills in the current scenario. Interestingly, Microsoft, for whom we are an Authorised Training partner, is at the forefront of taking Cloud Skills to Universities through their program called 'Microsoft Learn for Educators.' This program incorporates training for industry-recognized Microsoft Certifications into the curriculum for the benefit of both the teaching and student community. Also, as part of our mission to enable the student community on niche technologies, we have taken numerous initiatives called the AI classroom series in association with Microsoft and NASSCOM to impart training for 1 million students in the Artificial Intelligence space. Moreover, as part of our mission to build a better cloud ecosystem, we offer Research Internships every year to meritorious students and train them on various cloud skills like Cloud Migration, AI/ML and IoT, DevOps, Cloud Security, Analytics by providing them access to real-world projects.