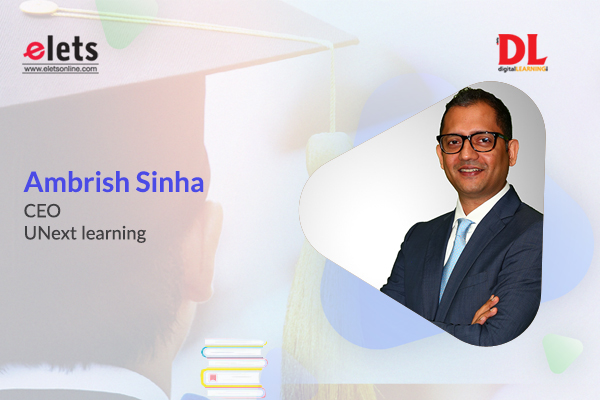 Ambrish Sinha is the CEO of UNext learning, an edtech firm that specializes in providing online certificate programmes. He spoke to the Digital Learning Magazine.
How is the online education industry faring in the global scenario?
Globally, the entire education system is transforming thanks to the burgeoning EdTech industry. Increased adoption of online education during the pandemic years attracted fresh funding that propelled innovations in the online mode of learning and teaching. Now, some elements of online mode have made inroads into traditional education as well. All the educational institutions are now preparing to adopt hybrid learning as an effective education mode. The sporadic growth of online education can be seen in the numbers. According to Facts & Factor, the global online education market was worth USD 144 billion in 2019 and is projected to reach USD 374 billion by 2026. Most market research firms forecast double number year-on-year growth of the online education market across the globe.
With UGC allowing dual degrees, do you think online degrees like MBA, MCA and more will now get a bigger boost?
Definitely. Pursuing two academic programmes in parallel is the longtime dream for many learners. Soon, with the UGC approval, students can enroll and pursue two courses and earn two degrees at a time. The UGC guidelines underline this move for the benefit of the student community to acquire multiple skill sets and improve their career prospects. It allows students to pursue two degrees from one or more universities. This move enables students to graduate in two courses at similar levels.
Are online courses being seen as career advancement and skill updates by the youth?
Yes. About 60 to 75% of learners in online education are young working professionals who pursue programmes for career advancement, by upskilling in their own domains. Some of them look for career switches to other in-demand domains. By pursuing an online degree in any in-demand area, a learner can meet both objectives simultaneously. Upskilling is important for every fresh graduate and working professional because the business environment is undergoing tremendous changes.
We have seen a new trend of military personnel pursuing online degrees. How far do you think this is helping them create a second career option post-retirement?
The adoption of online degrees is seen in all quarters, such as military personnel, home makers, freshers, etc. For years, the military personnel have been a major chunk of learners in the remote mode of education – be it distance or correspondence. During peacetime, soldiers get some free time to spend for other purposes, including learning. Majority of soldiers join the army at a young age, after finishing secondary or higher secondary education, because it is the basic qualification for army recruitment. Once they settle in their military jobs, they realise the importance of higher education to grow in the army ranks or to find a suitable job after retirement. Online degree programmes are a very convenient mode for soldiers to pursue higher education and enhance their education levels to achieve better ranks and good employment post-retirement.