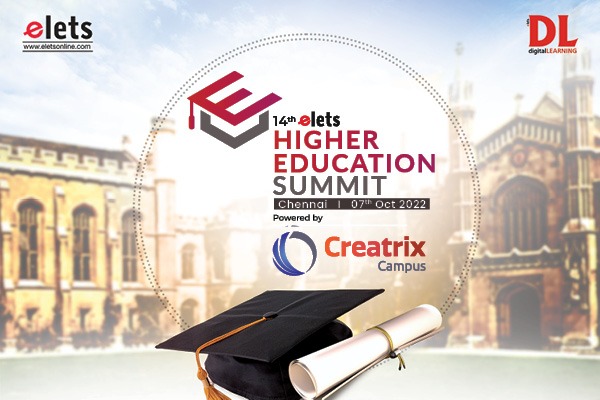 The sprawling expanse of the 14th Elets Higher Education Summit on 7th October in Chennai will bring prominent higher education leaders to discuss the recent trends and challenges in the higher education landscape. With 5+ knowledge sessions, expos, awards and a collaborative knowledge-sharing platform, the summit promises to deliver novel insights into the future of higher education in the country.
With the paradigm shift in the education world enabled by technological advancements, India's higher education ecosystem is all set to sway the world of education with the best of opportunities for students. Currently, India's higher education system is the largest in the world, enrolling over 70 million students while in less than two decades, India has managed to create additional capacity for over 40 million students. Higher education institutions today face an unprecedented array of challenges and threats. These include a decline in enrollments, rising costs and student debt; emerging college alternatives, and political interference. Another conundrum that has erupted both among the students and faculty part, is the changing policies to adapt and incline more toward digital disruption.
To pivot more on the emerging ecosystem, this summit will bring India's higher education patrons, government dignitaries, and policymakers, under one roof to network, connect and share their visionary thoughts on the evolution of the higher education paradigm.
The one-day event will emphasise revamping higher education institutes with new education policy, bridging the learning gaps between fresh graduates & professionals, adequate significance to quality research work, enhancing present infrastructure & quality education, and many other significant topics that demand attention and development in the higher education sector.
To enhance the prominence and significance of the summit, we have invited some of the most visionary higher education institutions, leaders, and industry experts as our key speakers. To name a few, we have Prof. Pawan Kumar Singh, Director, Indian Institute Of Management (IIM) Tiruchirappalli, Tamil Nadu; Dr. Narasimha Sarma N V S, Director, Indian Institute Of Information Technology, Tiruchirappalli, Tamil Nadu; Mouli Kumar, Co-Founder & CTO, CAMU; Dr. K Karunakaran, CEO, Hindusthan Educational Institutions, Coimbatore, Tamil Nadu; Prof Dr. Indu Rao, Director-ASC, Vellore Institute Of Technology, Vellore; Dr. B.Sendilkumar, Dean & Director, School of Allied Health Sciences, Vinayaka Missions Research Foundation, Deemed To Be University, Salem, Tamil Nadu; Dr.C.Manoharan, Chairman, NG Hospital & Research Centre, Coimbatore; Sudhakar Rao, Director – Branding, ICFAI Group; Ashish Mittal, Group – CHRO, Sreenidhi Educational Group, Hyderabad, Telangana and more.
One of the most engrossing segments of the event is the awards. Educators always thrive to be innovative aspiring leaders. While they work towards commendable work in the education world, they hardly get recognition for it. We are here to facilitate their remarkable work. Elets Higher Education Awards celebrate the remarkable accomplishments of Universities, Institutions, and Higher Education Leaders across the nation in bringing change & innovation.
Renowned for its transparency and authenticity, Elets Higher Education Awards will honour the real spearheads of transformation and growth. This time, we are recognising the torch bearers in the categories of Most Promising University in India, India's Leading University in Innovation, Outstanding B-School with global exposure, Recognition for E-campus, Online Education Platform Provider, Award for Edupreneur of the year, Pinnacle Award for Iconic Leader in Education, and many more.
Apart from the awards, the event will have more than five knowledge sessions. As the industry's most eminent leaders, educators, and experts are going to be on the dias, these discussions will indeed be very descriptive and illustrative sessions. Some of the pertinent topics that are related to the current demand and challenges in the higher education segment will find focused thoughts including — Decoding Future of Technology in NEP – Approaches, Opportunities & Challenges; Innovation & Implementation of Technology in Higher Education: Perspective of Leaders & Best practices adopted; Transforming Higher Education Institutions into Multidisciplinary institutions: Paving the path for a future-ready workforce: Global Perspective; Enabling the Innovation in Admission, Enrolment, Assessment, Accreditation & Placement: The Roadmap Ahead. Along with that, we have an interesting expo also as part of the event where edtech, start-ups, and a few of the top companies will display their innovations and solutions on the same day. This platform is an apt place to commemorate to-date achievements and manifest future developments.