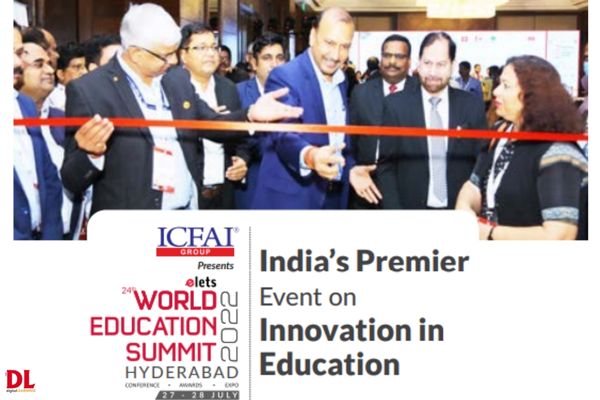 Elets Technomedia and Digital Learning, along with 'Collegiate and Technical Education Department, Government of Telangana, India as 'Host Partner', organised the 24th edition of the 'World Education Summit' in Hyderabad.
The two-day networking-cum-knowledge gathering turned to be a platform for exchanging views, resolving challenges, and sharing the mission & vision for transforming the Education industry. The summit witnessed 500+ higher education delegates, 120+ higher education leaders, 200+ school education leaders, 500+ school education delegates, 25+ international experts, 20+ government dignitaries, 50+ exhibitors, and 50+ knowledgeable sessions.
The summit featured pertinent panel discussions, industry presentations, and special addresses from the connoisseurs of the education world. Some of the focus themes for the panel discussions on school education included the role of technology intervention in education, role of NEP as a game changer to revolutionise India's educational landscape; Next-generation Classrooms & Learning Models: Reimagining the role of Technology in Education; Bringing Equity in Relevance to Digital Learning: Convergence of Technology & Skilling; Practical Implementation, role of Early Childhood Educators in preparing a Healthier, Safer & Multicultural Learning Environment & Charting the roadmap of growth and others. In higher education, panel discussions focused on National Education Policy 2022 in Higher Education: Preparing the Next Generation to Thrive in Digital Age, Evolving role of edtech in higher education: The future of learning & skilling, Reimagining higher education leadership: Getting future-ready with creativity, diversity & digital mindset, Creating a framework for research-ready institutes & future-ready workforce, Using digital technology to strengthen inquiry-based higher education learning.
Education landscape taking a hybrid approach
Addressing the 24th World Education Summit held in Hyderabad, Navin Mittal, Commissioner, Collegiate and Technical Education Department, Government of Telangana stated that with the NEP 2020, UGC's new regulation of dual degree and training programmes has opened an entirely new spectrum for international education. Edited excerpts: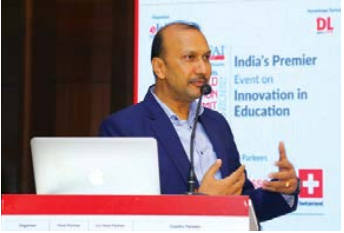 "Integration of technology into education is a very exciting thing happening in present time in the higher education space per se. In school education, we have multiple other issues in terms of student learning levels going back by more than two years due to covid, which resultant in complete shutdown of schools thereby affecting their school learning in the intervening period. Because to keep improving you must be constantly on. But when you take a break you kind of relapse back and that's a real struggle for school education.", shared Navin Mittal, Commissioner, Collegiate and Technical Education Department, Government of Telangana.
In the higher education space, there are multiple things that are happening, which are driving this huge amount of change in terms of technology.
Technology in the administration of education is a big thing. Things like online services are not just for students but also for institutions.
Things like biometric attendance help to improve student attendance as well as faculty attendance. And we have seen some great success in that regard not just in the higher education space but also in intermediate education as well as in school education. In terms of evaluation systems, the entire technical education evaluation happens online through the digitisation of answer scripts, and evaluators completely can go online which is a much easier and faster way for evaluation.
"The multiple ways in which technology is transforming the administration of higher education space are how we integrate some of the international as well as domestic platforms which will help students in getting contents from multiple sources. It is indeed a very transformative step. Even the delivery from the teacher side also is now moving into a blended space. We tried completely online during covid, but I don't think it worked very well in terms of access and participation of the students as we had anticipated." he added.
He stated, "We're increasingly moving to a more hybrid and blended space where we combine the best of both worlds, the best of the online world and the physical world. The benefits of online are more in comparison to offline. In online learning, contents can be accessed anywhere and anytime at a speed and pace as per student's need. A fast learner is not frustrated by the slow pace of a classroom and a slow learner is not outpaced by the fast pace of delivery for an average student. Students can re-watch and rewind fast-forward in the way they want. That's something that is a great benefit of the online or electronic delivery of the content."
Online assessment of the student's learning is again a very powerful tool. The new national education policy emphasises on assessment of learning, assessment for learning, and assessment as learning. These three things are very powerful ways to improve student learning.
There is also a great advantage in the offline mode of education because students learn not just from the content, which is provided to them but also through engagement with other students. A huge amount of peer-toper learning happens in a physical space in terms of rich interaction, which happened amongs students. These interactions provide numerous life skills which are very important in a student's life or a human life per se. "The offline mode also help teachers to know the students better, assess them better, so that their holistic capacity building could take place", he concluded.
Technology and Innovation: The game changers
At the 24th World Education Summit, organised by Elets Technomedia, Garima Panwar, Addl Commissioner, PI Kalaburagi Division, Commissionerate of Public Instruction, Government of Karnataka, talked about how innovation can be a game changer for all. Edited excerpts: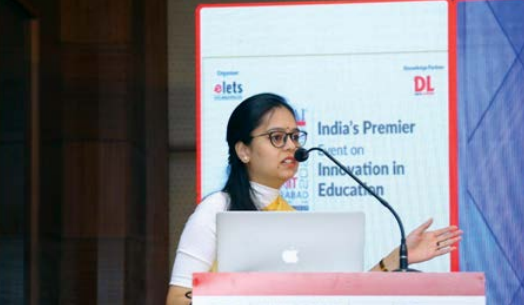 Talking about managing a staff of 60,000 employees at such an early age, Garima Panwar, Addl Commissioner, PI Kalaburagi Division, Commissionerate of Public Instruction, Government of Karnataka said. "When I see the word 'innovation', it becomes very difficult for me. Where do I put innovation in this system which already has its own principles of working? If I try to bring any change, it becomes a very difficult task for me."
Panwar talked about three places where she uses technology. "One is administration. We use technology for school registration and for various private school recognition renewals. We also have SATS, which is a Student Achievement Tracking System, which we are changing every day. The features which we have introduced in SATS are quite impressive. We know what a student is getting, whether the books and food have been received by him, whether a specific kind of program has been attended by the student or not," she said.
The second part she talked about was teacher training and teacher learning. "We have 60,000 teachers who need to be regularly trained and now with NEP and all the other new things which are coming up, they really need to have upgraded skills," she said.
Highlighting the problem of availability, she said, "I take around 8,000 guest teachers every year on a contract basis and these people are not really trained in education. So I have to train them again and bring them back to where we are going."
"Now that we are doing a Kalika Chetarike program, we have declared it as a recovery loss year for one year and this is specifically where technology has helped me, to train those 8,000 teachers and to tell them that they're going to be here for a year and these are the targets and this is how we are going to take up the curriculum," she added.
The third part she talked about is training being given to students and how they are acquiring knowledge. Giving an example of Shahpur taluka, Yadgir district, she said that it is the most backward district of Karnataka. "We asked the children to think about a problem and they did. Along with Intel and Yuva Chintana Foundation, we found that the kids were able to find the problem and formulate how they're going to solve and implement it. So now, they know coding. They have made an application and they know how to run it." she said.
Panwar said that she doesn't want to make students passive learners whenever it comes to technology. "I really want an active participation in technology," she concluded.
"Holistic development of students and proper skilling is the need of the hour"
Addressing the 24th World Education Summit held in Hyderabad, Prof. R Prasad, Director – Acad Wing, ICFAI Group talked about transformation in higher education and the holistic development of students. Edited excerpts: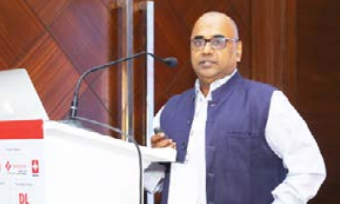 "Student progress is the key point in today's world of hybrid-online education. The two years have already been lost given the complete shutdown of the world economy in the face of the catastrophic onslaught COVID had brought. The year 2018-19 was a bit exciting but a fresh bout of disruption due to COVID just turned the table for the worst and we had to step back. But 2022 has reinvigorated the transformational journey in the education sector," said Prof. R Prasad, Director – Acad Wing, ICFAI Group.
Speaking on the digital transformation in the education sector, he stressed upon the need of having a fully digital online program to make further strides in the digital endeavour. "I always wondered why the education sector is the last to transform. Every other sector has transformed but this sector has remained almost static. But finally, I believe that the moment has come for education to undergo massive digital overhauling," he said.
According to him, two things that are needed to fully reap the dividends of the Indian demographic window are robust policies and their effective implementation by the institutions. "This is where the role of education becomes crucial and pertinent. The prevailing challenges viz., enhancing Gross Enrollment Ratio (GER), employability factors and skilling of students must be addressed quickly and effectively. The cutting edge innovation should be brought in the education sector to make it more aligned with the contemporary demand," he said.
Stressing upon the massive need for the digital transition of workforce, he said, "Companies, today, look for more skilled and technically better equipped workers. So, proper skilling through education becomes the need of the hour. Around 55 crore of our population are the young and active workforce and if they do not transition to better skill sets with time in the technology-dominated world of the 21st century, not only will they fall behind but India as a country will also suffer."
"In fact, UGC, the regulator, is also talking about graduate attributes. This was unheard of, four to five years ago. Graduate attribute is basically employability status that employers look for in freshers joining the workforce. The outcome orientation, both from an accreditation point of view as well as from a curriculum point of view, necessitates the UGC to put directions in place regarding this. The institution and infrastructure must be upgraded and strengthened to facilitate the undergoing digital transformation in the education sector," he further added.
Speaking on the transformation, he said the focus should be on quality rather than perfection or money driven. "Transformation, in a nutshell, is the transformation of a learner and the institution which facilitates it," Prasad said.
He further said, "Asynchronous is more powerful than synchronous. Many times, we think the reverse but if you know how to build, how to organise, asynchronous can be far more powerful than synchronous in terms of outcome orientation. So, to make it outcome oriented, I think your program outcomes need to be clearly defined and you need to look at how your assessment is connected to your outcome. If your assessment is not aligned to your outcome, then you may teach something that may be outcome-oriented, but the end result will not be as per desired expectation."
He concluded by giving greater emphasis on the personalisation aspect. He said, "In terms of institutional outcomes, one also needs to look at personal outcomes. Through personalisation, you can create user personas to make things simpler and outcome-oriented. Learner analytics using technology for doing formative assessment can further customise learning aspirations of the students which can be helpful in reimagining the current education."
Technology transformation in learning methodologies
Addressing the 24th World Education Summit, in Hyderabad, Dr. Vinnie Jauhari, Learning & Skills Lead, Microsoft stated that the new educational policy opens up an unprecedented opportunity wherein there is a lot of flexibility in transfer credits and bank credit, as well as the focus on the learning outcomes and technology-related transformations are happening through various platforms. Edited excerpts: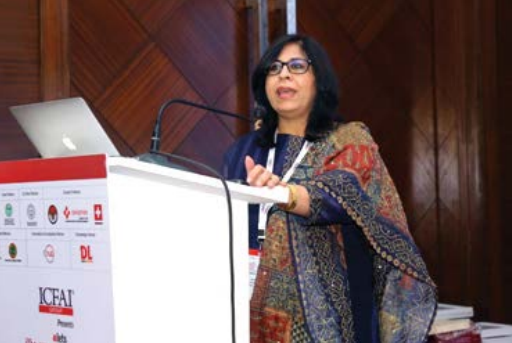 "The start-up culture is booming in India, making it the world's third largest startup country, where the focus is coming on hybrid learning and multiple career paths for an individual", shared Dr. Vinnie Jauhari, Learning & Skills Lead, Microsoft.
"We at Microsoft offer a unique opportunity in the higher education sector through Microsoft's educational transformation framework, where it provides practical advice to develop a strategy for digital transformation. Microsoft works in over 100 countries where they focus on student success, and educates them to have connected ecosystems, to enable faculty to embrace technology innovation for teaching and learning, and how we can power academic research and smart campuses, which are to be set up to monitor the progress of the students through their entire life cycle", she added.
New technologies like Cloud, Big Data, IoT, and Robotics are all gaining huge ground in the industry.
If you look at the industry scenario, over 80 per cent of the organisations are embracing these technologies, which means new job roles in new areas and this will automatically slide offerings in terms of skills in higher education. So, Microsoft offers content on MS Learn, and there are more than 3200 modules that can further customise learning experiences.
We could be partners in your journey towards connected experiences with students creating more personalised learning experiences that will help with curriculum content and also faculty development. It will also help governance in terms of using data analytics to power your decisions. So, we look forward to the partnership", she concluded.
Digital innovation in education
At the 24th World Education Summit,oragnised by Elets Technomedia, Prof. Saroj Sharma, Chairperson, National Institute of Open Schooling (NIOS), talking about Delors Commission, constituted by UNESCO, said that it proposed an integrated vision of education based on two key concepts, 'learning throughout life' and the four pillars of learning – to know, to do, to be and to live together. Edited excerpts: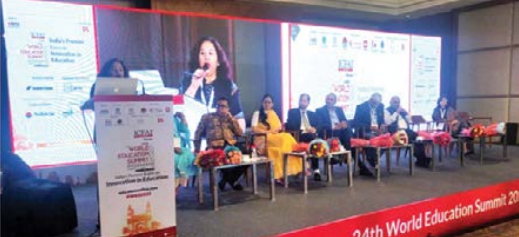 "It transformed into the millennium 2020 goals. There were eight goals that were discussed and then, when goals were not achieved, it was extended up to 10 more years and the National Education Policy talks about achieving these global objectives which Sustainable Development Goals are discussing," said Prof. Saroj Sharma, Chairperson, National Institute of Open Schooling (NIOS) . There are two national boards in India, one is CBSE and another is the National Institute of Open Schooling. "NIOS is the world's largest open schooling system.
Around 25 black students are here and last year, UNESCO awarded us the King Sejong Literacy Prize 2021 for working in the field of inclusion," she said.
"3 years back, we introduced a program diploma in elementary teacher education and 14 lakh teachers were given online education. Last year, we signed an MoU with Jan Shikshan Sansthan with the Ministry of Skills and currently, 24 lakh labourers of unorganised track sector are being educated and skilled," she added.
The National Council for Vocational Education and Training (NCVET) has given NIOS the right of awarding body. "We are the board where there is no demarcation between vocational courses and conventional courses. A student who has taken music can opt for physics. 103 vocational subjects with conventional subjects is our mandate," she said.
"We are also teaching Kasturba Gandhi schools, in online mode. The education minister last year launched a virtual school. It is the world's largest open schooling and we were the pioneers of launching this virtual school," she added.
Talking about the academic bank of credit, she said that all the 25 lakh students of NIOS have their own dashboard. "These kinds of innovations we are doing through digital mode," she said.
Placement, high package should not be the criteria of life skills. Livelihood skills should be part of life. Education should reflect in our behaviour," she concluded.
Research and Education: The innovative ecosystem
At the 24th World Education Summit, organised by Elets Technomedia, Dr. Shwetha Suresh, Head of Innovation, Swissnex, Swiss Consulate General, Bangalore talked about the opportunity that Swissnex brings to the education sector. Edited Excerpts: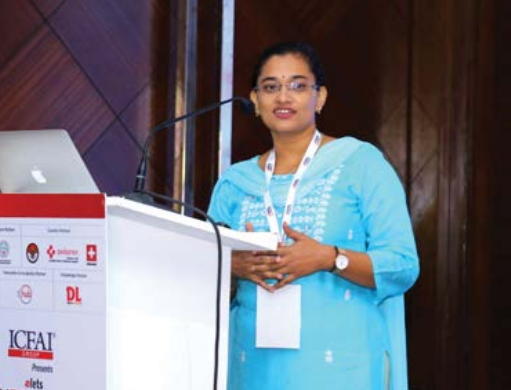 "The world's most cutting-edge location for research and education can be found at Swissnex, a consulate that focuses on science and technology. Their main goals are to collaborate with the innovation ecosystem, offer guidance on educational trends, support higher education, and spark creative thought. Given that both Switzerland and India are very pro-active nations in the education sector, they sensed that sustainability was a common theme between the two nations", said Dr. Shwetha Suresh, Head of Innovation, Swissnex, Swiss Consulate General, Bangalore.
The marginalised population is rapidly becoming digitalised when you consider innovation in the education sector. The most noticeable trend, which experiential learning has greatly influenced, is the changes they have seen in the higher education sector. Swissnex has a number of knowledge-sharing platforms available to anyone who wants to advance their understanding of sustainable development goals.
"We also run a programme known as the academia industry training programme to address innovation, and we have 10 Swizz patents to support their applicability in both Switzerland and India", she added further.
"There are 3 predominant trends, one is to do with the experiential learning, second is about the students training via apprenticeship to advance sustainable development growth, and lastly an academia-industry training program for the students, where they have 10 Swiss PhD or Post grad patents to support their applicability in both Switzerland and India. There is also rethinking for a lot of the digital exchanges, that we can do via hybrid summer school blended learning. Building of resilient future generation can be useful, joyful and creative for the students", she concluded.
Telangana reinventing education with adoption of technology
Telangana has been making a lot of efforts in innovation for taking education forward, stated Syed Omer Jaleel, Secretary and Commissioner, Intermediate Education and Secretary, Intermediate Board, Intermediate Education Department, Government of Telangana at the 24th World Education Summit, organised by Elets Technomedia. Edited excerpts: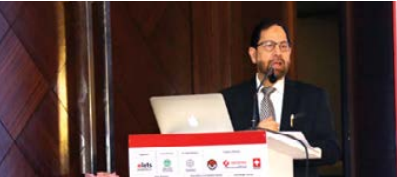 Various initiatives were taken by the Telangana government but the pandemic forced them to reflow the plans and strategies to deliver quality education. There was a paradigm shift in the adoption of technology in the education sector. This happened after the pandemic forced them to reinvent and restructure the strategies and effectively deliver quality education.
Syed Omer Jaleel, Secretary and Commissioner, Intermediate Education and Secretary, Intermediate Board, Intermediate Education Department, Government of Telangana stated, "We are adopting the technology. We have integrated software applications, biometric attendance, and video surveillance for students. Today, schools and colleges are equipped with wi-fi facilities and CCTV surveillance. The classrooms are turning digital. We are trying to establish e-libraries in every school and college so that children from socially underprivileged backgrounds will not have any problems the accessing the internet."
The online automation of all key services and robust governance structure viz., biometric and video surveillanc e have completely transformed the digital learning space. The major achievements of the intermediate board is that they have concentrated on smart governance, smart learning and smart services.
"We have also made an online application via which children can access, apply and even pay for services they choose, but to access that, students require certificate equivalence eligibility and migration. We have introduced a transparent system of online college services where we have provided CCTV camera surveillance during the examination through which easily monitor the students from our head office", he added.
This has been happening for the last three to four years. It has helped them in providing error-free conduct of exams and a result not even seen a single complaint has been filed.
They also built up a system of online admissions where 10th class examination hall tickets can help students get admission into government colleges. "The conduct of the exam and the evaluation work in physical mode but we are in the process of converting it into digitised form", he averred.
Some of the popular services related to students are the issue of migration certificates, equivalence certificates, eligibility certificates, duplicate pass certificates, duplicate marks memos, etc. These are basically the things that are required for children coming from outside the states or going to a different location and applying for and getting it is a big nuisance so they have made this online so that one can apply online, pay online, and receive online.
We are trying to integrate whatever technology is available and can be spread out for improving the education sector we want to use be it the internet, social networking, and online learning.
"When the pandemic came we were totally unprepared. There was a lockdown all over India and we were not in a position to provide education neither the teachers could come nor the children could come so we devised online education via different platforms such as ZOOM.
Nowadays People can work, learn and study whenever and wherever they want. There is a new emphasis in the classroom on more challenge-based active learning. Though the pandemic has passed, we still continue to have a model of hybrid learning", he concluded.
Educational ties between India & Indonesia to grow stronger
Education and cultural ties between Indonesia and India have been established 15 centuries ago. The need of the hour is to bring to a higher level of collaboration between our two countries in the education sector, shared Agus Prihatin Saptono, Consul General of the Republic of Indonesia, Mumbai at the 24th World Education Summit. Edited Excerpts: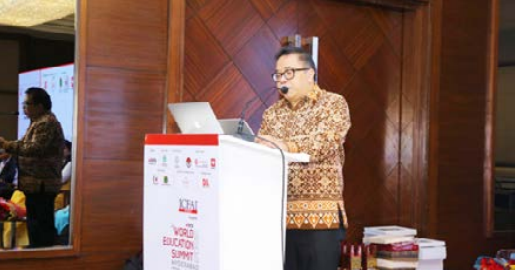 Addressing the 24th World Education Summit held in Hyderabad, Agus Prihatin Saptono, Consul General of the Republic of Indonesia, Mumbai said, "The roots of education and cultural relation between India and Indonesia run deep and deserve to be renewed in this modern age."
Presently, Indonesia holds the G20 Presidency, a cooperation forum of the world's 20 major economies. "This is our biggest opportunity to strengthen cooperation in digital transformation," he said.
India may not yet be the most favourable study destination for Indonesian people despite the widely known fact that a large number of successful global entrepreneurs and CEOs are actually of Indian origin, he further added.
He shared that Indian universities have made it to the QS World University Rankings 2023 for their advanced education, especially in engineering. It will attract more overseas students to India, he opined, adding that Indonesian students can gain much from what India offers through IITs.
The two countries can collaborate to strengthen the knowledge exchange. "Indian educational material can be made available to Indonesian students in their language and similarly India can ensure its university portfolio is part of the list of universities promoted by the Indian embassy in Jakarta," he suggested.
The Indonesian railway agency is currently looking for Indian partners to share their engineering knowledge. "This is in pipeline of Indian universities and academies to conduct capacity-building programs for our transportation ministry," the Consul General said.
Collaboration between Indonesian institutions and Indian institutes will grow stronger. "Indian Universities can make their own outreach program, leveraging the global internet penetration," he said.
He further added, "Highlighting how Indonesia embraced online learning during the pandemic, he said, "We embraced online learning even at the university level. Now, we are adopting hybrid learning. This is the time to build student and teacher exchange programs."
"Digital technologies can be leveraged to facilitate online knowledge exchange programs between the two countries. Indonesia too is gearing up to encourage information technology to artificial intelligence and from entrepreneurship to management. We allocate a good budget to the education sector," he concluded.
Revolutionary Education-The road ahead
Abhay Jere, Chief Innovation Officer (CIO), Ministry of Education, Government of India talked about revolutionary education and the changes required in the education spectrum, at the 24th World Education Summit organised by Elets Technomedia. Edited excerpts.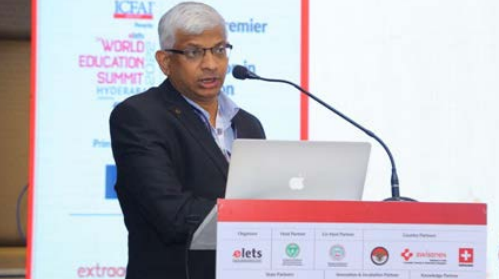 "When we are talking about new education policy, there is a huge emphasis on innovation and as a result, while the policy was getting formulated itself, the ministry felt a need to have an innovation cell and for a chief innovation officer. I don't think that many of our private organisations have a Chief Innovation Officer. But now we have one with the Government of India and through our sustained efforts, we are doing multiple initiatives & taking multiple policy level initiatives to ensure that we promote innovation." said Abhay Jere in his opening remarks.
"Innovation and entrepreneurship have become buzzwords of late. Now innovation is a necessity and it is a prerequisite for survival. In the next five to eight years, we all will be talking about the gig economy. The world is moving in the direction of the gig economy which means companies or organisations are not going to hire full-time employees. It will be contractual and on a project by project basis. As we see in the film industry, when somebody makes a movie, they bring in directors, producers, artists, and technicians. The same is going to happen in the tech industry also." he added.
Talking about the design of an educational institute from 25-30 years from now, he added, "We have started working in that direction because we have MOOCs, SWAYAM, Coursera, and a zillion other platforms for almost free. Currently, degree is the main priority for anybody but eventually, it will be the last priority and they will only go to educational institutions to get the experience for camaraderie, to sit in the canteen, to chat because they believe that through Coursera or other courses they will be able to get the skills which are required for getting jobs".
He averred that now the hiring pattern is getting changed as part of the gig economy. Even now google has started hiring people just based on skills irrespective of whether you are a 10th pass or a 12th pass. If you know the skill, you are hired. Majority of our educational institutions are chasing marks, grades, placements but hardly any one of them is chasing ideas.
"We have a national innovation and startup policy which we implemented in 2019. The policy is launched for a reason that there was no clarity on the revenue sharing model, or equity sharing model. I am very happy that more than 3,000 institutions have started adopting that policy. We are going to have a similar policy even for schools because we want to promote innovation and entrepreneurship right from the school level.", he mentioned.
"We are also introducing design thinking at school from the 6th standard. Design thinking is to identify a problem and how to visualise a solution so that if you can teach kids to work in that direction then we will be able to nurture their creativity and out-of-box thinking." he concluded.