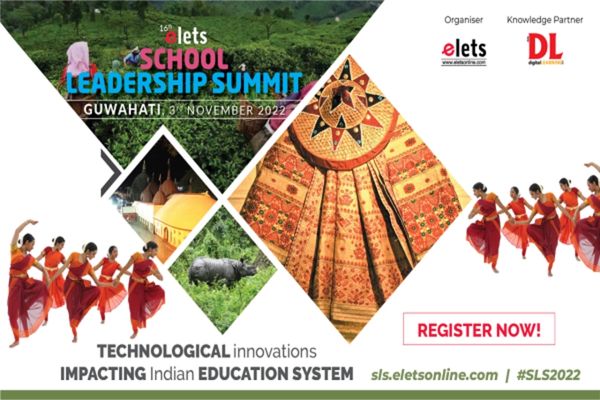 Driven by the aim of making an impact to transform the education paradigm, Elets Technomedia along with Digital Learning is organising the 16th Elets School Leadership Summit (SLS) 2022 on 3rd November at Vivanta by Taj in Guwahati.
With the technological intervention that is aggressively transforming the infrastructure of the education paradigm, we are pivoting on "Technological innovations impacting the Indian education system" for this flagship event. In the last 15 editions, the flagship event of Elets along with Digital Learning has been successful in carving a niche for itself. The School Leadership Summit has congregated various education stakeholders to deliberate on the finest practices and innovations empowered by technology interventions.
The paradigm shift has changed the entire curriculum of schools in the present scenario. Students are now more engaged in online learning, digital classrooms, and self-evaluation. According to a recent survey, about 57 per cent of educational institutions across sectors are re-evaluating their strategic priorities relative to online learning, and expanding online course offerings is one of the key focus areas.
To emphasise the importance of technological adoption, we are bringing a day full of knowledge sessions, expos and awards. This event will mark the most trending opportunities, challenges and solutions in school education through its various three elements. Not just that, but it will also witness the most prominent school decision-makers from the north-eastern region.

As the School Leadership Summit finds its presence in Guwahati, we have all the plausible reasons to justify it. Guwahati is the largest city of Assam, besides the Brahmaputra river and the best place in the northeast for education. The city has spurred huge growth as a top educational hub in India. Guwahati has some illustrious schools which are adapting well to the emerging curriculums and also adopted the practices of technological innovation in the field of education. The city is excelling not only in setting educational standards across the country but also globally.
Henceforth to grace the summit, we have invited some of the eminent school education leaders, government dignitaries as our keynote speakers from the north-eastern region. To name a few, we have Dr B Kalyan Chakravarthy, IAS, Principal Secretary, Skill, Employment and Entrepreneurship Department, Government of Assam; Mayur Ghai, Channel Development, Avidii India; Joutishman Dutta, Chairman, Assam Down Town University Guwahati, Assam; M. S. Manivannan, IAS, Commissioner and Secretary, Higher Education Department, Government of Assam; Shahnaz Ahmed, Chairman & Founder Principal, Springdale Senior Secondary School, Jorhat, Assam; Jonali Das, Principal, Modern English School, Guwahati, Assam; Umesh Harbola, Principal, Delhi Public School, Golaghat, Assam; Dr Brijesh Karia, Chief Operating Officer, Singhania Education Services Ltd; Sailesh Sarmah, President, All Assam Private School Association, Guwahati, Assam; Shreyaan Daga, Co-Founder, OLL; Maya Alfred Fernandes, Principal, The down town School, Guwahati, Assam.
We are also coming up with expos which will display the most innovative and new-age solutions from India's top education startups and edtech firms. Acknowledging the most precious work from educators, the SLS will also see awards in the categories Excellence in tech-savvy faculty, Recognition for technology integration in School, Innovation in Collaborative Learning Globally, Excellence in best practices in School Education, Innovation in Pedagogical Practices, Leading School with e-learning infrastructure, Leading School in Inclusive Education, Innovative startup in school education, Recognition for innovative practices in hybrid learning and many more.
Apart from the exciting awards ceremony, the summit will also witness more than five insightful panel discussions on – From experiential learning to inclusive learning encompassing multidisciplinary education: NEP paving the accessible way to flexible learning; Adapting interactive learning through technologies like Immersive Reality, Artificial Intelligence & Machine Learning: Breaking the silos of education; Restructuring the education landscape with high-tech tools: Technology orchestrating improved pedagogy; From Self-directed learning to Self-assessments and personalised learning – Dawn of a new education era.
The summit will be a mega platform for all the industry stakeholders, government dignitaries, edu-leaders, and spear headers of the education world to commemorate to-date achievements and manifest future developments.
Register Now: https://sls.eletsonline.com/sls-16th-registration/

br>