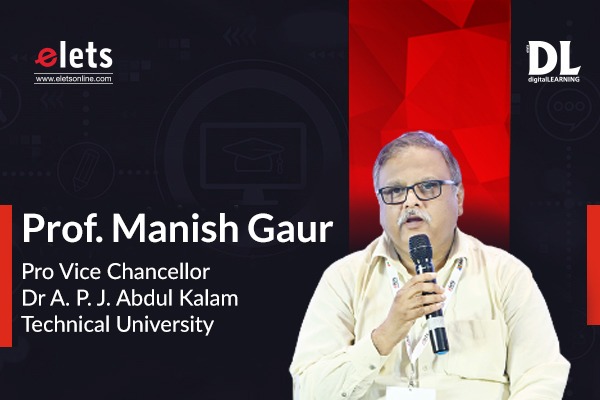 Talking about reachability of technology, Prof. Manish Gaur, Pro Vice Chancellor, Dr A. P. J. Abdul Kalam Technical University said, "Reachability of technology to the downtoward people is not a challenge today. The Government of India has taken a massive lead in this direction. So, reachability is not an issue. The issue is how do we use it and how do we enable it for leveraging education, skilling and other associated things."
Gaur said that the Government of India has earmarked a budget of Rs 500 crore this year to set up a digital university, which will be raised up to Rs 2000 crore in years to come. "It's all about reaching to everyone for quality education," he said.
IIT Chennai has started a bachelor's programme in data science. Highlighting the unique feature of this programme, Gaur said that there is no enrollment limit. So any number of students can enroll for that programme from anywhere in the world.
"You can pay fees, and after appearing for a proctored or in-class exam, you can obtain an IIT Chennai degree as well," he said.
Talking about technology in the times of COVID, Gaur said, "We were very hesitant in adopting technology but COVID forced us to adopt it aggressively, as there was no choice. We could manage classrooms with the help of various platforms, technologies. We could manage examinations, reachability to various students in the era when people hesitated to even come out of their homes. So it was technology which was helping us with reachability.
"Technology has a very short life. It changes every six months, so unless you skill yourself, upskill yourself, you will not survive. We have to make our children ready for this kind of future. Adoption of technology and skill is the order of the future and we should move forward in this direction," he concluded.