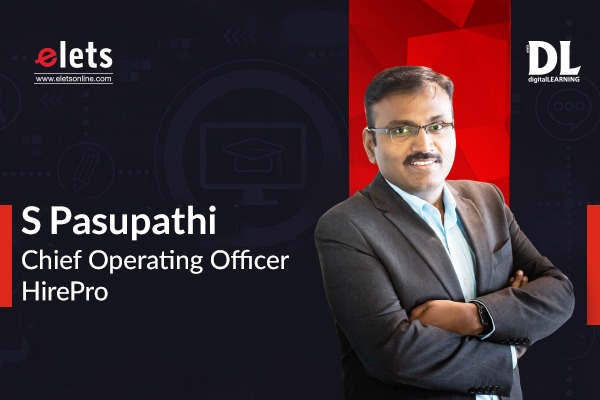 The recruitment industry keeps evolving, and it has transformed exceptionally from traditional recruitment methods to modern hiring methods. Virtual placement is an advanced way of recruitment and is one step further than traditional placement. Technology is simplifying and aiding hiring agencies for a smooth hiring process. Delving deep into the discussion S Pasupathi, Chief Operating Officer, HirePro had an interaction with Kaanchi Chawla of Elets News Network (ENN). Edited excerpts:
What were some advancements in campus placements caused by the pandemic?
There has been a seismic shift in traditional hiring practices in the past two years. With increasing hiring targets, growing competition for talent, and process automation, a new benchmark for ideal hiring processes have been established. Following the pandemic, campus recruiters' attention has shifted from doing the groundwork to managing a vast talent pool. The distinction between on-campus and off-campus hiring solutions is blurring as organisations take a more holistic approach. This evolution has resulted in the greater use of integrated tools from end to end to handle the hiring processes. Automation has altered businesses approach to campus hiring by removing the mundane. The digitalisation of campus hiring has:
• Enhanced organisation's talent reach and shortened their hiring period
• Allowed for seamless hiring from diverse sources
• Helped facilitate specialised hiring by offering precise data about
universities and candidate performance.
What are the pros and cons of on-campus vs virtual campus placements?
Recruiters and hiring managers around the world now have a new tool that delivers a broader reach, a greater pool of exceptional candidates, and more efficient and cost-effective logistics during the recruitment process. With the introduction of the new virtual hiring approach, the net has been cast wide, even globally, for several jobs.
On-campus hiring is preferred by:
• Organisations that find it difficult to brand themselves and attract talent virtually. So, they are present on the ground and try to create awareness and build their employer brand.
• Organisations hiring for high paying-high stakes roles wherein the hiring is very competitive. For example, banks hire on campus in tier-one colleges as being on ground gives them better control to make quick decisions, collaborate with multiple interviewers, and also convince candidates to join them.
• Organisations hiring in tier-one colleges like IITs, where acquiring talent is extremely competitive. The hiring window is quite short and hence, organisations need to be very agile in the process.
How did virtual campus placements help students and to what extent?
Since the pandemic and its many ramifications made campus recruitment drives practically impossible for educational institutions, increased adoption of virtual education has helped reimagine and revolutionise campus recruitment, enhancing employment opportunities for students from all academic streams.
Virtual recruitment is not limited by geography, logistics, or time. It has enabled students to apply for their ideal companies and jobs from virtually any location. All students, regardless of gender, location, or other diversity differences, have equitable and accessible placement chances through virtual campus hiring.
Furthermore, employers prefer to hire from college and university campuses as it provides students with insights into their job roles and workplace culture, and helps employers hire fresh, innovative, enthusiastic, and loyal talent.
After the unprecedented occurrence of the pandemic, the education ecosystem has been molded into many forms for better and worse. What trends from the pandemic will carry forward in the long run regarding campus placement?
Hiring teams have carried through several current hiring strategies from the pandemic-induced remote hiring era to put their best foot forward and acquire a competitive edge in the war for talent. A noteworthy example is the continued use of remote and hybrid recruiting practices. During the shutdown, employers saw automation as a way to broaden their talent pools and hire in massive numbers without compromising quality talent. A few strategies that appear to be long-term trends are:
Automating the screening and early assessment processes
Outsourcing interviews
Employers practicing brand building through activities such as hackathons, placement activities, and campus relations.
Employers adopting distinct branding and marketing techniques for each target segment of candidates
Your brand has such an innovative concept. What inspired you to start this and how are you planning your future expansions?
In today's brutally competitive recruitment environment, any firm that can hire top talent is guaranteed to succeed. HirePro was conceived to support businesses in managing their hiring operations through technology-driven solutions and services. Today, we see a growing number of recruitment departments throughout the world looking at solutions created in India since they can better accommodate volume and complexity. Given the intricacies and nuances of the Indian hiring scenario, such as the number of hires, rejects, dropouts, and candidates who cheat, there is a greater need for HirePro products.
It has been helping organisations manage college hiring since 2004. Having been in the industry for the past 18 years, the team understands the nuances of college hiring, assessments, process, and have been guiding organisations on how to make this change. Automation of our service offerings has helped us transform the business and also build speed and scale for our customers.
This is only the beginning of our expansion journey, as the adoption of technology for remote recruitment is at an all-time high. We are always evolving in terms of releasing smarter products in the industry, acquiring more clients, and expanding our geographical presence across India and globally.