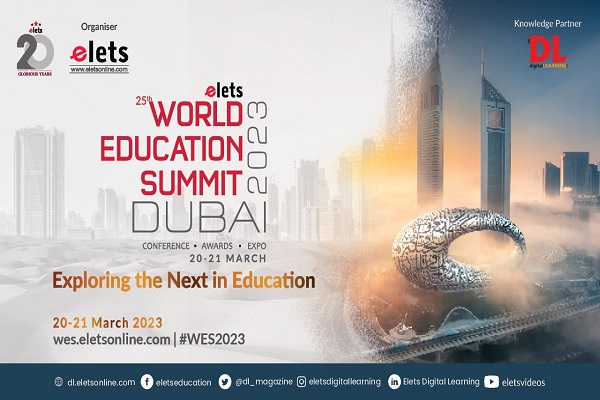 Elets Technomedia along with its premier Digital Learning Magazine is proud to organise the 25th Elets World Education Summit & Awards in Dubai on 20-21 March with a vision to make education more accessible, engaging, and relevant to the needs of today's learners.
Focussing on the theme "Exploring the Next in Education", the premium closed-door event will present exclusive insights into the latest trends, best practices, and growth opportunities in the evolving education sector of the digital era.
"We are excited to bring together top educators and technology leaders to discuss the most pressing issues being faced by the education sector in the digital age. This is an ideal platform for all stakeholders to connect & collaborate to build a smart education ecosystem while exploring new-age innovations," said Dr. Ravi Gupta, Founder, Publisher & CEO, Elets Technomedia.
He further said, "We are excited to showcase some of the most innovative education solutions at our expo. Also, we are looking forward to felicitating ground-breaking innovations at the 25th Elets World Education Awards."

The 25th Elets World Education Summit (WES) will bring together leading educators and industry experts from across Asia & the Middle East for two days of learning and networking. It will feature keynote speeches from renowned speakers, panel discussions, and presentations from some of the leading experts in the field.
From the higher education sector, the stellar line-up of speakers includes Dr. Hamad Odhabi, Vice Chancellor for Administrative and Financial Affairs, Abu Dhabi University, Abu Dhabi, UAE; Dr. Nasser Al Muraqab, Chief Operating Officer (COO), University of Dubai, UAE; Dima Rachid Jamali, Dean of School of Business. University of Sharjah, UAE; Jan Horn, Managing Director, SAE Institute Dubai, Dubai, UAE, etc.
The speakers from school education include Amol Vaidya, Senior Director Operations, Global Schools Foundation, Dubai, UAE; Ghadeer Abu-Shamar, Senior Vice President Education – GEMS, and CEO/Superintendent, Al Khaleej International School, Dubai, UAE; Abigail Alexis-Olubuyide, Head of School, Wesgreen International School, Sharjah, UAE; Dr. Beno Kurien, Principal, International Indian School, Abu Dhabi, UAE, etc.
The digital era has changed the education landscape significantly, facilitating new tools and resources, personalised learning experiences, and new opportunities for collaboration and communication. As technology continues to evolve, the education landscape is likely to continue to transform, and educational institutions will need to keep up with the changing times in order to stay relevant. The summit will be joined by industry experts for an enriching exchange of ideas on future-ready digital transformation in length. The speakers from the industry include Madhuri Sawant, Founder and Managing Director, Brainquartz, Dubai, UAE; Dr. Brijesh Karia, COO, Singhania Education Services Pvt Ltd; Denise Hutton Gosney, Managing Director and Founder, Razzamataz Theatre Schools; Karen Keeman, Public Relations Advisor and Content Creator, Razzamataz Theatre Schools, Nirmal Singh, Founder & CEO, Wheebox, etc.
Key Discussion Points
Technology Intervention: Changing Landscape of Education
Skill Development: Road to Employability
Strengthening Vocation Education for Future-Ready Workforce
Digitisation in Education: Best Practices, Challenges and the Way Forward
Reforms and New Policies for Education in the Digital Era
Education Reimagined: Leadership for Transformation
& many more
Showcasing New-Age Products/Services
The 25th Elets Word Education Summit will feature a dynamic expo showcasing some of the latest and most innovative education solutions designed to meet the needs of today's educators and learners.
Expo participants will include some of the most innovative and forward-thinking companies and organisations in the industry including Lyallpur Emporium, Vestel, Accuracy, Torrins, Matific, etc.
Celebrating Excellence in Education
In addition to the conference and expo, there will be a felicitation of innovations shaping the future of teaching and learning at the 25th Elets World Education Awards.
The prestigious awards aim to recognise and celebrate the exemplary work/initiatives of individuals and organisations in the education sector. It will The awards will highlight outstanding technologies, academic achievement, leadership, innovative educational initiatives, etc. that have enhanced the teaching and learning practices.
2 Days of Learning & Networking
Dubai is a city known for its innovation, diversity, and commitment to education. With its world-class infrastructure, state-of-the-art facilities, and thriving business environment, Dubai is the perfect destination for this mega event.
Join over 200 top leaders at the summit for unparalleled learning and networking experience. For details, visit: wes.eletsonline.com
Our Partners/Exhibitors: https://wes.eletsonline.com/wesdubai-partners-2023/

br>