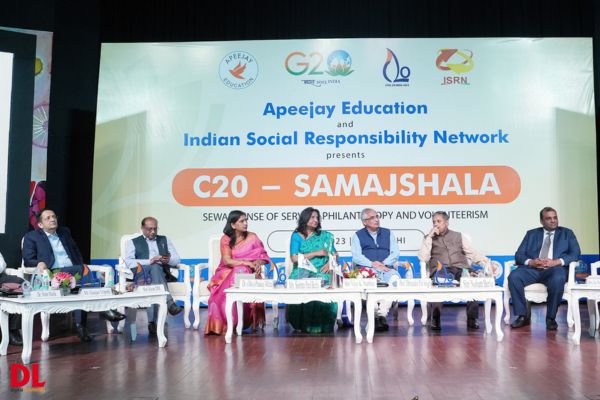 C-20 Samajshala, a massive awareness initiative, was recently launched by Apeejay Education and the Indian Social Responsibility Network (ISRN) under the auspices of the G20, an intergovernmental organisation made up of 19 nations and the European Union that works to address important issues relating to the global economy. The event was held in the Apeejay School auditorium in Panchsheel Park, New Delhi.
The programme, which was attended by a host of dignitaries, was also attended by prominent academics, government officials, members of civil society, teachers, and students. Shri Vijay K. Nambiar, C20 – Sherpa (Principal Co-ordinator), a former ambassador of India and under-secretary general of the United Nations, served as the occasion's chief guest.
Sushma Paul Berlia, Chairperson of Apeejay Education, Co-Founder and Chancellor of Apeejay Stya University, and Chairperson and President of Apeejay Stya and Svran Group, was honoured on this occasion by Shri Vijay K. Nambiar. The event's Guest of Honour was Mrs. Berlia. She received recognition for her exceptional work in establishing the crucial synergy between industry and education for the purpose of nation-building. Shri Nishant Berlia, Co-Promoter, Apeejay Stya & Svran Group, also attended the ceremony.
"Right from the beginning it was ingrained within us, in our DNA, that whatever you do, whatever you earn, at least spend some on philanthropy," Sushma Paul Berlia said in her speech. Our organization's core value is social responsibility. Mrs. Berlia emphasised the value of charitable giving by stating that "helping someone is something that each and every one of us has the ability and power to do, no matter what our resources."
She further said, "We have been trying to do sewa through our institutions and organisation as well and be involved even while working. We have framed a curriculum where we talk about yoga, meditation, exposure to comparative philosophy, finding uniqueness in different religions and the similarities and being able to think critically and in that process learn to introspect."
Also according to Berlia, "My father, Late Dr. Stya Paul, who is the Inspiration behind all Apeejay Education Institutions, always taught us that we are only stewards of the wealth we create and that there is a big difference between the concept of wealth and money." She outlined the social relevance of wealth creation, pointing out that it benefits not just the individual but also the members of an organisation and society as a whole.
"The sewa bhav must emanate spontaneously from within each individual and be reflected in each's practical commitment towards fellow citizens," the chief guest,
Vijay K. Nambiar, said. The tremendous emphasis on community services in all of our areas has always impressed me. He added, "Dr. Stya Paul has to be the epitome of 'sewa' if there is such a thing. Additionally, Sushma Paul Berlia has made significant contributions to education.
According to Santosh Gupta, CEO of ISRN and the India Coordinator-C20 Sewa Working Group, "Civil20's goal is to make it easier for various civil society organisations to express their opinions. These are then turned into policy and presented at a gathering in July 2023 after more deliberation. The G20 will then receive these in September.
One of the G20's official engagement groups, C20 India 2023, gives Civil Society Organisations (CSO) from all over the world a forum to express the goals of their constituents to the G20's global leaders.