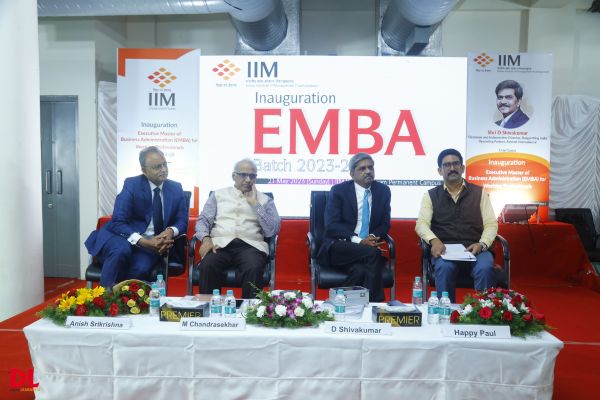 The Indian Institute of Management (IIM) Visakhapatnam welcomed the inaugural class of the Executive Master of Business Administration (EMBA) for Working Professionals programme.
In the presence of Prof. M Chandrashekhar, Director, IIM Visakhapatnam, and Anish Srikrishna, CEO, TimesPro, the occasion was officially opened by D Shivakumar, Chairman and Independent Director of BurgerKing India and Operating Partner of Advent International.

D Shivakumar, Chief Guest, addressed at the opening about the value of management education and technology. He mentioned various technical innovations in his commencement address, including the telephone, television, computers, mobile phones, and recently Chat GPT, and how their advantages manifest over time. On the management front, he challenged the participants to maximise their MBA learning experience by remaining attentive and involved at all times. He inspired people to engage in projects that include a sustainability or digital component.
Prof. M. Chandrasekhar welcomed the participants, congratulated them on enrolling in the programme, and wished them a fullfilling educational journey. He stated that the MBA at IIMV will be taught with this spirit and cited Bertrand Russell as saying, "More important than the curriculum is the question of the methods of teaching and the spirit in which the teaching is given." He advised the participants to work with professors to develop case studies that include real-world management scenarios.
The CEO of TimesPro, Anish Srikrishna, assured the candidates that his staff would offer a cutting-edge learning platform and technological support. For starting this learning journey through this EMBA programme, he commended the students.
The IIM Visakhapatnam EMBA is a master's degree programme that was created with the goal of providing management education to working people who are looking for the skills and strategies to improve their organisations' performance. In technical cooperation with TimesPro, India's top higher education technology platform, the programme is provided in a hybrid format on an Interactive Learning (IL) platform.