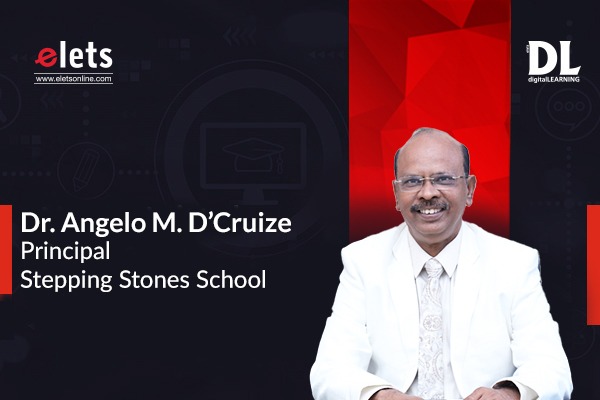 Holistic development will only prepare students for life. It is more than the whole student's education and addresses the broadest development of the entire child at the cognitive and affective levels, shared Dr. Angelo M. D'Cruize, Principal, Stepping Stones School in an exclusive conversation with Sheeba Chauhan of Elets News Network. Edited excerpts:
According to UNICEF, Over 600 million children and adolescents worldwide are unable to attain minimum proficiency levels in reading and mathematics. What do you consider the issue in developing foundational skills in literacy and numeracy?

For a country as diverse as India, that too with a huge demographic structure, students come from various socioeconomic backgrounds, have varied attention spans and interests, and have different language abilities.
There is a marked difference between students' competency and the learning outcomes, thereby resulting in a deficiency in developing foundational skills in literacy and numeracy. The issues in developing FLN skills will continue till teaching is confined to the four walls of the classroom. Teaching will have to include a connection to the real-world experiences of the child. The teachers should communicate more with the parents as to what a child has achieved. Parents, even if non-literate, need to be involved. Sadly, a lot needs to be worked upon in this aspect.
Some two-thirds of the world's school-aged children do not have an internet connection in their homes. Do you think the digital divide can be a major drawback of the digitization of education?
Yes, the digital divide is creating an uneven educational structure and pedagogical approach. Three-dimensional problems come to my mind that is evident in creating a setback for the digitization of education.
i) The first-dimensional gap is between those who have access to hardware, network, software, authentic information, etc and those who don't.
ii) The second dimension is the gap between generations or the generational divide.
iii) The third dimension, call it the behavioural divide, is the gap between those who can learn on their own versus those who can't. Many women, girls, minorities, and migrants shun digital access for learning because it is either too boring to learn on their own or too antisocial. This probably explains why only 2% of the millions who enroll for MOOCs complete their courses.
An estimated 93 million children worldwide live with a disability and these children are overlooked while making educational policies. What are the programs, you have at your school for these differently abled children?
For children with special needs, our school has devised a unique program titled 'Sparkling Steppers' which encompasses the learning and developmental competencies as well as meets the need of compassion towards these special children. For our society which otherwise considers such differently abled children as a tough task to educate, we joyfully embrace them with utmost love and care with our remedial classes & separate worksheets for them.
A 'Buddy System' is also being initiated in our school wherein a bright and normal child takes the responsibility of a special child. This imbibes a healthy environment of inclusive education and empathy in our campus.
How do you see global collaboration in education? Do you think, it can help the foundational stages?
I see global collaboration as the dire need of the hour as we look forward to a world without boundaries. The majority of the world's children are growing up in the most resource constrained countries, where school systems are often stretched beyond capacity. In an increasingly globalized and interdependent world, I feel their education needs to be everyone's concern.
There is a massive shortage of teachers. A challenge of this scale, including expanding teacher training programs, supporting public policies to build a skilled and motivated teaching force, and equipping educators with technologies to improve teaching and reach more students – is ripe for greater international cooperation.
It is a contemporary time of carving global students. 'Care and Share' must be the new motto of collaboration amongst the educators and institutions of the world.
How do you think global summits like World Education Summit Dubai can bring innovation and development to the landscape of education in India?
Global summits like the World Education Summit Dubai will certainly help in transforming, rather revolutionising education, with new initiatives. It will help to network and build partnerships with hundreds and thousands of global attendees. It will broaden the frontiers of knowledge and knit us together into a world of educational excellence.
Holistic development was one of the major pushes of the New Education Policy. How do you implement the same at your school?
At Stepping Stones High School, Aurangabad – India, we believe and strive for the all-round development of every child. We maintain a personal profile for the curricular as well as the co-curricular growth of every student.
Holistic development will only prepare students for life. It is more than the whole student's education and addresses the broadest development of the entire child at the cognitive and affective levels. The holistic approach to education prepares students to pass from, what I fondly refer as the 'University of Hard Knocks' (the real-life challenges). It develops a learner's social and academic maturity to accept life's challenges, build their understanding, and learn from their errors.
The New Education Policy has a vision that will lead the students to return to their society and pay back to their society, parents, village, district, state, and nation. This in turn will transform our societies and provide the requisite impetus for an equal and sustained growth.