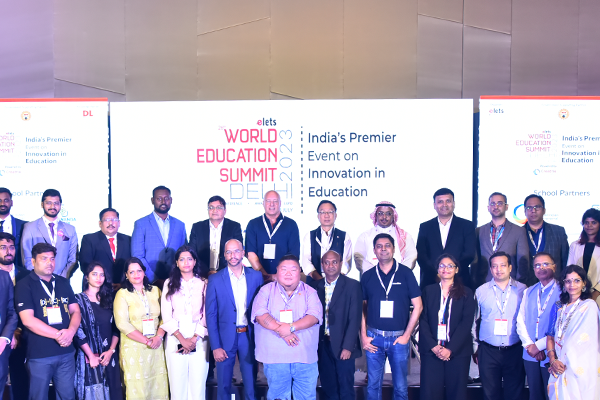 The 26th Elets World Education Summit, a premier global event in the education sector, concluded on 5th July 2023 after two days of action-packed knowledge sessions, awards and expo, leaving a resounding impact on the participants and setting a new benchmark for excellence in education.
Hosted at Vivanta by Taj in New Delhi, the summit brought together renowned educators, policymakers, industry leaders, and innovators from around the world. Over the course of 2 days, the summit served as a platform for engaging discussions, insightful presentations, and collaborative networking opportunities, all aimed at shaping the future of learning.
The 26th Elets World Education Summit powered by Creatrix Campus featured a diverse range of sessions, covering topics such as educational technology, curriculum design, teacher training, inclusive education, and more. The summit unfolded in two different segments — School and Higher Education.
The summit kick started with the welcome address of Dr. Ravi Gupta, Editor-in-Chief, Digital Learning Magazine, Founder and CEO, Elets Technomedia said, "We believe that technology has the power to revolutionise the education sector in India, enhancing our overall enrollment ratio and bolstering the effectiveness of learning. Its potential to transform India into a developed nation aligns with the vision set forth by our Hon'ble Prime Minister. Education stands as the paramount sector calling for a transformation driven by technology."
The Chief Guest of the Summit – Temjen Imna Along, Hon'ble Tourism & Higher Education Minister, Government of Nagaland said in his keynote address that "Education is the journey towards achieving excellence, enabling our generation to be prepared to confront any situation and become valuable human resources for their nation, community, family, and personal growth. However, it is not merely education that holds significance; it is the provision of appropriate education that is crucial. Striking the right balance in education is essential, not just for India as a nation, but for countries worldwide."
Prof. (Dr.) T G Sitharam, Chairman, All India Council for Technical Education (AICTE) who joined the summit as 'Guest of Honour' addressed the gathering and said, "To revolutionize higher education, it is imperative that we collaborate as a team. Our collective goal should be to establish expansive, well-equipped, and dynamic educational institutions that offer a diverse range of disciplines. These institutions should strive to deliver education of the highest quality, fostering innovation, entrepreneurship, research, and community engagement."
Among the other highlights of the summit was the keynote address by K Bhaskar, Commissioner of School Education (Infrastructure), Department of School Education, Government of Andhra Pradesh who said, "The textbook serves as the foundation of the learning process. Its content is transformed into a digital format, which provides an additional layer of information and a wider range of sensory experiences. While textbooks can only offer textual information and limited visuals, digital formats offer various sensory inputs such as running text, videos, audios, quizzes, and discussion points. This approach, known as blended learning, combines the core textbook content with digital resources, making it available for both students and teachers."
The summit witnessed Mikael Hermansson, Tedx- Speaker, Author and Edutainer, from Sweden, Europe who addressed the gathering with his exciting anecdotes and introduced GOTD, "Grej of the Day (GOTD), is designed to bring joy back into teaching and learning. By implementing this formula, I aim to make learning meaningful and engaging for students, fostering a sense of excitement and accomplishment in the classroom."
There were a lot of others esteemed guests who captivated the audience with their visionary ideas and thought-provoking insights. Their profound understanding of the educational landscape left a lasting impact and inspired participants to reimagine traditional paradigms.
Furthermore, the summit showcased a dynamic exhibition hall where leading edtechs Sri Connect, Zenda, Saar education, Quest+, T 10 Sports, Maxhub, Camu, Godrej Interio, Henry harvin Education and many others showcased their groundbreaking solutions. This provided participants with an opportunity to explore the latest advancements in educational tools, platforms, and methodologies.
In the award segment of the summit, some of the prestigious organisations, leaders, schools and higher education institutions received the awards in various categories for their remarkable achievements in the realm of education.
The success of the 26th Elets World Education Summit reinforces its position as a leading global platform for education stakeholders. Elets Technomedia extended the gratitude to all participants, speakers, sponsors, and partners who contributed to its success.
As the curtains close on this remarkable event, the legacy of the 26th Elets World Education Summit will continue to inspire and drive progress in education. The momentum gained during the summit will fuel ongoing efforts to transform learning and with the same enthusiasm, we will be back with the next edition of WES in Singapore & Malaysia to create a brighter future for education.
"Exciting news! Elets Education is now on WhatsApp Channels Subscribe today by clicking the link and stay updated with the latest insights!"
Click here!