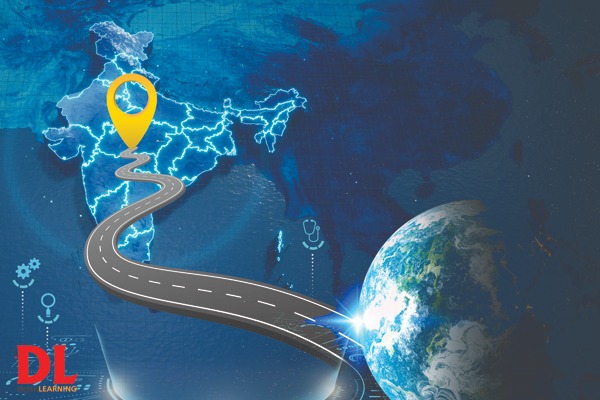 Education across the world is navigating a path of development by transcending borders and redefining the way we learn. From remote villages nestled in the heart of Africa to bustling metropolises in Asia, the tides of change are sweeping across the globe, empowering individuals and communities alike. The global education is expected to show an annual growth rate (CAGR 2022-2027) of 10.37%, resulting in a projected market volume of US$9.55bn by 2027. The traditional boundaries that once confined education within the walls of classrooms are being shattered, making room for innovative approaches, digital tools, and inclusive opportunities. As the world embraces this learning revolution, a profound shift is underway, democratizing knowledge and unleashing the limitless potential of minds hungry for growth.
Aiding this growth, the global educational services market has experienced substantial expansion, with a compound annual growth rate of 7.8%, increasing from $3,173.75 billion in 2022 to $3,421.26 billion in 2023. Furthermore, it is projected to reach $4,479.94 billion by 2027, growing at a CAGR of 7%. Several developing countries, including Canada, India, and nations in the Middle East, are making significant strides in the education sector on a global scale.

India, in particular, plays a pivotal role in the global education industry. With one of the world's largest networks of higher education institutions, India has transitioned from its ancient Gurukul system to become the second-largest education system globally. The country is also a prominent player in the e-learning market, following the United States. The Indian education sector has witnessed increased private investments and collaborations with international brands to provide an internationally recognized standard of education. The demand for specialized degrees has risen, with students opting for industry-focused qualifications. Higher education institutes in India are responding to this demand by creating online programs.
The future of education not only in India but worldwide is being reshaped by cutting-edge technologies such as AI, ML, IoT, and blockchain. The Education 4.0 revolution, emphasizing inclusive learning and enhanced employability, will redefine the educational landscape. Technology has made the world a smaller place, enabling individuals to access educational resources, evolve, and make a meaningful impact irrespective of their geographical location.
Indian Education Market Size – An Open Door for Opportunities
India's education sector is projected to reach a value of US$225 billion by FY25 (Source: IBEF). With over 250 million school-going students, India has the largest student population in the world. However, according to UNESCO's 'State of the Education Report for India 2021', the Pupil Teacher Ratio (PTR) at senior secondary schools is 47:1, higher than the overall school system's ratio of 26:1.
As of FY21, the number of colleges in India stood at 43,796, while the number of universities reached 1,072 as of November 25, 2022. In the academic year 2022-23, India has a total of 8,902 institutes approved by the All India Council for Technical Education (AICTE). These institutes include 3,577 undergraduate, 4,786 postgraduate, and 3,957 diploma institutes. Furthermore, the Indian edtech market is expected to grow significantly, with a projected size of US$30 billion by 2031, compared to US$700-800 million in 2021. Additionally, the online education market in India is forecasted to expand by US$2.28 billion during the period of 2021-2025, with a compound annual growth rate (CAGR) of approximately 20%.
These statistics, combined with government policies like the National Education Policy (NEP) 2020 and other ongoing initiatives, position India as a prominent global educational hub.
Navigating Education in a Globalised World
Technology has made it possible for everyone across the world to navigate in the field of education beyond boundaries. As we navigate education in a globalised world, it is important to foster an inclusive, forward-thinking approach that prepares students for the opportunities and challenges they will encounter. By embracing cultural diversity, developing global competencies, leveraging technology, and fostering a sense of global citizenship, we can empower the next generation to thrive in an interconnected world.
Various initiatives, MoUs, and collaborations can be seen across nations as a result of these interconnected relations with a bigger goal of thriving in education. India's step towards opening up gates for foreign varsities to establish campuses in India is one of the majors. Recently, in the presence of honourable Prime Minister of India, Narendra Modi, and President of US – Joe Biden, Indo-US collaborates to strengthen research. In March this year, India signed an MoU with Australia regarding mutual recognition of University, Vocational, and School qualifications in both countries. This agreement will help the students of both countries to study in either country as their qualifications will be recognized and will be valid in both countries.
Enhancing its education base in the UAE, India signed an MoU with UAE on cooperation in the field of education. The broader agenda of this is to widen the scope of engagements and promote an exchange of information education, capacity development of Technical and Vocational Education and Training (TVET) teaching staff, facilitation of academic collaboration between Higher Education Institutions (HEIs) in both the countries for offering twinning, joint degree and dual degree programmes and any such other areas agreed upon. Also, the World Bank's Board of Executive Directors has approved a loan of $255.5 million to help India improve the quality of its technical education and provide more career opportunities to students.
India is not just home to the oldest universities like Nalanda or Takshila, it is now home to almost top educational institutions across the world. As per the QS World University Rankings 2023, Nine Indian institutes – the Indian Institute of Science (IISc) in Bengaluru and eight Indian Institutes of Technology (IITs) – were among the top 500 universities. India has always been a knowledge hub in history and now it is on a path to continue holding the knowledge crown by revamping policies, international collaborations, and bridging the gaps to a brighter education system.
Developments Shaping the India Education Ecosystem
The education and training sector in India has witnessed some major investments and developments in the recent past. Some of them are:
The Union Budget 2023 set aside Rs. 1.12 lakh crore (US$ 13.5 billion) for education – the highest ever and an increase of around 8.2% than what was pegged in 2022-23.
The University Grants Commission (UGC) has announced draft norms for facilitating foreign universities and educational institutions to set up campuses in India.
The provisions for multiple entry and exit in higher education, the National Credit Framework, and the Curriculum and Credit Framework for Undergraduate Programmes as envisaged under the NEP 2020.
As per the QS World University Rankings 2023, India is home to 41 out of almost 1,500 top global institutions in the world, with the Indian Institute of Science in Bengaluru being the highest ranked institution in the country at rank 155.
In September 2022, UnfoldU Group, India's leading online education player, announced plans to enter the space of Metaverse education.
Winding Up!
The education sector across the world is witnessing remarkable growth and transformation, driven by technology and digital advancements. Technology has emerged as a powerful catalyst for transformation, particularly among the younger generation who readily embrace new technologies. The potential of technology and digital media to drive innovation, education, and societal change is immense. As the world becomes increasingly interconnected and information becomes more accessible, technology plays a pivotal role. India, after its economic reforms in 1991, has already made significant strides in global integration. With the adoption of technology in education, India is poised to enter the next phase of globalization. Let us embark on this ongoing journey of progress and make a meaningful impact on a global scale.