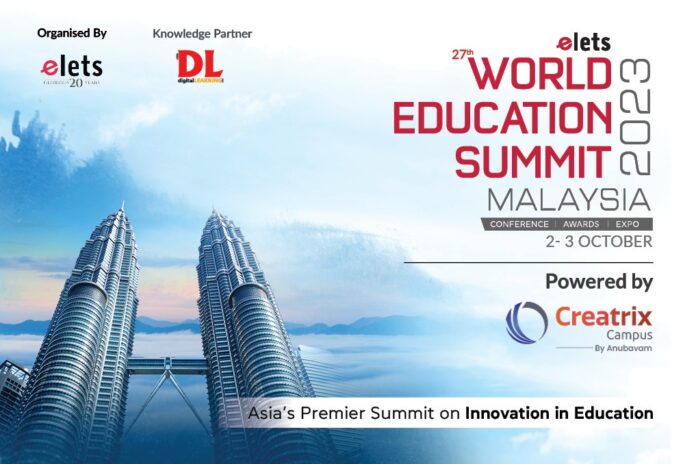 The prestigious Elets World Education Summit (WES) is poised to return for its 27th edition, bringing together an exclusive gathering of decision-makers, visionaries, innovators, and industry leaders from around the world. Hosted by Elets Technomedia in collaboration with Digital Learning Magazine, the summit is scheduled to take place on October 2-3, 2023 in Malaysia.
This exclusive closed-door summit aims to explore new horizons and opportunities within the education sector, with a strong commitment to pushing the boundaries of innovation.
WES has a rich legacy of fostering innovation and driving positive transformation in the global education sphere. In alignment with this vision, we have chosen Malaysia which is also recognised as a prominent educational hub in Southeast Asia, for this edition. Malaysia's educational framework has consistently led the way in introducing inventive pedagogical approaches and cutting-edge curriculum designs. The summit will delve into the realm of contemporary innovations, propelling novel ideas to the forefront of discussion.
Attendees will have the opportunity to explore the most cutting-edge EdTech solutions, engage in enriching discussions across school and higher education tracks, and gain exclusive access to a network of over 300 global educational leaders, among other valuable opportunities.
Specially Curated Dedicated Tracks
To enhance engagement & knowledge-exchnage experience, the summit will be divided into two distinct tracks—School Education and Higher Education. This innovative approach will provide attendees with the ultimate platform to connect, share insights, and collaborate with peers and experts across educational segments.
Higher Education Track
The Higher Education is one of the driving factors for employment in the nation and to address the challenges faced by higher education leaders or students is really critical. With a diverse range of topics, the summit will address critical issues in higher education and explore potential solutions for building a smarter future. Key discussion points include the technological impact on classroom dynamics; strategic leadership in higher education; Malaysia's educational landscape: Delivering Cost-effective & Quality Education; building career-ready students, ensuring education for all; digitalisation in education; the role of AI in teaching; international collaborations, and the future of online education, among others.
To discuss these critical issues and many other topics, the summit will be graced by
Datuk Ariff Farhan Doss, Chief Operating Officer, Human Resource Development Corporation (Under Ministry of Human Resources (MOHR), Malaysia; Dr. N Varaprasad, Former Deputy President, National University of Singapore; Prof. Anurag Singh, Director – Institute of Business Management, GLA University, Mathura, India; YBhg Prof Dr. Ahmad Izanee Awang, President & Vice-Chancellor, Open University Malaysia, Malaysia; Professor Dato' Dr. Noor Inayah Bt. Ya'akub, President & Vice-Chancellor, Infrastructure University, Kuala Lumpur, Malaysia; Prof. Datuk Ir Ts Dr Siti Hamisah Binti Tapsir, Group CEO/Vice-Chancellor, UCSI University, Kuala Lumpur, Malaysia; Prof. Goi Bok Min, Vice- President, Universiti Tunku Abdul Rahman, Malaysia and many others esteemed speakers.
School Education Track
The School Education track will be graced by DATO' Professor Dr. Mahmoud Khalid Al Msafir, Chairman & CEO, Alnoor International Schools; Dr. Jeffery J. Louis, COO and Principal, UCSI Schools Bandar Springhill, Malaysia; Ihab Ads, Chief Executive Officer & Co-Founder, Spectrum International School, Malaysia; Dr. HC Aslam Khan BSK, Academic Director and Vice Chairman of Erican Education Group, Executive Council Member of NAPEI, Malaysia and many others.
This segment will also delve into diverse topics addressing the pain points and demands of the school education ecosystem across the world. The key discussion points will be Technology for Education; Metacognition and Memory; Next-Generation Classrooms & Learning Models; Cross-Cultural Experiences; and Academia-Industry Partnerships to name a few.
Expo: A Showcase of Revolutionary Ideas
The Elets World Education Summit – Expo, a vital component of the event, will feature an impressive lineup of exhibitors from renowned educational institutions, leading edtech companies, and innovative startups. Attendees can explore the latest educational products, technologies, and services, participate in one-to-one meetings to facilitate growth plans and get familiar with groundbreaking innovations that can revolutionise their educational institutions.
Celebrating Excellence: 27th Elets World Education Awards
The summit will also shine a spotlight on exceptional initiatives and contributions in education through the Elets World Education Awards. Educators, policy-makers, and edtech leaders will be recognised for their transformative efforts that have shaped the educational landscape and improved learning outcomes for students. By celebrating excellence, the awards serve as an inspiration for educators to continue pushing the boundaries of innovation.
EdTech Unleashed: A Dynamic Startup Program
In addition to the well-established Conference, Expo, and Awards that have been a longstanding part of WES, this edition introduces a new and exciting initiative called EdTech Unleashed. This dynamic startup program is designed to shine a spotlight on promising edtech startups that exhibit exceptional potential. It aims to connect these startups with influential education leaders and investors from around the world.
Elets Technomedia is excited to announce the participation of esteemed investors who will play a pivotal role in shaping the future of tech-driven innovation in the education ecosystem.
The dynamic team of investors includes Adrian Hia, Partner, Kairous Capital, Kuala Lumpur, Malaysia; Dr. Anand Govindaluri, Founder & CEO, Govin Capital; Dash Dhakshinamoorthy, Founder, Startup Malaysia; Raja Hamzah Abidin, Co-Founder and Co-Managing Partner, RHL Ventures, Kuala Lumpur, Malaysia; Noor Amy Ismail, Chief Operating Officer, Malaysia Venture Capital Management, Kuala Lumpur, Malaysia; John Lim, Partner, Meet Ventures, Singapore; Teng Hau Lee, Investment Director, Kairous Capital, Kuala Lumpur, Malaysia. These visionary investors bring a wealth of experience and knowledge the programme, demonstrating their commitment to driving positive change in education.
This collaborative effort underscores a commitment to driving innovation and growth in the education technology landscape.
With a focus on collaborative efforts to cutting-edge insights, the 2-day summit holds potential for learning and forging some amazing opportunities for everyone attending, shaping a brighter and smarter future for education worldwide.
"Exciting news! Elets Education is now on WhatsApp Channels Subscribe today by clicking the link and stay updated with the latest insights!"
Click here!