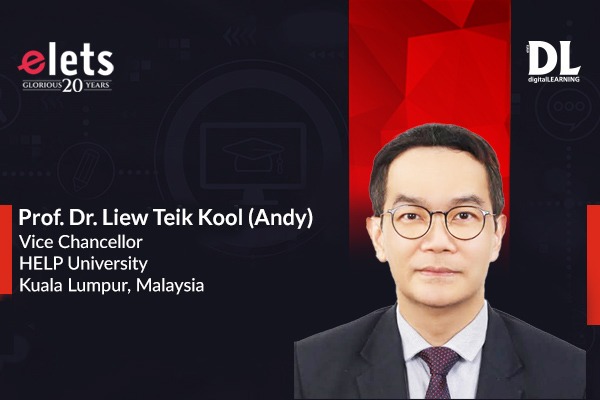 Promoting inclusivity and diversity at HELP University is a foundational pillar of our educational philosophy. We believe that by embracing and celebrating diversity, we create a more enriching and equitable learning environment, preparing our students to thrive in an interconnected and multicultural world, shared Prof. Dr. Liew Teik Kooi (Andy), Vice Chancellor, HELP University, Malaysia in an exclusive conversation with Sheeba Chauhan of Elets News Network. Edited excerpts:
HELP University is well-known for its commitment to providing quality education. How do you ensure that the university maintains high academic standards and remains competitive in the education sector?
Ensuring that HELP University upholds its high academic standards and remains competitive within the education sector is central to our mission. To achieve this, we have established a clear vision: to become a university distinguished by its unwavering commitment to quality, academic excellence, and leadership. Our approach to maintaining these standards includes:
Commitment to a culture of continuous improvement across all facets of academics and operations.
Engage in benchmarking activities to measure our performance against industry best practices and global standards. This helps us identify areas where we excel and areas that require enhancement.
Collaboration with industries and professional bodies remains as a crucial aspect of our strategy. It enables us to stay attuned to evolving industry demands and trends. This engagement ensures that our programs remain relevant and our graduates are well prepared for the workforce.
We are dedicated to providing students with the best possible educational experience and staying at the forefront of the ever evolving education landscape."
What are some of the key strategies or initiatives you have undertaken since becoming Vice-Chancellor to enhance the overall educational experience at HELP University?
Enhancing the overall educational experience at HELP University has been a multifaceted and continuous endeavour, aimed at fostering holistic development in our students, encompassing not only academic growth but also character building and personal enrichment. Several key strategies and initiatives have been undertaken encompass:
Academic Excellence: Ensuring that our curriculum remains current and aligned with industry needs and standards. Regular programme reviews and updates, as well as faculty development, have been instrumental in this regard.
Talent Management: Strengthening every faculty's talent development efforts has been a priority. This includes faculty training and professional development programs to enhance teaching quality and research capabilities.
Student Support and Engagement: Implementing robust student support services, including academic advising, counseling, and career guidance. Additionally, the University has fostered a vibrant student community through clubs, societies, and extracurricular activities to promote holistic growth.
Campus Development and Infrastructure: Investment in campus facilities and infrastructure has been ongoing to provide a conducive environment for learning and research.
Innovation: Embracing educational technology and innovative teaching methods has played a pivotal role in modernising our educational approach. This includes the integration of various digital systems in the university.
Alumni Engagement: Foster strong ties with alumni to create a network that provides mentorship and career guidance to current students.
Malaysia is a diverse and multicultural country. How does HELP University promote inclusivity and diversity on campus, and how does this enrich the educational experience for students?
Promoting inclusivity and diversity at HELP University is a foundational pillar of our educational philosophy. We believe that by embracing and celebrating diversity, we create a more enriching and equitable learning environment, preparing our students to thrive in an interconnected and multicultural world.
Inclusive Admission Policies: At HELP University, our commitment to inclusivity begins with our admission policies. We maintain an open and non-discriminatory approach to student admissions. We firmly believe that education should be accessible to all, and our entry requirements reflect this ethos. We ensure that individuals from various backgrounds, cultures, and ethnicities are welcomed into our academic programs as long as they fulfil the prescribed entry requirements.
Cultural Celebrations and Events: Our campus is a vibrant hub of cultural diversity. Throughout the academic year, we actively organize and participate in cultural celebrations and events. These occasions serve as a platform for staff and students to share and celebrate their cultural heritage fostering an atmosphere of unity and cultural exchange.
Cultural Clubs and Societies: To further encourage cultural exploration and appreciation, we support a wide range of cultural clubs and societies on campus. These student-led organizations provide a space for students to connect with others who share their cultural backgrounds or interests. Through these clubs, students can participate in cultural showcases, food festivals, and educational initiatives that promote cross cultural understanding.
Inclusive Curriculum: Our commitment to diversity extends into the classroom. Our curriculum is thoughtfully designed to be inclusive, reflecting the diverse fabric of Malaysian society. We integrate content and perspectives from different cultures and ethnicities, ensuring that our students graduate with a broad and inclusive worldview.
Study awards and bursary: We are committed to ensuring that financial constraints do not limit access to quality education. To this end, we offer a range of study awards and bursary specifically aimed at supporting underrepresented minority groups.
Inclusive Facilities: We continuously strive to make our campus facilities accessible and inclusive. This includes ensuring that our infrastructure accommodates individuals with varying physical abilities, allowing all students to participate fully in campus life.
Mentorship Programmes: Our mentorship programmes pair students from diverse backgrounds, facilitating cultural exchange and peer support. This not only helps newcomers adjust to campus life but also promotes cross-cultural friendships, enriching the overall university experience.
What best practices from the Malaysian education system can be adopted globally to foster development and growth in the higher education ecosystem?
The Malaysian education system has valuable best practices that can serve as models in the global higher education ecosystem which will transform education to become more inclusive, adaptable, and responsive to the dynamic needs of learners and the job market. Some of these practices include:
Accreditation of Prior Experiential Learning (APEL): The Malaysian system promotes lifelong learning by recognizing prior experiential learning. Through the APEL, individuals can gain access to higher education, receive credit transfers, and even earn academic qualifications based on their prior knowledge and skills. This approach can be adopted globally to provide more inclusive access to education and recognize the expertise of non-traditional learners.
Microcredentials: The offering of microcredentials is a progressive practice in Malaysia. These stackable and flexible credentials cater to the upskilling and reskilling needs of individuals in response to evolving job market demands and also be considered for the award of an academic qualifications. This concept can be adopted worldwide to facilitate continuous professional development and adaptability in the workforce.
Open Distance Learning (ODL): Malaysia has made significant progress in the field of open and distance learning, ensuring that education is accessible to individuals who encounter geographical or time-related constraints. To reinforce the credibility of this ODL model, Malaysia has developed a robust Code of Practice for Programme Accreditation in Open and Distance Learning (COPPA-ODL). This accreditation framework can serve as a global best practice, enhancing access to higher education, fostering inclusivity, and instilling confidence among the public and employers regarding the quality of graduates.
Quality Assurance Frameworks and Programme Standards: Malaysia has established rigorous quality assurance mechanisms for higher education institutions. These frameworks can serve as benchmarks for ensuring academic excellence and accountability in education systems worldwide. Programme standards is developed as a guideline to the stakeholders to assist the development of programmes in a particular field of study, which covers all the education levels: from certificate to doctoral degree.
Industry Collaboration: The Malaysian education system encourages collaboration between academia and industries, resulting in industry-relevant curricula and research projects. This practice can be adopted globally to bridge the gap between academic knowledge and real-world applications.
Flexible Learning Modalities: Malaysia's flexibility in offering a variety of learning modalities, including online, blended, and traditional classroom-based education, can be adopted to accommodate diverse learning preferences and adapt to evolving educational technologies.
Is there anything else you would like to share with our readers about your vision, or the current scenario of higher education in Malaysia?
In the realm of higher education, it is paramount that we continually emphasise our moral imperative as educators: to contribute to and uplift society through education. We are drawn to the field of education not merely for its ennobling nature but also for its profound capacity to bring about positive change. Higher education, with its noble aims and methodologies, stands as a beacon of hope for societal progress.
"Exciting news! Elets Education is now on WhatsApp Channels Subscribe today by clicking the link and stay updated with the latest insights!"
Click here!