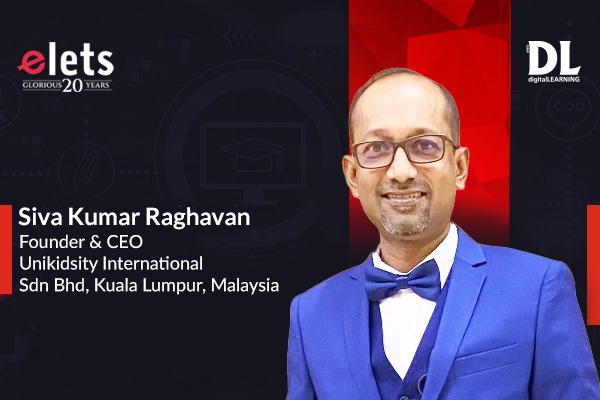 Integrating technology in preschool settings needs to be done thoughtfully to preserve the crucial interpersonal connections and experiential learning that young children need, shared Siva Kumar Raghavan, Founder & CEO, Unikidsity International Sdn Bhd, Kuala Lumpur, Malaysia in an exclusive conversation with Sheeba Chauhan of Elets News Network. Edited excerpts:
What innovations in teaching methodology and curriculum design has Unikidsity introduced to nurture creativity and curiosity in young learners?
Usage of AI for Teachers on Lesson Planning and Activities: Unikidsity employs Artificial Intelligence to assist teachers in designing lessons and activities that are tailored to individual students' needs. These AI technologies assess student data, interests, and learning styles to suggest creative and engaging lesson plans. It helps teachers to be more efficient and focused on fostering a creative environment, rather than being bogged down by administrative tasks.
Unikidsity Gives Priority on Every Child's Differences: Recognizing that each child is unique, Unikidsity emphasizes differentiated learning. Our curriculum is tailored to accommodate various learning styles, interests, and paces. Our teachers are trained to identify and nurture individual talents, creating a personalized and inclusive learning environment that encourages exploration and creative growth. We utilize specific AI software to compile student portfolios.
Smart Boards in Classrooms: The use of smart boards in Unikidsity classrooms adds an interactive element to learning, making it more engaging for young learners. These boards are used to display interactive lessons, simulate real-world scenarios, and even allow students to collaborate on projects in real-time. This encourages curiosity and a hands-on approach to learning, making education more dynamic and less lecture-based.
These innovations help Unikidsity stand out as a progressive educational institution focused on nurturing creativity and curiosity in young learners.
How is Unikidsity leveraging digital technologies and blended learning approach to enrich classroom experience?
At Unikidsity, we always emphasize the importance of experiential learning that every child requires in their early years. However we use technology to further enhance and complement each child's learning experience, making it more meaningful and effective.
Interactive Lessons: UUsing voice and touch-based interactions to keep kids engaged.
Gamified Experience: Learning through games and giving them rewards to make education fun.
Multi-sensory Learning: Incorporating videos, sounds, and interactive activities for a well-rounded learning experience.
Multilingual Support: Offering lessons in multiple languages such as Bahasa Malaysia and Mandarin besides English.
While we recognize the importance of technology, early years education must be firmly rooted in an experiential foundation.
What best practices from the Malaysian education system can be adopted globally to foster holistic child development?
The Malaysian education system has several elements that could serve as best practices for fostering holistic child development, which other countries might consider adopting:
Multiculturalism: TMulticulturalism: The education system in Malaysia is highly multicultural, which helps children learn tolerance, acceptance, and coexistence from an early age.
Balance of Academics and Extracurriculars: Malaysian schools place a strong emphasis not just on academics but also on extracurricular activities like sports, music, and arts to ensure well rounded development.
Community Involvement: Activities like "Gotong Royong" (community service) are often integrated into the education system, teaching children the importance of community and social responsibility.
Ethics and Religious Studies: The Malaysian education system incorporates ethics and religious studies to promote moral development, but the implementation must be sensitive to the diverse population.
Practical Skills: Subjects like Living Skills offer hands-on experiences in areas such as cooking, sewing, and basic carpentry, emphasising life skills alongside academic knowledge.
Integrated Curriculum: Malaysia's education system adopts a balanced curriculum that integrates Science, Technology, Engineering, and Mathematics (STEM) subjects with social sciences, aiming for a more holistic education.
Parental Involvement: Schools have activities or programs that encourage parents to be actively involved in their child's education, thereby forming a tripartite relationship among student, parent, and teacher.
Student-Centered Learning: Modern approaches in Malaysia are shifting towards student-centered learning, focusing on creativity, problem-solving, and critical thinking.
Language Proficiency: The system places importance on being multi-lingual, usually teaching in Malay, English, and either Chinese or Tamil, which equips students for global opportunities.
As a future-focused model, how is Unikidsity preparing students with 21st century skills like critical thinking, problem solving, etc.?
We recommend that parents of children aged 5 and 6 enroll them in the coding classes we suggest. This approach ensures our students are agile and more competitive.
With edtech becoming ubiquitous, how can schools strike a fine balance between technology integration and interpersonal connections in learning?
Integrating technology in preschool settings needs to be done thoughtfully to preserve the crucial interpersonal connections and experiential learning that young children need.
Limited Screen Time: Use tech sparingly and strategically. Recommended limited screen time for preschoolers.
Interactive Tools: Choose educational technology that is interactive and promotes collaboration, rather than passive consumption.
Teacher Facilitation: Use technology as a tool that aids the teacher, NOT REPLACES THEM. Teachers can guide the tech interaction, enhancing the learning experience.
Real-World Connections: Technology can bridge learning with real-world experiences. For instance, after a lesson about plants, students can use an app to identify local flora.
Parental Involvement: Encourage parents to engage with their kids in tech-based assignments or activities. This turns tech-time into family-time as well.
Time for Unplugged Play: Allocate significant periods for playtime, arts and crafts, and outdoor activities that do not involve technology.
Emphasize Social Skills: Use role-playing, group activities, and other non-tech-based methods to teach empathy, sharing, and communication skills.
Review and Adapt: Continuously monitoring the effects of technology on the children and be prepared to adapt the curriculum accordingly.
Staff Training: Ensure that the staff is well-trained, not only in using tech tools but also in recognizing when technology is more of a hindrance than a help. Hiring competent staff is essential.
Community Building: Use technology to connect the preschool community—teachers, parents, and children—in meaningful ways, like through a shared blog or regular digital newsletters.
By keeping these points in mind, preschools can navigate the complexities of integrating technology while preserving the essence of experiential and interpersonal learning.
"Exciting news! Elets Education is now on WhatsApp Channels Subscribe today by clicking the link and stay updated with the latest insights!"
Click here!