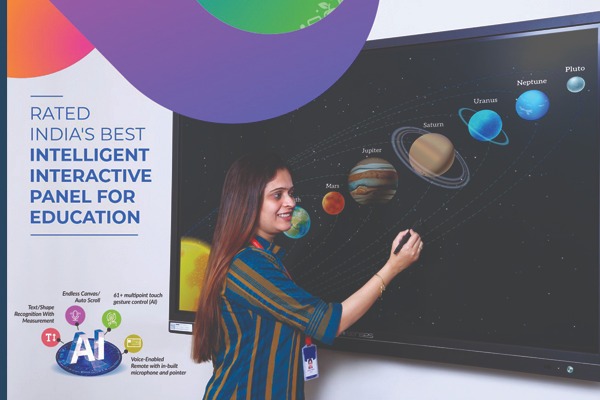 In the ever-evolving sphere of education technology, one company has not only kept pace with change but has orchestrated a symphony of innovation and collaboration – Senses. With a dedication to fostering meaningful relationships with educators, delivering unparalleled customer service, and securing a commanding market share, Senses has emerged as the undisputed leader in India's interactive panel industry.
A Symphony of Collaboration with Educators
Innovation never emerges from solitude, and Senses recognised that certain innovations require the collective wisdom of educators. Their Interactive Panels, which have redefined the modern classroom, are a testament to this profound collaboration.
Senses embarked on a mission to revolutionise classrooms, envisioning a future where traditional chalkboards and whiteboards would yield to cutting-edge Interactive Panels. However, their journey was not solitary; it was a harmonious collaboration with educators who navigate the corridors of education daily.
These visionary educators provided invaluable insights, shaping the development of Senses' Interactive Panels into intuitive tools tailored precisely to the needs of teachers and students. Through countless hours of consultation and collaboration, Senses and educators co-created an educational revolution.
Uncompromising Customer Service
Innovation is only one part of the equation. Senses understands that introducing technology into the classroom is not solely a technological challenge; it's a human and behavioral challenge. Merely placing a Senses panel in a classroom is not enough to ensure its full potential is realised. This is where Senses truly shines.
Their unwavering commitment to customer service goes beyond the ordinary. Senses provides educators with continuous tech support and extensive training, ensuring they are not just equipped with technology but also possess the knowledge and skills to maximise its potential.
With a presence in over 25 major cities in India, Senses' support is never more than a phone call away. This personalised approach underscores their commitment to guiding educators through the ever evolving landscape of educational technology. As one principal aptly put it, "Senses has not just transformed our classrooms; they have transformed our perspective on education."
Leaders in Market Share
Senses doesn't just lead; they dominate the Indian market for interactive panels. They cover more than 70% of the market share, a testament to the trust and confidence that educators and institutions place in their products.
grace the classrooms of 8,000 schools, impacting the lives of over 20,000 students. Senses' relentless focus on innovation, coupled with unparalleled tech support and software updates, has solidified their position as market leaders.
A Vision for Tomorrow
In the ever-evolving world of education, Senses stands as a beacon of excellence, a testament to the power of collaboration, and a symbol of the transformative potential of technology in the classroom. Their journey is not merely about gadgets and screens; it is a symphony of human ingenuity and unwavering dedication to a brighter future for education.
As we look to the future of education, one can only imagine the countless minds Senses will inspire and the boundless horizons they will expand. They are not just leaders; they are visionaries orchestrating an educational revolution, a symphony of innovation, educator partnerships, and market dominance. Senses is guiding us toward a future where learning knows no bounds, and classrooms resonate with the harmony of knowledge and
progress.
Elevating Education through Innovative Features
Senses' Interactive Panels are not just technological upgrades; they are gateways to a new era of pedagogy. These panels seamlessly blend technology with education, offering features that make learning a dynamic and immersive experience. From intelligent shapes and math tools for mathematics and science teachers to online access to sources like Google and Wikipedia, these panels empower both educators and students. The ability to save sessions, record live interactions, and employ multi-finger gesture control elevates the learning experience to new heights. Artificial intelligence capabilities, including handwriting-to-text conversion and voice commands, further enrich the classroom environment. With support for multiple Indian languages, Senses ensures inclusivity in education, making the future of learning brighter and more accessible than ever.
Views expressed by Digital Media team of Senses Electronics.
"Exciting news! Elets Education is now on WhatsApp Channels Subscribe today by clicking the link and stay updated with the latest insights!"
Click here!