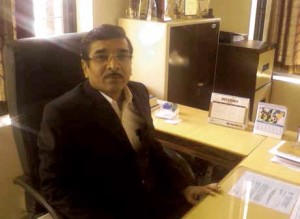 V Krishna, PrincipalIndus World School, RaipurImplementing
ICT has completely changed the scenario in our school in terms of better assessment and recognizing areas of improvements timely.
Pedagogy – We have specifically made efforts to develop creative skills of students at the initial (Ananda) level. We have encouraged 'Art and Craft' like working on live sketches, pottery making, working with beads and paper, artworks on cloth and other materials. This has helped lot of students to develop problem solving and creative skills. Also, learning of classical music and dance has taken a centre stage.
Infrastructure – Infrastructure in terms of composite labs with additional Learning aids has been developed.
Teachers' Training – Teacher's training forms an integral part of our academic schedule. Training is done via Video Conference and in person on weekly basis. Sharing of new initiatives with teachers of different Indus campuses happen frequently. Monthly tests of mentors on subjects and topics like "Child Psychology and Pedagogy" are conducted and assessments shared with them.
Technology – Implementation of tabs, in particular has helped students to take up "Diagnostic Tests" from Class 4 onwards and various other assessments through "Compassbox.com" online.
Sports – We have worked extensively on our sports infrastructure like readying and focusing on Tennis, cricket and athletics facilities. Indoor sports like chess, carrom, table tennis and basketball have also been promoted.
Grab the opportunity to meet the who's who from the world of education. Join us for Higher Education and Human Resource Conclave Jaipur on 24th-25th September 2018. It will be a wonderful occasion to explore business opportunities. Like us on Facebook, connect with us on LinkedIn and follow us on Twitter.
>