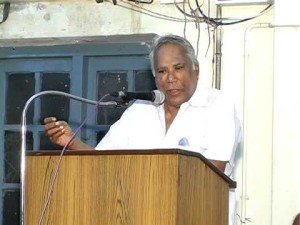 The Madras High Court has stayed the termination order of Tamil scholar and former vice-chancellor of Tamil University, Avvai Natarajan, from the post of vice-chairperson of Central Institute of Classical Tamil (CICT) which was ordered by HRD Ministry.
Justice V Ramasubramanian stayed the ministry order dated November 21, 2014, and issued notice to Union Ministry of HRD and sought a reply within three weeks. Natarajan was nominated to the post of vice-chairperson by the previous UPA government on February 25, 2014, for a period of three years. On November 21, he received a scanned copy of his termination orders issued by the HRD ministry without assigning any reason.
Noting that he was associated with CICT since its inception, the judge said he fulfilled all norms required for the post. Natarajan added that the appointment and removal of a vice-chairperson are governed by specific rules, and they had not been followed. Stating no valid reason, Natarajan was abruptly removed and a retired professor of Pachaiyappa's college P Prakasam was appointed in his place.
>