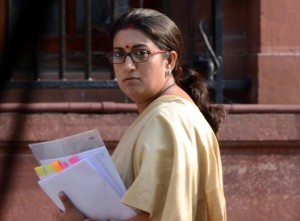 When it comes to political popularity, HRD Minister Smriti Irani is getting more than she bargained for as serving UGC member, M M Ansari, has slammed the minister for being too interfering in the functioning of the commission and for taking in arbitrary decisions. Ansari has also questioned Irani's capabilities to lead the crucial education sector as he feels that Irani is entirely dependent on a 'well-planted bureaucracy' and the RSS for running the ministry.

This statement has come at a time when she recently scrapped the German language to be taught as the third language in Kendriya Vidyalayas. Ansari, who has been UGC member since 2012, criticised this move as he is of the opinion that in the present scheme of things, it is important to give children the choice to pick what language they want to study.
Ansari stated, "There is excessive interference from the minister in the UGC. One saw it in the FYUP issue, or in the way the ministry first decided on the Swachh Bharat implementation in the education sector and then informed us and asked us to send a circular to universities, or in how she announced the Swami Vivekanand scholarship programme for a single girl child without consulting us. The ministry has been simply imposing decisions. Any decision of the UGC should emerge from an exercise within the UGC."
The UGC member also slammed the appointment of Ram Shankar Katheria as Minister of State for HRD. Katheria has been in the midst of controversy over allegations that his graduation mark sheet was forged.