Learning & education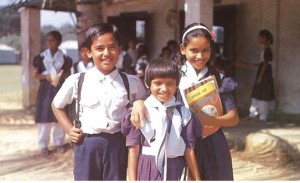 Educational systems and learning societies, recognizing the cognizance of the acquisition of knowledge, collation, organization and interpretation — has  undergone a tremendous change in recent past, with the global access to  nformation. Learning styles have necessitated changes in the existing  edagogic approaches. The role of the teacher has become more of a co-learner and a strong facilitator of learning. Successful national and  international experiences have shown how new and innovative uses of IT  for e-Governance, e-Learning through digital technology tools, health care delivery and to provide livelihoods opportunities.  e-Education and e-Commerce are making a  difference to the lives of people.
Rural and urban connectivity  with a reliable, available (24X7), affordable, maintainable, robust ICT  infrastructure, can benefit the farmers by giving them better and quicker  For a pervasive life long learning movement in India, we will have to  strengthen the learning  foundations, provide a broad range of learning  opportunities and recognize and reward learning regardless of why, where and how it  takes place. Policy  initiatives should focus on strengthening the  knowledge society. information on market conditions thereby eliminating the middlemen and by securing better prices for their produce. Speedy and  accurate issuing of land records through IT is another example that  has captured the imagination of rural population. Therefore, the methods for taking the digital revolution  benefits to the rural population have to be explored far more urgently, and vigorously. A unique model called  "Re-urbanization" which advocates clustering of villages for establishing schools, health centers and service facilities and connecting them can become important force.
A knowledge society aims to achieve societal transformation and ethical wealth generation. As a third dimension emerges as a country transforms itself into a knowledge  superpower, knowledge protection becomes a critical factor. India is well placed at the dawn of knowledge era. For India to become a knowledge society, it has to be a learning society  first. For life long learning, it is not only the settings of formal education that are important, but also the settings of home, the work place, the community and the society at large are important. For a pervasive life  long learning movement in India, we will have to strengthen the learning  foundations, provide a broad range of  earning opportunities and recognize  and reward learning regardless of why, where and how it takes place. Policy initiatives on life long learning, should focus on  • motivation for the individuals to learn on a continuing basis  • equipping them with necessary cognitive and other skills for self direct learning • providing economic as well as  easy access to opportunities for learning on a continuous basis  • creating incentives to individuals to make it worth while to  participate whole heartedly in the process of life long learning In a knowledge society, people are the  creators of knowledge capital. And, generation of trained and skilled       The market estimates a requirement of more than three million knowledge workers in multiple technologies. It is also essential to encourage  domestic private sector and people of Indian origin living in other countries  to invest in a massive way in education in India, particularly in  technical and higher professional education.
Learning societies and some universal directions
New concepts such as "On Demand Education", "Education for All" etc., necessitates partnerships and lliances among tripartite stakeholders, viz., private sector, the government and the communities or institutions ICTs can play a key role in overcoming the challenges. Special emphasis has been given for standardizing Information Technology related curricula and also reforming the educational course contents in the Information Technology related  subjects to make the graduates assing out of the institutions to be immediately employable and this requires industry-academia collaboration and co-working. ICTs are also very useful for re-training of the existing workforce to make them more productive and use the  technology and creativity.