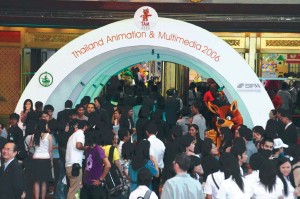 Thailand's only Exposition for Animation and Multimedia Industry "Imagination, new technologies and new things happen everyday; especially in the animation and multimedia industry where anything  is possible." – Ms. Kruewal Somana, Chairman of SIPA; Software  ndustry Promotion Agency

Currently, animation is gaining increasing importance in diverse applications such as – movies, advertising, product promotion, presentation etc. In  Thailand, the animation and multimedia industry is growing every year, as evident from a growing amount of creative work generated by animation professionals who are hired by both domestic and overseas producers.  Recognizing the rising opportunity and a bright future of the  industry, along with a commitment to  promote Thailand as the "Hollywood of Asia," Software  Industry Promotion Agency (SIPA) – a Public  Organization under Ministry of Information and Communication Technology, Government of Thailand, launched 'Thailand Animation and Multimedia (TAM)' show in 2003,  which was highly acclaimed both by exhibitors and visitors alike.  In 'Thailand Animation and Multimedia (TAM) 2006', SIPA  continues to promote this new chapter of the industry, bringing new content that enables professionals to  capitalize upon the growing business opportunities and to allow the public  to see, once again, that Thai animation and multimedia has  progressed to a level they should see to believe.
With this year's theme – 'Beyond Imagination' and  having 'Super TAM'  as the mascot (being designed by the famous Thai  cartoonist Chai  Ratchawat), the four days of the  vent consisted of a number of funfilled  shows and activities: The Animation and Multimedia Software   Exhibition with 150 exhibitors spread over 15,000 sq.  meters showcased products, technologies and computer arts from the animation and multimedia software producers locally as well as from abroad. There was also an elaborate demonstration of the creative capability of Thai software developers in producing animation and multimedia work.  The Showcase: Towards Future Technology – comprised a display of world-class technologies on animation and multimedia. Visitors saw 4D technology, used for the first time in Thailand.

Technical Seminars delivered informative and educational content from world-renowned experts who shared their insights and vision into the world of animation. These seminars had speakers who are professional animators and
cartoonists in Thailand, Japan, USA and some other countries.  The Job Fair at TAM 2006 had leading companies of animation and multimedia industry in Thailand, who received applications from young job seekers. The data generated out of this will be collected to form a 'Skill  Pool Database' for the industry. The Digital Kids Show consisted of activities for children and youth on the Children's Day. It comprised of programs on animation, with line drawings by famous artists, competition on famous cartoon figures, shows by young people including entertainment shows, which educates on ICT.
The TAM Contest and Awards had representatives from more than 10,000  schools from all over the country, having opportunity of winning over  3.4 million Baht in prizes.  Competitions were based on character designs, comic, short animation,  mobile games etc. The TAM Partnership Programme was organised as a part of the event  to develop and promote 150 business match making meetings and contacts  between those desiring to invest in producing movies in Thailand,  or to purchase animation films or characters. The TAM Workshop A-Z, organised for the first time in TAM, had classroom sessions on animation and multimedia, that provided information and solutions to create high-end animations. 
The Digital Art Gallery of TAM 2006 showed interesting digital arts from all  over the world on large format digital display screens.  Over all TAM 2006 was a grand success with a breathtaking showcase  of the promising future of Thailand's animation and multimedia industry.