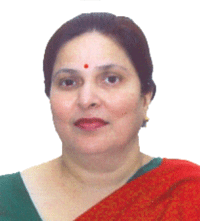 Savita Datta,
Principal Maitreyi College & Director, Campus of Open Learning, Delhi University
"Open and Distance Learning is a scalable model, the only model which ensures uniformity and quality of delivery. Moreover, technology ensures that the lessons delivered reach far and wide"
What are the challenges confronting India's higher education system today? How do you see your institution deploying new technologies for ensuring quality distance education?

Two major challenges confronting India's higher education system are the lack of good faculty and insufficient places for students in the existing higher educational institutions. The University of Delhi has always believed in expansion and in 1962, on the recommendations of Kothari Commission, the School of Distance and Continuing Education was established. Another measure taken earlier by DU was establishing the Non-Collegiate Women's Education Board, way back in 1948 whereby women candidates living in Delhi were allowed to attend classes on Sundays and holidays and were examined and awarded degrees by DU.

From our experience in all these initiatives, we know that some face to face contact and physical examination and evaluation of scripts is a must and is not humanly possible without having sufficient faculty in place. Therefore, introduction of new technology is a must. There is a need not only to deliver lessons online but also have examinations online to overcome these challenges.

What role does Open and Distance Learning (ODL) institutions play in dissemination of information to socially disadvantaged groups or people in inaccessible areas?

Open and Distance Learning is a scalable model, the only model which ensures uniformity and quality of delivery. ODL institutions are invariably using technology and the expenditure on students, infrastructure and faculty is relatively less as compared to a regular institution. The socially disadvantaged groups have limited places in regular institutions. The percentage of seats assigned to them is fixed whereas ODL institutions ensure no ceiling on the number or any other condition for entry into the institutions. Moreover, technology ensures that the lessons delivered reach far and wide even to the remotest areas with the help of computers, DVD Players and televisions.
What initiatives have been taken by your university for integrating ICT in its framework?

We established an Institute of Life Long Learning where teachers are creating content and online assignments. Blended Learning will have significant role to play in classrooms and science laboratories when the number of seats increase by 54% in the coming years.
It will not be possible to appoint suitable faculty or raise infrastructures overnight. As a pilot project with the Open University, UK, DU has created video CD's and e-instructions for the labs, which are really being appreciated by the students. The students can see the videos and read instructions before coming to the lab. They are better aware of the experiment because of the visual effects and one teacher instead of handling a class of 20 can handle many more students at the same time. This also gives some spare time to the faculty to update themselves and also to create more content for other classes.
Do you think a Public Private Partnership model will help in effective integration of technology in higher education?

The university teachers invariably are experienced in their own fields and teaching methodologies but there is a lot of variation as there are 7,000 teachers across over 68 colleges of DU. Use of technology will ensure uniformity and quality in delivery of content, but most of the teachers are not technology savvy. Moreover, this may shift the focus of the teachers from the actual content of their discipline to the formatting and designing of the web, which is not desired. On the other hand, if we hire services of private vendors who are experts in technology and allow them to convert the knowledge of the teachers to e-platforms, the integration of technology will speed up which is the need of the hour. Necessary funding should be provided by the funding agencies for this.