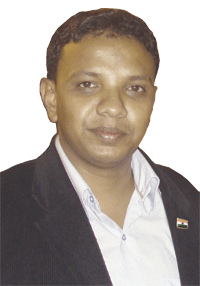 Scientech Solutions are comprehensive soltions such as innovative Interactive portable solution eBeam, which doesn`t restrict one to size as it creates an interactive workspace of 100″ Diagonal. Its purely Plug n Play and light weight. Mohammed Ghouse, Manager
(Analyst & Media),

Scientech Technologies Pvt. Ltd. talks more…
"Our Corporate line "Innovative Technology Ecosystem" Testifies our philosophy. Scientech was always associated with Education segment."
Scientech started out as a company manufacturing Test & Measurement Instruments. What was the motivation behind the shift to education solutions?

Our Corporate line "Innovative Technology Ecosystem" Testifies our philosophy. Scientech was always associated with Education segment .

Digital Learning is just a community of our Innovative Ecosystem. Our Ecosystem will have all forms of learning / training systems. Our Innovative Ecosystem consists of wide range of products to cater the needs of education from Classroom to lab & For K12 to IIT`s.
What are the major functionalities that differentiate the Scientech Solutions from other White Boards?

Scientech Solutions are comprehensive solutions such as innovative Interactive portable solution eBeam, which doesn`t restrict one to size as it creates an interactive workspace of 100″ Diagonal. Its purely Plug n Play and light weight. It can be easily paired with wireless tablet and comes with dual input feature. And unique add-ons, such as Document Camera, Livewire, etc. makes it a best ICT product.

Scientech Technologies is the global manufacturer of technology training products, which keeps us ahead of other competitors.
Tell us about your new products for the education sector.

The new product is eBeam Document Camera. The eBeam Focus 150 document camera allows users to view and digitize real-world material instantly and import the content directly into eBeam Scrapbook. Capture snapshots or video of text, physical objects, and even people and import them into Scrapbook with the click of a button.

The eBeam Inscribe 200e wireless tablet allows users to perform familiar mouse functions and utilise all the features and functionality of standard software applications from anywhere in a conference room, classroom, or large meeting space. The tablets are lightweight and compact; yet provide ample workspace for efficient desktop and program navigation and input.Through a seamless integration with eBeam Scrapbook, the Inscribe 200e offers a unique dual input feature with the tablet and the Interactive Stylus. Also, while someone is drawing in Scrapbook with the tablet, someone at the board can simultaneously use full mouse-functionality to drag in images, edit strokes, or set up a shared meeting.

eBeam LiveWire, Simply connects the eBeam receiver to any PC via LiveWire and run eBeam software directly from the cable
Follow and connect with us on Facebook, Twitter, LinkedIn, Elets video
>