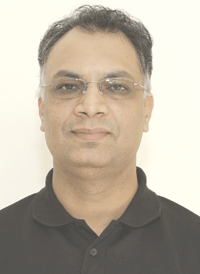 It is just a matter of time before Interactive White Boards get perceived as a classroom imperative. There is a lot of scope for consumer education in India, says, Tarun Jain, Country Head, Hitachi Home Electronics Asia (S) Pte. Ltd.,Singapore.
Do you think Interactive White Board is a feasible option keeping in view India's education scenario and its vast inadequacies?

Market research indicates that India is one of the hottest markets for interactive-whiteboard technology. Hitachi's interactive whiteboards, the StarBoard Series has been received very well in India due to its versatile and user friendly software as well as engaging multimedia capabilities. Educational institutes that have deployed our technology have witnessed clearly visible enhancement in quality of student-teacher engagement and productivity. Most importantly, Hitachi StarBoards are very high on durability which usually proves to be the Achilles heel of most Interactive White Boards.
How advanced is the Starboard FX Series compared to other brands in the market? How does it seek to revolutionise the learning environment?
The strengths of the StarBoard FX Series lie in its durability, ease of use and feature-rich software.  For example, even if the StarBoard gets dented for any reason, it will continue to work as the StarBoard, which does not have wires embedded on the board itself. The DuoBoard that we have just launched enhances ease of use by making it possible to write on the board using the finger or any other object, in addition to the digital pen. There are also many interesting features of the StarBoard software that uniquely make teaching as well as learning an engaging experience.
In what ways does the Wireless Tablet add on to the interactivity of a Starboard?

With the wireless Hitachi BT-2G Bluetooth tablet students and teachers can work on the board from anywhere in the classroom or while moving around in the classroom. It essentially offers the convenience of teaching or presenting from anywhere in the classroom. This helps significantly increase student-teacher interactivity, as well as enhancing the engagement of the students with the subject matter on the board.
Why is there a segmentation between Hitachi's K-12 solutions and solutions for higher education?
This segmentation comes from the nature of teaching classrooms. In the case of classrooms for K-12, we're promoting  FX-Series, instead of the normal white/black board. In case of higher education places like universities, we're promoting T-17SXLG for the auditorium or lecture hall.
What does the Cambridge-Hitachi joint venture seek to achieve?
Hitachi has allied with distributors based on their expertise. HCL distributes HITACHI StarBoards to the government sector, while there are other distributors who are supplying to the corporates and private educational institutes.
Do you think the Indian market is matured enough to accept technological innovations like White Boards, tablets, etc. What is your forecast for 2009, given a global slowdown?
India is one of the fastest growing markets for Interactive White Board technology in India and Hitachi is bullish about it. Our sales indicate that the recession has not dented demand. The government sector is going strong. Since education has inelastic demand, our sales from the education sector have also not been dented. Of course, there is still a lot of scope for consumer education in India, but we feel that as educational institutes in India are getting more technology savvy, it is just a matter of time before Interactive White Boards get perceived as a classroom imperative, rather than a luxury. We look forward to maintaining our growth momentum in 2009.
Follow and connect with us on Facebook, Twitter, LinkedIn, Elets video
>