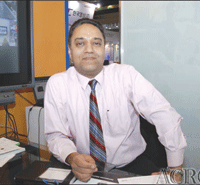 "Notebook software is included with the purchase of a SMART Board and many other SMART products and it is offered in 44 languages, including Hindi."
Tell us about the Interactive White Board technology produced by SMART Technologies.

SMART invented the Interactive White Board and sold the first SMART Board in 1991.
The SMART Board combines the simplicity of a White Board with the power of a computer. The board is touch-sensitive and connects to a computer and digital projector to allow a user to access and control any computer application or Internet resource by simply touching the board's surface.
The SMART Board itself connects to a computer with a USB cable to send input information from the board and to draw the power it needs from the computer. When you connect a digital projector to your computer, you can project the computer image onto the SMART Board. SMART technology allows you to use your finger as a mouse or write overtop of applications with digital ink.
How is it beneficial for students?
There have been several studies that show, learning outcomes have improved with the use of Interactive White Boards and proper teaching techniques. The most notable studies have come from the University of Virginia, Becta (UK) and European Schoolnet.  Anecdotally, many customers comment on gains in performance up to 15 percent.
In general, these studies show that use of Interactive White Boards
 // improve student engagement,

 // improve motivation and attendance,

 // support different learning styles

     and special needs,

 // improve review and retention,

 // improve teacher productivity.
What makes SMART IWBs different from other IWBs available in the market?
There are several factors that distinguish SMART Boards from others: SMART is and has always been the leading supplier of Interactive White Boards in the world. The latest independent research shows that SMART sells more Interactive White Boards than all our competitors combined a 53.2 percent product category share. Part of the reason for that  continued leadership is that our SMART Boards are easy to use and include the award-  inning Notebook software. And we recently announced a new feature: all new SMART Boards now   aveTouch Recognition. When a pen is touched to  the board, ink appears. When touched with a   inger, the board automatically switches to touch mode and the finger acts like a mouse.  When the eraser or a palm is used on the  board, ink can be erased – all this without  having to  return the pen to the tray. In effect,  this feature mimics the way someone would  use a dry   rase board or a chalkboard.
How have you calculated the feasibility of  SMART IWBs in   he Indian scenario?  The SMART Board Interactive White  Boards and the SMART Notebook  ftware  that comes with the boards can help close  the digital divide by providing access to a  1st-century education. We have introduced    e SMART Board V280, which is more     sonably priced, but still comes with the powerful SMART Notebook software; it offers a viable option for areas of      the world  that wants the benefits of SMART's awardwinning  products at a more affordable      cost.
Tell us about the SMART Notebook software.
SMART Notebook software is any easyto- use  application that allows teachers to add interactivity to lessons through an array  of  powerful education tools and resources.  The latest version of one of the most popular collaborative learning software products  in the world now includes access to more  than       100,000 new pieces of educational content and an updated teachers' resource hub, which  connects teachers to hundreds of lesson activities and offers tools that help them use Notebook    oftware more effectively. Notebook software is included with the purchase of a   SMART Board and  many other SMART products and it is offered in 44 languages, including  Hindi.  Every school day, millions of teachers and students around the world experience the   way Notebook software integrates seamlessly  with the SMART Board. New features are  regularly added, built on feedback provided  by teachers and students. To give you an idea of  the popularity of Notebook – in  2008, its English-language lesson activities, the Lesson  Activity Toolkit for Notebook, and  question sets for our Senteo interactive response system,  were downloaded more than  1,500,000 times. Full versions of Notebook software are  available for all three major operating systems – Linux, Windows and Mac.  the effective use of classroom technology, and especially Interactive White Boards,  results in significant improvements in student learning outcomes. In addition, many   ducators and political leaders identify education as a key priority and driver of improved   conomic  environments. Preparing students for the  21st century technology-driven  orkplace  will help drive economic prosperity over the long term. Finally, IWBs in particular are among  the most cost-effective investments to bring technology into a classroom in a way that  reaches all students. At an affordable cost,  a teacher can deliver engaging lessons to  a   hole class of students on a variety of subjects, in a variety of levels and learning  styles, for  any years. There are not many  other purchases that provide better return on investment.   MART is prepared to work with  education officials in India to ensure as many  teachers and  tudents as possible have  access to our classroom technology.
Tell us about your journey so far   nd your roles and responsibilities in your present  capacity.
I was born and raised in  ndia. I worked  in the telecommunications industry in India for nearly ten years before I   igrated to Calgary, Canada in 2000. I worked for a Calgary based  company – called Wi-LAN  nc, a wireless  equipment manufacturer and a pioneer in WIMAX technology. I joined SMART   n April 2006 as their International Channel Manager  or Central and Eastern Europe. I have   lso handled Asia Pacific region at SMART and since the summer of 2008 I have been  responsible for India and South Asia as well. In the near future I foresee myself focusing all my   ime on India and South Asia.\\
Follow and connect with us on Facebook, Twitter, LinkedIn, Elets video
>