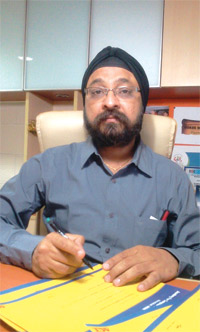 Language is never learnt. It is acquired. With this philosophy, ACTUniv has taken the language learning for students to the pinnacle of success in a short span of time. In an exclusive interview with Jaydeep Saha, Jasvinder Singh, CEO, ACTUniv talks on various aspect of language learning, and deliverables. Excerpts:
What is the main content that you deliver? How does it enhance education in schools and colleges?

We deliver English Language Lab, the digital content that provides resource on all language aspects serving the needs of the Indian audience. The focus is on development of skills in functional usage of the language, grammar and phonetics besides vocabulary, remedy to regional influences, pronunciation and games. Learners need a practical approach to skill acquisition and a lot of practice. We also provide special content for the Teachers of English and structured curricula besides Trainer manuals and the much needed Training of Trainers. The lessons are practical and represent common practices that are easier for the learner to relate to and comprehend.

What are the basic features that you develop in a child? How competent have they become ever since they are taken care by your technology?

English is a skill and should not be treated like a subject. Our products are interactive and feature several tools for a learner to use and develop the L.S.R.W. skills. It is our endeavour to keep learning simple, progressive and participative. "Leading by example" and "Learning by doing" are the keys. The learners mostly enjoy the freedom to error (with no embarrassment) and remedy such errors with practice. Learners have grown in confidence and are able to express themselves better. The students enjoy learning through language labs and have become passionate about English as a language, which has made the difference.
Over 1100 installations in Indian Institutions and 1000 more by the end of 2011, stand testimony of the products, implementation and training
Please define ILT and CBT.

ILT: Instructor Led Training referring to the training provided by the teacher and CBT: Computer Based Training refers to the self help exercises on a PC. These are the terminology that is associated with e-learning and also with language labs. However, what matters most is the content included therein and the effective use of technology elements to provide training support. In our products we ensure that the teacher as well as the learner is provided with the best of tools to demonstrate, practice and assess covering LSRW and more.
Do your students actually travel through the deserts of Sahara and Rain Forests of Amazon in classrooms? How can an Indian downtrodden suburb primary school benefit from you?

The global orientation is evident in the communication capabilities that we have focused on in our programs, although we don't take the learners globetrotting, the scenario's in our product provide exposure to various situations that also compliments other academic subjects.

Our content has been adapted to suit the Indian public especially the majority that is rural. Reaching the rural has its challenges as electricity and computers are a problem and we have addressed these with specialized solutions.

We believe in being practical about functional English and want our learners to be able to use English for everyday chores. The lessons are based on scenarios that are common to every day routine as well as in sync with the ALTE/CEFR framework. The benefit to even the remote school is that their students will be able to understand and use English in conversation. In our experience we have found that the rural students, be it schools or otherwise, are more serious about learning English and are fast learners.

What emphasis do you give on LSRW? How does a language lab work in correcting the vocabulary and pronunciation of a child who uses Colloquial English?

Language is never learnt. It is acquired. If one wants to acquire language, learners must follow natural way of learning things. L-S-R-W is natural way of acquiring language skills. Besides the LSRW, vocabulary and pronunciation aspects, our products provide the much needed remedy to the influence of regional languages. Our products are built with several tools that provide expert audio, graphical patter of voices including the learner's recorded audio, comparison, intonation and modulation, words and phrases, meaning and association, pictorial reference etc. These tools complement the appreciation of the context.
Please specify your contribution to higher education students in their market-ready attitude. What extra do you put to make them competent?

The Words Worth content is designed to prepare an individual to face the professional environment empowering him with capabilities to face interviews and present their views and expressions through English as a language of communication. Through our initiative more than 1, 00,000 students have benefited. We have also included the much needed soft skills for the students of higher and professional programs.
Please throw some light on RS-CEL and SCOPE. What has been the main content for the uplift?

English is the language of the economy, much needed by a progressing country and even more to India that is in the lead. SCOPE is an initiative of the government of Gujarat and RS-CEL is that of Government of Rajasthan. These are India's largest state sponsored capacity building initiatives to enhance capacities of the masses with proficiency in English. These programs are a great success as proficiency in English enhances the job prospects of an individual by 300 per cent. The Words Worth content and methodology is deployed in these projects. We are about to introduce a self learning English language tool, which reduces the dependency on teachers in one of these projects.
Please say something about your take on foreign universities, including Cambridge and Trinity. Why PTE-G?

International Language Certification is important as it provides a measure the learner's knowledge and usage of the language on par with international level. We follow the Common European Framework of Reference (CEFR) and encourage learners with tests based on these frameworks.

The Pearson Tests of English (PTE-G) certificate is equivalent to IELTS and TOEFL and has been accepted by over 70 universities in Europe for both immigration and study abroad purpose. In India there is a Boon for "Spoken English" but there is no certificate provided for General English by institutes to prove an international validity and certificate for the course. We create "Test centres" of the existing Schools, Colleges, and Universities and private vocational training institutes. By doing so, they can train and provide certificate to their students and raise their linguistic bar.

What and where next in India and abroad?

In India, we intent to reach every corner through our various delivery mechanisms. We have content for both urban and rural markets. There are inquiries from abroad that we are examining and hope to connect in this financial year.