A special session on 'Open Universities in the Digital Era' was organised in collaboration with the Distance Education Council at the World Education Summit (WES) 2011. This session charted out a roadmap for all kinds of education from primary level to the university. It foresaw a technology-driven education scenario where few years down the line, the best lectures will be available online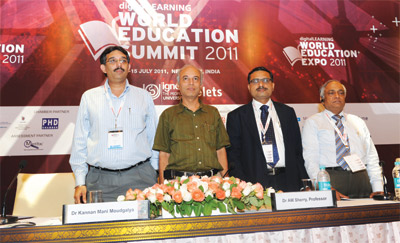 Speakers
Prof K R Srivathsan, Pro Vice Chancellor, Indira Gandhi National Open University

Dr Kannan Mani Moudgalya, Department of Chemical Engineering, IIT Bombay

Dr AM Sherry, Professor, Information Technology, IMT, Ghaziabad

Dr Vikas Gupta, Director, Distance Education Council, Indira Gandhi National Open University
The Distance Education Council (DEC) special session touched upon the pertinent issue of how Small and Medium Enterprises (SMEs) don't use softwares because they are expensive. Solutions are required to tackle this impediment. Educational softwares are important, especially those that can be used for the benefit of linguistically minority groups. Discussants called for collaborations to create such softwares to benefit diverse linguistic groups as well as rural areas, where aspirations are very high. Additionally, it emphasised the importance of training teachers and students to use these educational softwares. Operating costs of the SMEs, it was suggested, could be reduced by eliminating print materials, sharing educators across multiple courses, standardising, replicating and delivering digital content, and integrating social media into teaching and learning.
The role of Open and Distance Learning (ODL) in integrating the left-out population into mainstream education was also deliberated upon by the participants. Not everyone is fortunate enough to go to college and pursue education and many have to forgo formal education owing to family responsibility, financial crisis and other concerns. ODL can and does immensely contribute to bring individuals into the mainstream.
Suggestions
Peer-to-peer interaction is a challenge in ODL

Distance learning will soon become distributed learning. India needs an openly published course management framework, especially with regard to ODL

Strong ties between industry and academia to be developed

Develop pathways for research and development, innovation and entrepreneurship

Improve quality of interactivity and increase learner participation in education endeavours

Transformational change in the process of registration, learner support and evaluation

Integrating industry, economy and societal needs

Make curricula flexible

Enhance interdisciplinary education

Make education relevant and choice-based, including sturdy practical applications related to real life experiences.