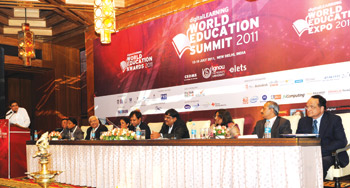 The aim of this power packed session was to discuss challenges and opportunities in the role of private sector in education. The education leadership gave their vision talk on the future of education, the course that it will take and strategies that will usher in a new era in education

Dr Ashok K Chauhan, Founder President, Ritnand Balved Education Foundation
Dr G Viswanathan, Founder and Chancellor, VIT University

Meena Ganesh, MD & CEO, Pearson Education Services

Shantanu Prakash, MD , Educomp

Amit Gupta, CEO, S Chand Group

Sushma Berlia, President, Apeejay  Stya Group

Murlidhar S, Founder and CEO, MeritTrac Services

Prof VN Rajasekharan Pillai, Vice Chancellor, Indira Gandhi National Open University (IGNOU)

Manoj Chawla, President, Edupreneur, Everonn
The power panel started with the discussion on what is the role of private sector in the context of the thought raised by Shri Kapil Sibal in the summit that the amount of investment needed in education cannot be addressed by the government alone.  In light of this, the session highlighted the various challenges the private sector is facing in the education space and opportunities available.

The session was started by Murlidhar S, Founder and CEO, MeritTrac Services who stated that there is a huge role of solution providers, which can add value to the education system. He emphasised on the need of private sector to bring in a combination of technology, entrepreneurial spirit and finding right need. He explained by taking the example of biometric systems saying, "Last year, we used biometrics for the first time to solve problems. We identified the problem as impersonation in any examination process in India. We combined this issue with available technology and derived mobile biometric authentication service which can be used in the regular pen and paper exam. This has enabled various institutions to completely omit impersonation for secure exam."

Sushma Berlia, President, Apeejay  Stya Group talked about the bottlenecks to investments in private sector. She said, "To improve scalabilities in private investment we should work in two areas: How to do we provide a regulated way to encourage profit making as well as not profit making investments. For profit making, we have an open system for profit environment through companies listed in stock exchange or other regulatory bodies. We should also encourage not for profit investments."

Amit Gupta, CEO, S Chand Group shared his experience based on the company he represents and his personal experiences. He said that there is a cast difference between higher education resources, which were available 20 years back and the resources needed today. He also opined that there has to be a clear cut linkage between industry academia and policy makers. "As far as private sector is concerned, the government has to open up in terms of policy. Limited number of private educational institutions should be opened but there should also be avenues in terms of creating educational infrastructure, providing management services and outsourcing the components, which private sectors has excelled in."

Sharing his thoughts, Shantanu Prakash, MD, Educomp said, "According to my experience there is no alternative to private sector experience. Its high time that the debate ends and government takes suitable action. Private sector entrepreneurs are very smart as where there is an opportunity they will find a way to get into it. If you discourage growth of the private sector you distort the system. Nobody is willing to take a hard decision to solve the problem. There is a need to create a set of regulations, which work for everyone to ensure more players coming in rather than restricting them. Bigger issue is that how to create  a framework that encourages and incentivises all the stakeholders including government, non government, profit and not for profit."

Meena Ganesh, MD & CEO, Pearson Education Services spoke about two critical issuesPearson Education Services spoke about two critical issues – access and quality. "The kind of people we produce from schools are happy to do what they are told and follow instructions. There are multiple dimensions
including better technology, better teaching methods, which teachers may be comfortable with, but the system is such that the teachers are not exposed  to tools for effective teaching. Using different pedagogy,
encouraging better delivery mechanism and allow and explores students to learn in a better way," she said.
Manoj Chawla, President,  Edupreneur, Everonn Group talked about nurturing entrepreneurs for educational institutes to progress and develop. He focusedon a need to inculcate research into the education system which is a very big challenge. Private sector has a very important role to bring automatic balancing of price and quality to create differentiation differentiationand let the consumer decide on this. Be it cultural perspective, the new project is much more open to the consumer. "The role of a teacher is keeping and enabling rather than determining how to teach. Technology has brought the access to students to higher education, likewise private sector takes content to the learner. On a globalisation perspective, there are a lot of people looking at it for training purpose," he said.
Dr G Viswanathan, Founder and Chancellor, VIT University, focussed on three categories— availability, affordability and quality. He said, "As far as availability is concerned, we must have 1500 new universities in India. A quarter of the population use 3,500 universities, so we need more number of universities. The affiliation system in India, Bangladesh and Pakistan lags behind. More than 10 crore students are waiting to get admitted into colleges. Delhi University does not allow admission below a particular cut off. The new regulation is totally negative in this case. The country is expanding and population is expanding, we also need expansion in education. It is necessary that education should be provided to all. Mobility of students should be allowed in the country rather than encouraging them to go abroad quite often. We need to choose what is best for us and the country."

br>