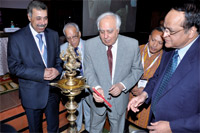 The first World Education Summit envisaged as a major global platform for dialogues, debates and deliberations upon policies, tools and methods of learning towards education for all was inaugrated by leading global dignitaries on 13th July 2011
The World Education Summit-2011(WES) was organised by the Indira Gandhi National Open University (IGNOU) along with Center for Science Development and Media Studies (CSDMS) and Elets Technomedia in New Delhi.
The sprawling function was inaugurated by the special guests of honour Loynpo Thakur S Powdyel, Minister of Education, Royal Government of Bhutan, Dr Taseer Al Nuaimi, Minister of Education, Hashemite Kingdom of Jordan and Shri Kapil Sibal, Minister of Human Resource and Development, Government of India. Participants were from academic programmes/services of 33 participating educational institutions including IGNOU attended the event.
Education industry is undergoing a paradigm shift, which aroused the need of a platform where global leaders, civil society, academia, industry can converge to plan and share knowledge, plans and recommendations for educational reforms. The World Education Summit proved to be that platform. The three-day event was attended by more than 1000 national and international stakeholders from development, government sector, academia, NGOs, and industry.
The summit witnessed various sessions on school education, higher education, vocational and skills, and distance and open learning.
Kapil Sibal, Union Minister for Human Resource and Development (HRD) and Information Technology emphasised upon the parallel system of vocational education, which will be exactly like the formal system of the Central Board of Secondary Education.
"It is hoped that in the next 10 years, India will emerge as a developed nation. But this also means that India will require 500 million skilled individuals and 250 million graduates to achieve this dream. But at the moment, out of every 100 children that go to school, only 13 reach college. The global average is 23 out of 100 and in all developed countries, it is above 40. Thus, any developed nation has a critical mass of children going to college," said Sibal, while inaugurating the WES 2011 at the Ashok Hotel in New Delhi on July 13.
"In higher education, to collaborate between the universities, you need mobility and choice of set standards to easily move to reform the examination system so that the entry should be based on one exam. You need a semester system to allow that mobility," said Sibal
Reflecting upon what is happening globally in the education sector he analysed the reasons for global renaissance. "Unless we have the critical mass going to the university system for cross fertilisation of ideas, it is not possible to reach our desired goals. The Gross Enrolment Ratio in Jordan is 43 percent but there are many parts of the world where it is less than 10 percent. In India it is less than 15 percent, we must ensure that it moves from 15 percent to 30 percent," he added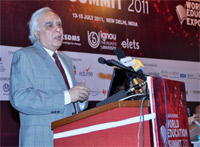 "We need flexibility and change of mindset. Discipline of knowledge is only acquisition of knowledge. What we need is skills for tomorrow, with a change in content of education. We must ensure that a child develops employable skills during school days."
"A major challenge in this endeavour, however, is absenteeism of teachers. This is an infrastructural challenge. We are trying to ensure quality infrastructure under this act by setting out minimum parameters for a school