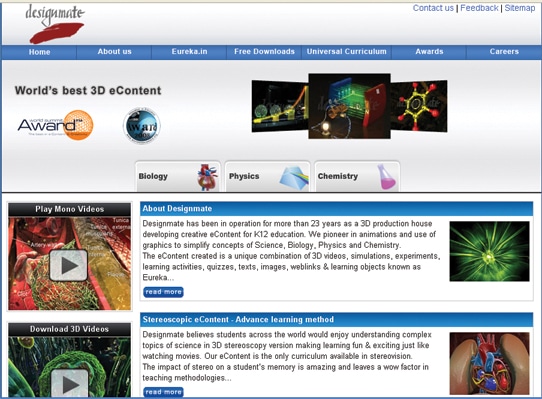 Implementing Agency: Designmate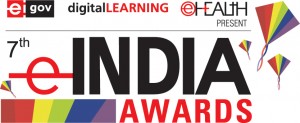 Website: www.designmate.com

A digital library of Learning Objects for Science and Mathematics, Eureka.in contains learning resources like text, video, simulation, quiz and web-link. The animation in the videos and simulations are done in 3D, which is conducive for providing viewers with an enriching, fulfilling and engaging experience. The digital content comes in two formats Mono (without glasses) and Stereo (with glasses) and caters to students from 6th to 12th grades. The product is already operational in 5000 schools around the world.
Need for the Project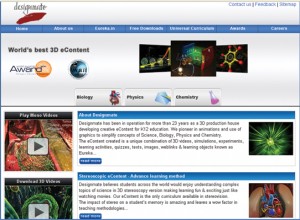 It is a well known fact that teachers often find it difficult to explain many crucial concepts in science and mathematics to their young students. Hence Design-mate decided to come up with teaching material in visual format so that the students can actually make visual contact with the scientific and mathematical ideas and thereby achieve better understanding. One thing is for sure – the time when a teacher did all the talking and the students sat as passive listeners is passé. Today teachers and students can developer better bonding through digital teaching materials.
Localisation

Translating the entire content into regional languages around the world and then mapping the same according to the respective curriculums. To overcome the same Design-mate started entering different countries by partnering with big local companies in different countries operating in the field of education and started translating and mapping the content with partner companies help, assistance and guidance.
Piracy

The content can be safeguarded from getting pirated, by building a robust encryption after years of research.
Global reach
To treat this issue Design-mate has been attending educational exhibitions across the Globe and have partnered with big players in the field of education.
Compatibility
The content is made compatible with various devices across the world. To cater to this issue Design-mate started procuring various SDKs of devices and today after years of research and development over it the content is compatible with most of the contemporary devices.
Innovative Factor
Immersive 3D experience

Virtual Labs

Learning resources

Device compatibility

Localized content

Comprehensive K12 library

Extensive visualization and detailing

Ability to render into HD stereo vision 
Achievements
First 3D stereoscopic educational software in the world
Manthan Award for e-education 2006
World Summit Award 2007
World Didac Award 2008