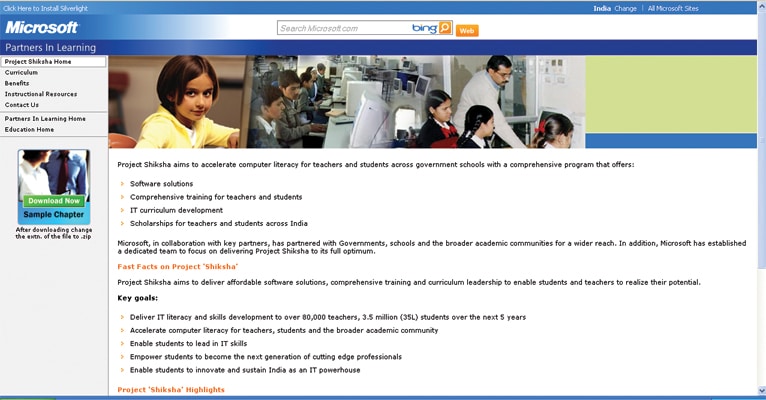 Implementing Agency: Microsoft Corporation (India) Pvt. Ltd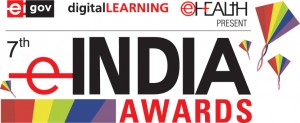 Website: www.microsoft.com/india/msindia

To address the priorities in national educational through focus on three core areas: Innovative Teachers, Innovative Students and Innovative Schools.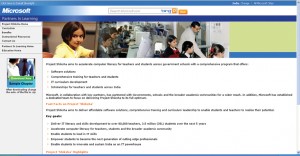 The first phase of Partners in Learning entailed the launch of Project Shiksha, which is targeted towards teachers in government schools. Launched in December 2003 by Bill Gates, Chairman, Microsoft Corporation, this scheme is designed to deliver affordable software solutions, comprehensive training and curriculum leadership for students and teachers in government schools. The lofty aim of the exercise is to 'Empower the future'.
The curriculum seeks to make it easy for teachers to understand how to integrate IT tools in classrooms. Currently, this curriculum is available in six regional languages and includes a lot of self-practice exercises. Entire training is delivered over 8-12 full day sessions..
At the onset, the project had a target of reaching out to 80,000 teachers by December 2008, a period of five years. The second phase of Partners in Learning, Shiksha Pragati, was launched in April 2011 in India. Shiksha Pragati is a logical progression of Microsoft's Project Shiksha and is designed to equip schools with a capacity building mechanism in order to reduce their dependence on external agencies for ICT and 21st century teaching-learning skills.
Need for the Project

Project Shiksha will bring relevant technology to the education sector and help address the problem of huge gap between the citizen's expectations and the services that are being provided. We are committed to digitize the classroom environment and thereby contribute towards economic growth of the country.
Innovation Factor
Public private partnership works directly with Educators, Institutions and Governments for furtherance of education

Computer based learning (ICT) is promoted across government schools with emphasis on providing software solutions and scholarships to teachers and students

Each teacher designs a digital lesson around their respective subject, which is a direct take-away to be used in the class-room post training.

Monitoring the teachers to ensure use of IT post training. 

Follows a 360 degree approach, which allows the teachers to be in touch with trainers.
Achievements
Microsoft has trained over 6,77,000 government school teachers across 12 states. 

Over 50,000 teachers have integrated technology in their teaching methodology

These teachers have imparted their IT knowledge to over 32 million students. 

Tie-ups with educational institutions and other government schools have increased the reach of the scheme. Microsoft has also tied up with various state-run District Institutes for Education and Training (DIETs)

Several teachers have created their own websites post 'Shiksha' training and are regularly participating in e-communities, ICT contests with the help of various relevant websites. For instance, there are websites like www.partnersinlearningnetwork.com and www.learninghub.com.