There is a need to evolve ICT based methodologies to resolve the myriad logistical challenges in the process of examinations
By Dr Veera Gupta, Secretary, Central Board of Secondary Education | www.cbse.nic.in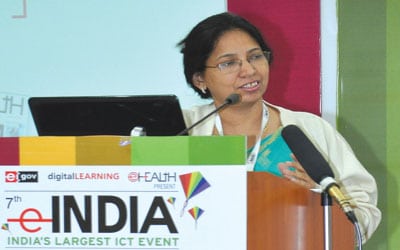 While conducting exams we face problems that are purely logistical in nature. There are so many paradigms that are constantly evolving in the examination process that we have to keep coming up with new strategies. For instance, while conducting some major exams, we have to hire numbers of trucks for delivering the question paper to hundreds of examination centres.
We take all kinds of security measures during the distribution process, yet issues of leakage of papers often crop up. The collection of examination papers, and having them corrected lead to problems of their own. Storing the papers is also a big challenge.
ICT is a great help
Last year CBSE tried the online system of examination for which four thousand students had opted. This year CBSE has provided the option of online examination to around one lakh students. When we use online test, many of the logistical challenges get automatically resolved to a large extent.
The issue of secure distribution of question paper gets eased when we have online exams. Chances of question paper leakage also get minimised. Currently the process of online marking has been launched as a pilot project. We are developing a system where the answer papers can get scanned and be examined by two to three examiners.
If answer sheets are stored online the process of retrieval becomes much easier. Currently, we hire big buildings to keep examination copies, but with ICT our level of infrastructure requirement will come down to manageable levels.
The issue of the evaluation methods being used has often been subjected to lot of criticism. So far we are using paper and pencil test methods, in which only knowledge based questions can be asked. It is very difficult to ask applied questions using paper and pencil methods. With the help of ICT the evaluation system will be transformed, and applied and skill based questions can also be taken care of.
Then there is the last important aspect that is certification. Examinations must lead to students being awarded a certification, which is a logistical exercise of large magnitude. There have been instances of forgery in the past. So CBSE is trying to develop an academic depository of certificates in which CDSL and NSDL may become the vendors.
"Exciting news! Elets Education is now on WhatsApp Channels Subscribe today by clicking the link and stay updated with the latest insights!"
Click here!