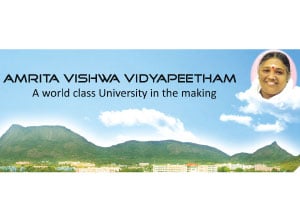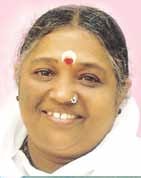 Chancellor: Sri Mata Amritanandamayi Devi
Amrita Vishwa Vidyapeetham is a young and dynamic University established by the Chancellor, Sri Mata Amritanandamayi  Devi, popularly called AMMA. She is known all over the world was a great humanitarian. In 2003, AMMA appointed Dr. P. Venkat Rangan as the Vice Chancellor of Amrita Vishwa Vidyapeetham. Prior to the current appointment, Dr. Rangan had been serving as Professor of Computer Science and Engineering at the University of California, San Diego.
Rise of digital tools
Digital teaching tools are of prime importance in effective delivery of higher education. They help us mitigate and sometimes eliminate the space barrier that exists between the teacher and the student. In today's environment of inadequately qualified teachers in higher education, digital teaching tools significantly increase the availability of high quality learning material and classroom experience for a much larger number of students. The usage of multimedia and animations helps students to comprehend difficult concepts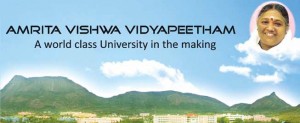 Digital technologies deployed 
The institution uses E-Learning Platforms called AUMS (Amrita University Management System) and A-VIEW (Amrita Virtual Interactive E-Learning World). Live classes are recorded using multiple cameras, and the video edited and indexed. The videos are made available to students both on DVD as well as stored in a repository for reference by all students. We will continue to significantly enhance both AUMS and A-View. A-View will be enhanced to provide an immersive classroom experience on gigabit networks like the National Knowledge Network (NKN). We have plans to employ cutting edge haptic and virtual technology, through SAVE (Sakshat Amrita Vocational  Education,
Vision Statement
To be a leader in research and deployment of digital e-learning systems, and to be a leading provider of digital e-learning platforms and applications to educational institutions all over the world.


br>