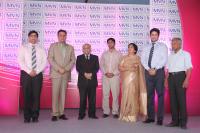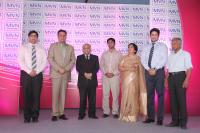 MVN University, approved under the Haryana Private University Act, extending collaboration with reputed international universities, is a fruition of the dream of its founder late Gopal Sharma, who strived hard to provide qualitative and progressive education to aspiring students in India.
Padma Bhushan Prof (Dr) Nirmal K Ganguly, former Director General (ICMR), and Boman Irani, the well known character – actor, launched the MVN University logo. The four distinctive elements in the logo of MVN University signify four different values. The symbol of 'eagle' symbolises vigilance whereas the 'rising sun' stands for supremacy. In the logo the 'tiger' represents passion and the 'lotus' spreads the positivity.
Varun Sharma, President of MVN Education states that "Today's world requires young, dynamic human's with a strong footing in practicality while having a visionary look out into the future. MVN University is employing latest technologies for effective delivery and innovative teaching emphasizing on theory and case study, creating managerial and technical skills. MVN Education has established its commitment in creating global leaders contributing to the national and international societies".
Santosh Sharma is the Chancellor of MVN University and Dr SK Luthra has been appointed as Vice Chancellor of t