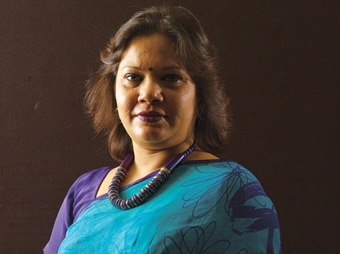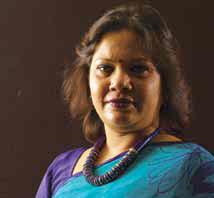 Sudha Goyal, Principal, Scottish High International School, is of the opinion that education system has to be revamped to fulfil the needs of the next generation students, speaks to Sharmila Das
www.scottishigh.com/index.html
In what ways has e-content been helping you in providing proper education to your students?
Scottish High is dedicated to using modern tools for providing quality education to students We have an approach that puts learning and teaching at the centre. Creative teaching, assessing and evaluation techniques are used. We have e-content (mapped lessons) from IL&FS for English, Mathematics, Social Studies and Science. They have provided us the infrastructure such as Kyan, projectors and systems.
Tell us about the challenges that you face in deploying e-content in classrooms?
The teachers were apprehensive in using the e-content especially for subjects like Mathematics, Science and Social Studies where they struggle with the completion of syllabus. The traditional methodologies appear to be safe and reliable to them. They were not very comfortable in using the technology in their routine teaching practices. It was really challenging to motivate teachers of all subjects to deploy econtent in their classrooms.
How do you train your teachers to adopt e-content in your classes?
We continually train the teachers so that they feel comfortable in using the e-content. Also we upgrade the e-content periodically so that the content is always in sync with the syllabus in specialised subjects. Besides, mapping topics in subjects like Mathematics, Science and Social Science with the e-content helps teachers in planning their topics in advance and conducting the classes using the e-content.
How do you think e-content has been beneficial for your students?
The students of 21st century are a different lot. They no longer live, communicate and socialise as we used to do. So they
do not want to be taught the same way as we were taught. Students want to use engaging technologies in collaborative, inquiry based learning environments with teachers who are willing and able to use technology's power to assist them in transforming knowledge and skills into products, solutions and new information. There are many students who are not able to concentrate in the class. They get distracted easily with the traditional chalk and board methodology. In a 35 minute period, the students with differentiated comprehensive skills are unable to grasp the content of the lecture/topic in the classroom. There is no scope of retention and in-depth understanding of the concepts for such students.
Can you give us an overview of the solutions that you are using for examination and assessment in your school?
We have in-house software for examination and assessment in our school. The Report Cards are compiled and generated at the conclusion of the First term and Final term of each session. The grades for all academic subjects, sports and extra-curricular activities are handed over to the Class Teachers by all subject in-charges. Then the examination department, ICT department and class teachers compile these grades and generate the reports through the in-house software installed in school.
Also Read: Smart Education
CBT or computer-based training is a reproducible system of instruction conveyed through the use of a computer for the purpose of training an individual. The assessments are also carried out periodically and are recorded electronically by all subject in-charges.
What are the benefits of new practices like CBT, IBT in examination and assessments over traditional methodologies?
Computer-based testing delivers a host of benefits directly to the examinee, examiners and the institute by:
Providing examinees with the convenience of scheduling their tests on the dates, times and locations most suitable for them
Reducing examinee response errors by presenting questions one at a time, if the test sponsor opts for this delivery method. Often, this allows the examinee to better focus on each individual test item
Facilitating re-testing by providing more immediate scoring and more frequent or continuous test administration
Seamlessly supporting reference materials and a variety of multimedia for more engaging assessment techniques
"Exciting news! Elets Education is now on WhatsApp Channels Subscribe today by clicking the link and stay updated with the latest insights!"
Click here!