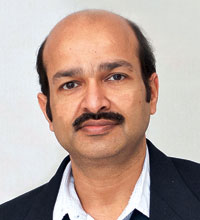 Akhlesh Agarwal
VP – Learning Technologies, NIIT University (NU)
Akhlesh Agarwal, VP – Learning Technologies, NIIT University(NU), talks about Wireless Campus and digital technology tools in education

Tell us about your views on the use of digital teaching technologies in Education.
Technology is complimentary to teaching. Digital resources have the potential to enhance science, technology, engineering and mathematics education by providing access to innovative curricula, stimulating applets and other hands-on resources. Use of the digital learning technologies engage students in the everyday application of technology and engineering to improve their understanding of fundamental and often complex concepts, in a way, that makes sense to them through exploration of the established norms.
What are the digital technologies that have already been deployed in the university?
Our focus is to use the best of technologies to increase effectiveness of teaching learning process. We use Open source LMS Moodle, where all the faculty members upload class content and also use it for online quizzes and assignment. The LMS is integrated with mail and SMS gateway to communicate effectively with students.
We also use a Synchronous Learning technology (SLT) to deliver lectures to students who are not on campus. SLT technology allows us to provide the best possible combination of Work integrated learning.
We use electronic, digital whiteboard technology in some of the courses to use the interactive digital content efficiently. Recently, we have also deployed an online hostel management and gate-pass management system to streamline the student in and outflow to reduce the paper usage.
Tell us about the new digital teaching tools the university plans to deploy in future.
We are in the process of implementing a digital library, where all the faculty members will be able to make any digital content available to all the students in the university. This will be an addition to the content in the LMS, which is accessible to only students of the specific batch/ course. We are also starting a pilot of the Mobile based attendance system that will facilitate accuracy in the attendance system and will save time for the faculty member. Moreover, a student information management system will also be implemented from the forth-coming academic year, which will include academic records, fee records, and hostel and library management.
What kind of features do you generally seek in WiFi solutions for education?
A WiFi campus network offers teachers and students, a diverse and secure access to the information they need.
We decided to give only wireless LAN in hostel, so we were looking for solution that should fulfill the need of student of Internet. We have explored various companies based on the following criteria: latest standards with higher bandwidth support, video streaming, coverage of maximum area. In addition, it should offer single Access Point (AP) to support the maximum users with friendly diagnostic tools. The controlled performance monitoring capabilities is also one of the important criteria.
Wi-Fi Access Point(AP) in NU campus is of latest 'n' standard and dual band. We have installed 54 APs to cover the academic block, hostels and open area. The speed varies from 100 Mbps to 300 Mbps. All (400+) students on campus can access the Wi-Fi simultaneously. All APs are centrally controlled. we are going to acquire some more APs.
Tell us about the key challenges that you faced in implementation of WiFi solutions.

The key challenges in the use and adoption of WiFi on campus includes the placement of Access Points. It should be done in such a way that minimum number of APs should cover the maximum area, with redundancy. Also, efforts should be taken to eradicate issues like- WiFi is slower than any other Internet connection and it does not support the bandwidth-oriented applications like Streaming Video, Live Lecture Feed, etc.//