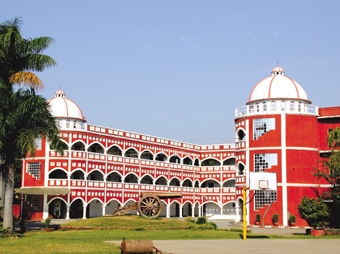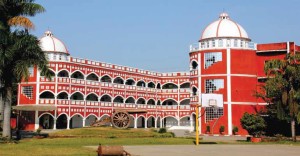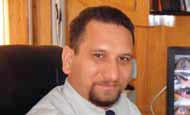 Principal: Dr Rajesh Kumar Chandel
Website: www.gyanganga.ac.in
Number of Students: 800
Number of faculty and staff: 100
Gyan Ganga International School is using TeachNext Education and HCL solutions to make their classrooms smarter.
Interactive Whiteboard: In the field of education a drastic change has occurred with the introduction of new technology in the form of Interactive Whiteboard, which has revolutionised the educational system in schools. Teaching methods are modified and teachers are delighted about the opportunities to enhance and evolve their lesson plans. The boards are working as an effective tool for teachers to preplan the lesson and makes it more exciting for the students. The impact on students' behavior is also noteworthy and a vigorous change has been observed by teachers. The introduction of this technology has indeed helped to a great extent in reducing the stress in the work environment.
Interactive Projector: Interactive projectors make any surface in your classroom interactive, allow teachers to interact with their projected lesson plan practically anywhere in the classroom. By using a special interactive pen, they can draw point and click by touching the screen directly or away from the screen. This flexibility also allows teachers to interact with the entire screen no matter how large because the pen interacts from a distance or by touching the screen. Teacher's height and reach are no longer barriers to the interactive workspace. Instead, we are having incredible flexibility and total control of the classroom. Interactive projectors are the only solutions that allow interacting on-screen or from a distance.
Virtual Labs: The research at the school level has become more interactive with the introduction of new stream Virtual Labs, which has changed the concepts of experimentation for teachers as well as students. Virtual labs help the student's to cater their perception in four directions. It also supports in providing remote-access to labs in various disciplines of Science and Engineering. It encourages students to conduct various researches and experiments that would help them in learning basic and advanced concepts through remote experimentation. To provide a complete Learning Management System around the Virtual Labs where the students can avail the various tools for learning, including additional web-resources, videolectures, animated demonstrations and self evaluation. To share costly equipment and resources, which are otherwise available to limited number of users due to constraints of time and geographical distance.

Objective of deploying ICT
School acts as a building block for students to develop them as upright visionaries of tomorrow. Gyan Ganga International School is computerised digital school. The school is no longer a place for obtaining bookish knowledge;
it has to focus on the wider-end. Developing a child into a complete human being cannot be done only with teaching but it has to be done with interactive teaching, so that a lot can be picked up by a child consciously or subconsciously. This makes digital literacy accessible at the grassroot level, making students smarter and better equipped to face the challenges of tomorrow. The main objective behind deploying ICT tools in school is to meet up with the goal to train students who will be professionals in Information and Communication Technology in future to change the socio-economic state to tie with globalisation.
---
"Bring online virtual smart classes for science and maths so that students can not only learn in school but also can have practice session at their own places"
---
Benefits of these deployments
In the ever changing world, upgradation is an important ingredient to achieve success. Innovation and development is an important aspect at GGIS. As the educational transformation is taking place and delivering-mechanism in education. ICT has made the classes more innovative and interactive. This has enabled information and knowledge to travel faster and further, sharing on a large scale, available justin- time information and knowledge for learning. The students have become bilateral, efficacious and compassionate towards learning process being followed in school.

Rising academic standards
With the implementation of ICT tools in school the academic standards has been raised, the classes have become more attentive, interactive and informative. With this up bringing there is a vast change in students, not only in studies but also in their personality. The communication skills of the students have grown and developed with the technology and a lot more has been inculcated into the student's life with the change in technology. We have seen change in school environment, developing synergy between a teacher and students, raising the understanding level of studies and overall personality development in students. So implementation is required in higher standard too.
Evaluation of effects
Evaluation has been done on the overall enhancement of the personality of a child. The student is actively making choices about how to generate, obtain, manipulate, or display information. When students are using technology as a tool or a support for communicating with others, they are in an active role rather than the passive role of recipient of information transmitted by a teacher, textbook, or broadcast. The understanding of the subject and the concept they were learning, results in the experiments and he representation of models and many other aspects, which are helpful for evaluation but cannot be elucidated.
Experience with ICT tools
Working with updated technology always lead to new learning with new outcomes which help teachers and students to make it possible to retain the learning's for longer period of time.
Students' feedback: Students were really excited about the smart classes and were filled with rejoice and rejuvenate their energy to have healthy interaction in the classroom more with new technology and advancement. The ICT tools were a great change they had in their education and learning with better understanding and retention of the concept consciously or sub consciously in their mind.
Teachers' feedback: The use of old-fashioned chalkboards is being replaced by tech-infused lessons that get through to the new generation of students. As a teacher, it is very challenging to capture the attention of students who are increasingly distracted by cell phones, laptops and other devices of our modern age. Truthfully, engaging students in the learning process has become a challenge. Interactive whiteboards make the teacher's job easier and more creative. They can now make the students pay attention in class and store, retrieve lessons quickly, connect to the Internet and bring the outside world into the classroom. The smart board is a touch sensitive screen connected to a computer. Using the interactive whiteboard, it becomes easy for us to create lessons or access thousands of pre-made lessons, write or draw on it, move images around, show video, do a PowerPoint presentation or surf the Internet. In many ways, this technology brings fun back into learning.
Expectations
Our expectations from ICT are to bring something innovative that should not restrict itself to the boards but have a chance to elaborate with the requirements. Other new tools such as 3D virtual labs, language labs, phonetics labs, science labs, and evaluation tools, proper testing systems, which will help the education system to evaluate a child properly and to bring online virtual smart classes for science and math so that students can not only learn in school but also can have practice sessions at their own places.