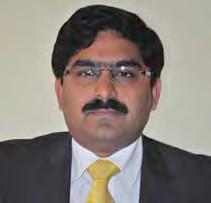 Today economically advanced countries are witnessing a "silver tsunami" with the proportion of adults over the young population is set to increase largely. The trend is expected to broaden the skill gap in the long term, unless offset by substantial immigration. For developing and emerging economies like India to leverage their talent pool to plug these labour and skill shortages, a robust accreditation process will play a critical role
By Nilaya Varma
The author is the Managing Director, Health & Public Service, Accenture India. He has over 15 years of experience advising State and National Governments improve public service delivery and help build IT and physical infrastructure.
The global financial crisis has given way to acute economic uncertainty and a prolonged crisis of jobs in most parts of the world. In several developed countries, one in five people under the age of 25 who are willing to work cannot find a job. Policymakers know that, without acting today, they risk watching a whole generation of young people suffer from policy decisions and conditions that are not of their making. For all stakeholders, the cost of inaction is high.
Changing global population trends are demanding a transformation in the way public services operate. On one hand, a major part of the Western world is getting older, with decreasing birth rates and increasing longevity. On the other hand, some developing nations are getting younger, with a huge part of the youth joining the workforce. This has put the spotlight on the abundant talent pool in emerging markets like India where, according to recent research by Accenture, educational and skill requirements have expanded faster than the capabilities of the workforce.
In the words of Angel Gurría, the OECD Secretary-General, "Skills have become the global currency of 21st century economies". The need to retain skilled staff dominates today's management agenda. Developed nations are now looking to plug labour and skill shortages by leveraging cross-border resources, addressing growing skills demands from regions with a skills surplus and driving internationalization of labour. The resultant need for a dynamic and fluid labour force needs to be met by reassessing the boundaries between education and employment.
India has one of the world's largest young population. Yet, according to CII, 70 percent of job-seekers are educated but not employable. Moreover, less than 10 percent have recognised professional certifications.
The diversification, growth and privatisation of higher education globally calls for quality processes and output, and many higher education institutions are investing time and money on devising new mechanisms to ensure external quality management. Despite this, the accreditation system in India faces some core challenges. For instance, the globalisation of jobs and their mobility across countries places pressure on institutions to deliver education recognisable in an international market. Further, there exists a lack of alignment between business requirements and the skills derived from education. Additionally, the lack of infrastructure as well as other procedural complexities in India impacts the reach and penetration of accreditation systems across the education landscape.
Can policy makers and education providers in different countries move towards identifying skills in a harmonised manner and work together to foster a universally recognised accreditation process? Is it possible to devise a framework of global accreditation standards and parameters? What could be the components of an international framework that match and meet the twin needs of international education and global employability?
One common answer to these questions is the development of a robust accreditation process. As the process of accreditation is market-driven and cuts across geographies, it helps educational  institutions to assess their strengths and problem areas. It also provides "consumers" with reliable information on the quality of education available.
It is imperative that we focus on employable skills and not just education. It is necessary to devise an international framework that recognises the potential of "international education" based on global standards and accreditation parameters. The recent surge in students going abroad to study, as well as the growth of courses available over the Internet, make it imperative for international education policy makers to collaboratively move towards global accreditation standards.
Delivering education services in the future must be marked by assurance, monitoring and evaluation to improve education quality for all stakeholders with a strategy and landscape that is insightdriven and future-oriented.

Follow and connect with us on Facebook, Twitter, LinkedIn, Elets video
>