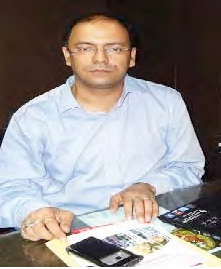 By Amit Kumar, President, Cyberfort Technologies and MD, Dr A Kumar Institute of Education
IT is one of the most emerging sectorsin modern economic world. Every company needs ITprofessionals for ensuring proper security of its data. After seeing recent cyber- attacks, companies are hiring more security engineers and analysts than ever before. It seems that Cyber Security is on the verge of becoming the most demanded IT Skill globally. Cyberfort Technologies is a training and consulting firm which specialises in Cyber Security. It is a part of AKIE and is ISO 9001:2008 as well as ISO 27001:2005 certified. It is also an accredited member of IADL UK and is working towards excellence and eminence without any compromise.
Cyberfort Technologies offers niche and hi-tech certification courseware globally via virtual and instructor led teaching modules. The organisation has strategic alliances with Mahatma Gandhi University, India (UGC-AICTEDEC approved) and EC-Council (world's largest certification body for cyber security professionals) for imparting high quality postgraduate and professional certifications in Ethical Hacking and Information Security. Cyberfort Technologies aspires to develop a global human resource pool of responsible professionals in leadership roles in Information Security. It also seeks to impart quality Information Security programmes that would equip information security professionals with the necessary tools and education to help them avert cyber terrorism, cyber-crimes, cyber espionage and if the need arises, cyber wars.
---
The need for cyber security experts spans all industries, but according to industry experts thousands of job openings have gone unfilled because there are not enough people to fill them
---
The Opportunities
The need for cyber security experts spans all industries, from financial services, manufacturing and utilities to healthcare, services and retail. Industry experts say that thousands of job openings have gone unfilled because there are not enough people to fill them. In India, Wipro, Dell, Reliance, Google, Accenture, IBM and  Infosys are some organisations hiring Cyber Security professionals at a large asis. IT Secretary, J Satyanarayana says "We need more than Five lakh professionals to protect our cyber space. We only have a small fraction of this."

Current training programmes
• Two-year Integrated MBA programme in Cyber Security in collaboration with MGU and EC-Council spread in four semesters
• Six month diploma in Cyber Security from Cyberfort Technologies, diploma awarded from IADL, UK and CEH from EC-Council, USA
• One month certificate course in Cyber Security from IADL, UK and EC-Council, USA
• Cyberfort Technologies also offers six months training in information security for amateurs and professionals
Remuneration
The remuneration for Cyber Security professionals is also very good. A beginner can expect a pay package between 3-6 lakhs per  annum. After gaining some experience, a Cyber Security professional can draw up to 30 lakhs based on the job role. Generally, the salary gets doubled within two years as there is a huge demand of skilled manpower in this sector.

br>