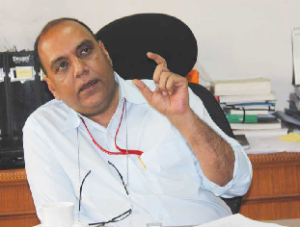 "Skill development is crucial if we are to reap the benefit of demographic divided," says RP Sisodia,Joint secretary of Higher Education, Ministry of Human Resource Development, Governmenr of India.
Majority of government programmes are directed towards raising the enrolment ratio in education institutions but we are lagging in quality. How can we balance between quality and quantity?
I think, we need to keep focusing on the expansion of the system since the present Gross Enrolment Ration (GER) is nowhere near either the world average or Asian average. Every country is struggling with these two competing demands of quality and quantity but one cannot say they are replacements or substitutes. One can actually pursue both the goals together.
The expansion should always be accompanied by the quality improvements that are needed. We should not ever think that if we start pursuing the goal of quality then we cannot pursue the objective of increasing enrolment. Since, the fact remain that today only 18 out of 100 eligible age group students are pursuing the higher education and rest are not. That shows that in the longer run in the longer run in the economy, if we don't increase the GER, we would be churning out unemployable youth who will not have the necessary qualifications or intellectual ability to manage or negotiate their lives.
Quality is a continuous process.Quality cannot be measured in the absolute terms rather it shall be measured in the relative terms. We cannot say that we should get the highest quality for each institution but we must ensure basic threshold of quality for every institutions so that we are able to assure minimum learning environment for all the students.
Quality is also pyramidical in nature.You cannot think of reaching to the top without having a solid base. The goals such as access, expansion and inclusion must be pursued along with assuring minimum quality standards.
In terms of high quality, we have globally reputed institutions, regardless of how they are rated or ranked. It is the fact that they can compete with any good institutions in the world. In fact the graduates coming out of these institutes are readily globally employable. It is not that we do not have quality but what we are trying to say that let us ensure minimum threshold of quality for each and every student and institution.

The Gross Enrolment Ratio (GER) of SC and ST in higher education has substantially gone down to 7.4 percent and 2.9 percent respectively; it means we are not keeping the national ommitment made to them, why is it so?
When it comes to the enrolment of the deprived sections, the problem is of supply and demand  gap. Quality education is not available in convenient reach of students, predominantly in tribal area. Even if they are available they are of sub standard quality. There is a supply side issue that we need address by creating more institutes in the areas that are predominantly populated by the deprived section that includes minority. Along with SC and ST, the minority GER is also very less.
So we need to first address the supply gap. Then there is a demand problem also due to low or no paying capacity of the people. Even if we waive off tuition fee, there are other expenses such as travelling expenses, pocket expenses that have to be taken into account. The NSSO survey says that 21 percent of these students do not pursue higher education only because they don't have financial capacity to pursue higher education. The paying capacity has to be enhanced. It can be enhanced by two ways, by giving free education, scholarships,fellowships and enable them to obtain education loans. By filling these two gaps of supply and demand, they can be brought at par with the GER of others, else it will not happen.
To reap the benefit of population dividend, the role of educationbecomes very important in channelising the energy of youth in the right direction. Where do ou see us, are we on right track or do we need to change the gear?

---
We need to ensure that not only more people pursue the higher education but also get the required skills. Skill development is a big challenge to us. If we are able to overcome this challenge then 500 million people joining by 2022 will be skilled, then nothing can stop India's progress
---
 I believe, at times, we do need to change the gear also. As per recent survey, everyyear 13 million people are joining the workforce. Out of that only two percent are formally skilled or trained. In  the last five years employment generation has declined. Only 1.25 million jobs were added between 2004-05 to 2009-10. It means around 60 million had joined in five years but only 1.25 percent had got the formal employment in the formal sector. Now if you do not bridge this gap then this dividend can become nightmare also. We need to ensure that not only more people pursue the higher education but also get the required skills. Skill development is a big challenge to us. If we are able to overcome this challenge then 500 million people joining by 2022 will be skilled, then nothing can stop India's progress.
In Informal sector, a lot of jobs have been created but they are again looking at skilled manpower.The bigger challenge is that how we assess the demand of skills in the market. How do we impart the relevant job skills to the people, how do we reorient our entire vocational and skill education sector by integrating it into higher education on one hand and by ensuring that it is auto updated and completely in sync with market demand. If we are able to address these challenges appropriately,then definitely our youth will be our strength.
How has been your experience as an IAS officer so far?
My experience has been good. While working in Andhra Pradesh, I held several positions including that of district collector. I also got an opportunity to work as Secretary, The Andhra Pradesh Board of Intermediate Education, for three years and there I realised that there was a lot of scope for improvement in higher education sector and that really made me curious and interested in education sector. I am happy with what I have been able to do so far but I feel there is a lot more to be done.