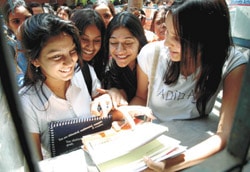 New Delhi: The Delhi University sold over 42,000 forms on the first day of the admission process and nearly 7,000 students registered online . Last year, approximately 30,000 forms were sold on the the first day.
The rush began early in the morning where thousands of students, accompanied by parents, queued up at the 18 colleges where the forms were being sold and submitted.
Out of a total of 42,860 forms sold on the first day, 35,208 forms were of General and OBC category, while 7,608 of SC/ST and Physically Disabled.
The online registration tally on the first day touched 7,385 which is almost three times that of last year. The authorities urged students to make the best use of the online registration facility that is relatively less expensive and convenient.
(Source: PTI)