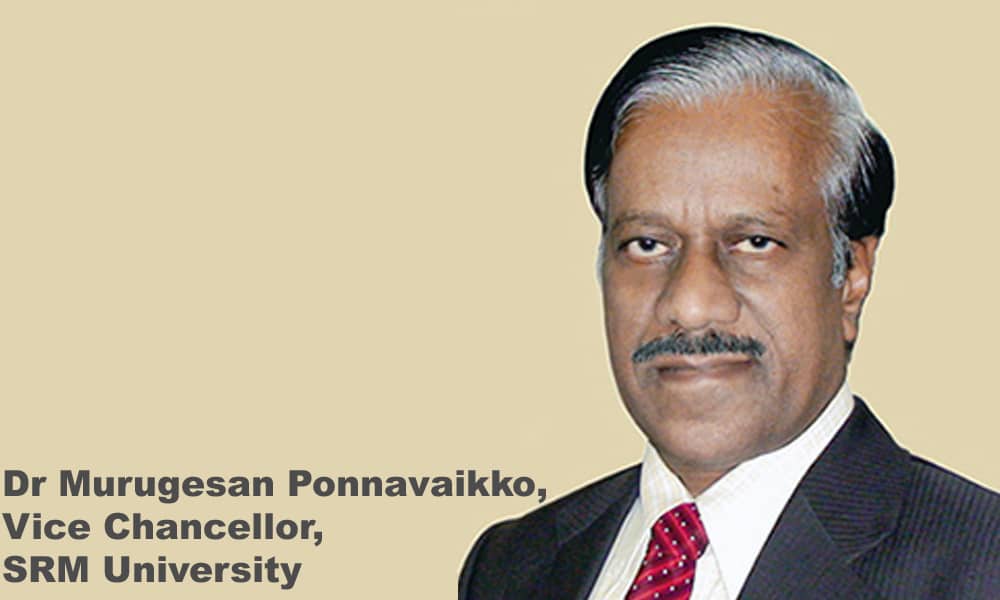 Dr Murugesan Ponnavaikko, Vice Chancellor, SRM University
Catering to nearly 45,000 students in five campuses across the country, SRM University is one of the largest privately-funded universities in the country offering programmes in all disciplines. Dr Murugesan Ponnavaikko, Vice Chancellor, SRM University, talks about the University's vision and future plans in conversation with Chhavi Bakaria.
Education to promote rural economy
The people at the helm of affairs are trying to bring foreign universities in this country. They do not understand that bringing foreign universities is going to be futile. One-third of India's population is living below poverty line, and we need to provide education at affordable costs. By bringing foreign universities can they offer programmes at low cost? How can the authorities or the HRD ministry feel that the foreign universities are really going to help this country?
India is a rural and agro-based country, and none of the Indian universities -whether government or private -are offering programmes that are relevant to this country. Thus, we are developing graduates only for foreign countries and not for our country. As a private university we have more freedom to revise our curriculum and we can define and develop programmes suitable for the local areas where we are serving. So the education programme should be formulated in such a way that the graduates are produced with skill sets and knowledge so that they can use their expertise for developing rural-based industries, using the local resources so that the rural population and economy will grow.
---
On DU's Four-Year Undergraduate Programme
With a four-year Bachelor of Science (BS) degree in computer science, a candidate can compete with Bachelor of Technology (BTech), but with a lesser course fee. This will be one of the greatest benefit for students"
"With Massachusetts Institute of Technology (MIT), we have established a lab called 'Learning through discovery'. It is called actual learning laboratory similar to which is available at MIT, Boston
---
Improve faculty selection procedure
Providing good faculty is a real challenge in this country today. University professors are selected through the National Eligibility Test (NET), which is only a written examination. I doubt if only a written examination can qualify a person to teach. A person who cannot talk or communicate properly even if he has knowledge is useless. I suggest that the University Grants Commission (UGC) and the Ministry of Human Resource Development should come up with a specific teachers training programme for engineering and higher education similar to BEd or MEd programmes that are required for school education.

Industry and overseas collaborations
If the Indian education has to really flourish, we will have to make the education more in collaboration with the  industrial partners so that the students get to know about their requirements. A person with knowledge, skill set and human values is only called human resource, so such an education will only really help growth in this country.
SRM University has collaboration with Bosch automobiles, Germany who have established their own testing facilities in our campus. We are also having close collaborations with the medical, bio-engineering and pharmaceutical industries. We have brought industrial training as one the important aspects into the curriculum with some credits.
Collaboration is different from bringing foreign universities in this country and it is an essential component. We have signed Memorandum of Understanding (MoU) with more than 85 universities around the world like the USA, UK, Australia, Japan, Korea, etc. Around 100 students and faculty members spend one semester in any foreign university especially the US Universities. SRM University's links with Partners International, an organisation of top US hospitals, affiliated to Harvard Medical School, USA, and Queen's University, Canada, contribute greatly to knowledge exchange, joint research and career opportunities.
ICT in Education
When I joined Tamil Virtual University to SRM University, I started a Directorate for Virtual Education and we are using ICT for education in developing virtual laboratories, virtual repositories and teaching to students. In fact, in engineering branches like computer science or power, many things cannot be seen or visualised, spoken, communicated through words. Using ICT we can develop animation, video-based materials so that the students can see and understand. So ICT is going to be the core pedagogy for teaching, but at the same time it cannot be a replacement. It will be an excellent tool for the teacher for communication purposes