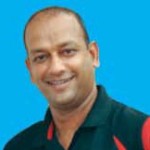 Kishen Wahabi, Programme Director, Leapstart, on benefits of sports and physical training for students' development.
Give us an overview of Leapstart programme undertaken by you.
We are a company providing which is providing a blanket of services predominantly in the co-curriculum space. Our pioneer brand was leap start, which provides physical education and training programmes. We have partnered with spark, which the US based company. We provide cocurriculum programme within the academic curricular. We have programme designed for all age group starting from kindergarten to class 12. Our programmes are developed to facilitate the growth of the child at that age. So leapstart was started with the goal of making these children empower themselves with the knowledge of sports and also facilitate movement for a healthier nation. The second programme that we have come up with is GAIT. It is basically a dance education programme.
How has been the response from parents?
We started with nine schools and now we have moved on to 150 schools. So the statistic clearly shows that there has been an attitudinal change among parents. Earlier parents used to think that engaging their children in physical education won't shape their career, but now the mindset has changed and more and more parents are engaging their children in sports and encouraging them to take up sports as a subject.
In today's world, where parents are only worried about academics, do you think sports as a subject is losing importance?
Sports not only enhance physical development but also enhance mental development. It stimulates the brain cells and acts as a catalyst in greater academic performance. Physical education has also proved to produce fruitful results in academic performance, job prospect, etc. physical education takes care of the overall development of a child. Through physical education one learns the art of leadership, communication, coordination and other skills.
In Leapstart we have also extended this programme to the physically challenged children whereby they also get an opportunity to engage in sports. As these children do not have much scope of movement therefore they fall prey to obesity, Leapstart gives them the best possible way for adopting different skills. The parents of these children are also very enthusiastic about engaging their children in such activities.