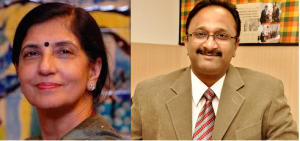 Chennai: Laurus Edutech, one of the premier skills development companies in India, has appointed Ms Sudha Pillai, former IAS, as Non Executive Vice Chairperson. Sivaram Rajangam has been appointed as the Managing Director with immediate effect.
This was announced by Anurag Jain, Founder and Chairman of Laurus Edutech from Dallas, USA. "I am delighted to announce the appointments of Sudha Pillai and Sivaram as the Vice Chairperson and Managing Director of Laurus Edutech. Sudha and Sivaram are visionaries, successful leaders and intellectuals, who will provide outstanding guidance and support to our Group as we embark on our new expansion plans. Both of them are power-house of experience & talent and I am certain that the company will touch new skies under their tutelage," said Anurag Jain.

"Sudha Pillai is one of the best known bureaucrats of our country with long standing in the public and private domain. With her vast experience, she will give a new direction to strategic planning and creating the right approach for growing our business further. In a career spanning 38 years, Sudha has held various positions including Member – Planning Commission, and Secretary – Ministry of Labour, besides District Collector (Trivandrum), Principal Secretary, Finance (Kerala), MD of Kerala Ceramics, Joint Secretary in the Dept. of Company Affairs, Joint Secretary and Additional Secretary in the Rural Development and Panchayati Raj Ministry", Jain added.
Commenting about her new assignment, Pillai said, "Laurus Edutech has set up some of the finest facilities in the skilling centers and its scale and size is something any professional will want to associate with. I am delighted to be taking on this position at Laurus Edutech and working with the vibrant team at Laurus to achieve its business goals. I also look forward to working with the distinguished management leaders like Anurag and Vardhaman and be a part of the team."

Introducing the new MD Sivaram Rajangam, Jain said, "Sivaram brings a wealth of experience and knowledge of more than 20 years in education and other industries. He has been the Senior Vice President at Pearson Education services handling the entire operations. With a deep understanding of the Indian education sector and proven ability to plan and execute business models in this segment, Sivaram's keen business sense, outstanding management and marketing acumen combined with remarkable leadership skills will surely help the company achieve great heights."
"This appointment comes at an opportune time for all concerned – most significantly for our partners," states R. Sivaram. "The skill development sector is currently at an inflection point, and replete with opportunities. Requirement of Skilled labor in Chennai and in other parts of the country is going to rise over the next two years. I am indeed excited to be a part of the upcoming initiatives that the company has on the anvil & many more milestones to come."
"I am extremely pleased to welcome Sudha and Sivaram to the company to lead our efforts in India. They are a strong addition to our leadership team," said Vardhaman Jain, Founder Director of Laurus Edutech. "The company is in an exciting phase in its development and its work in Chennai and Delhi NCR plays a key role in positioning the company moving forward. I am confident that their vast experience and unique insights into the sector would be an invaluable asset to Laurus Edutech especially at a juncture when the company is eyeing ambitious growth."
Laurus Edutech aims to be a pioneer in the area of skill development with a focus on bridging the demand-supply gap in skills and trained manpower and to enhance training options for the unorganized and informal sector