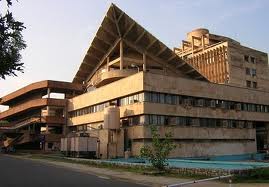 The Indian Institute of Technology, Delhi  has taken up a project of illuminating the slums of Munirka of South Delhi, through a solar lighting project in collaboration with My Sister Foundation, a non-governmental organization (NGO).
The project which is titled as "Liter of Light" is a very simple way of generating electricity with mere plastic bottles filled with water and suspended from  the roof with the concept of refraction  of light from denser to rarer medium. Electricity is generated from the  light of the sun.
Three households  in the slums has already been provided 55 W of electricity which was done by the students but  since the procedure is a  simple one, so  it has been explained  to the community member  who can themselves  work on  completing the project.
In the dark and dim streets  of the slums of Munirka,  this project of IIT Delhi,  has not only lightened the streets and houses of the slums, but has also kindled a ray of hope in the hearts of the people.